Chris Froome may be denied access to Tour de France over unresolved doping case
Published time: 22 Mar, 2018 16:55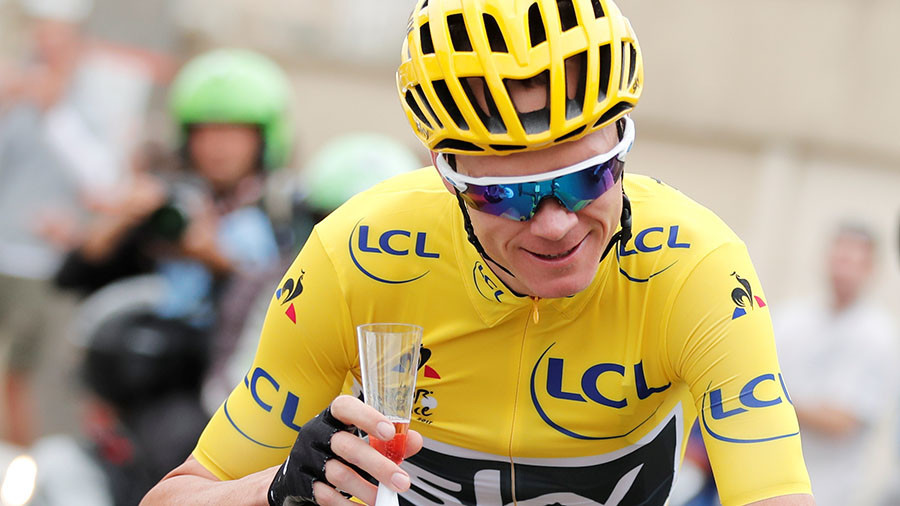 Tour de France organizers may exclude Britain's Chris Froome from this year's race, if his salbutamol doping case remains unresolved.
A doping test taken from Froome during the Vuelta a Espana race in Spain last September indicated elevated levels of the asthma medicine. However, the four-time Tour de France winner denied any wrongdoing, saying it was down to experiencing acute asthma symptoms during the final week of Vuelta, adding that he has nothing "to be ashamed of."
READ MORE: German cyclist slams UCI over Froome 'double-standards' doping policy
The 32-year-old Team Sky racer continues competing despite the doping controversy, while the team's lawyers are working to find justification for the failed doping test. Several cycling officials, including Giro d'Italia organizer Mauro Vegni, confessed they are powerless to prohibit the rider from taking part in the races.
Tour de France bosses, however, have taken a more rigid stance on Froome's case, saying that they are not willing to approve a racer who has a potential doping violation.
Team Sky said in a statement that they are doing everything possible to resolve the case.
"As Chris has said, he wants to see this process resolved as quickly as possible. Chris and the team are continuing to do all we can to achieve this."
Team Sky has been embroiled in doping scandal over the past months. Apart from the Froome case, the squad was also accused of abusing the Therapeutic Use Exemption (TUE) program which allows athletes to take banned substances to treat medical ailments.
On March 4, the Digital, Culture, Media and Sport (DCMS) select committee published a report alleging that the British cycling team allowed its members to use the TUE-authorized steroid triamcinolone before and during the 2012 Tour de France to improve cyclists' "power-to-weight ratio ahead of the race" rather than treating medical needs.
Five-time Olympic gold medalist and 2012 Tour de France winner Bradley Wiggins was named among those who benefitted from therapeutic exemptions.