Russian NHL player brings young fan to tears after giving him hockey stick
Published time: 16 Mar, 2018 15:10
Edited time: 1 Jun, 2018 12:46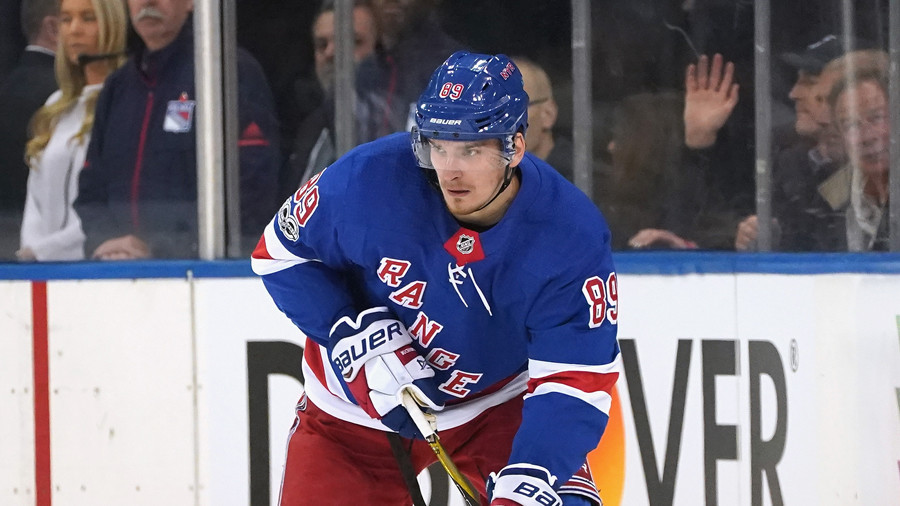 New York Rangers winger Pavel Buchnevich gave one 12-year-old fan the 'top moment of his life' when gave him his hockey stick in the warmup before Thursday's game against the Pittsburgh Penguins.
Rangers fan Benjamin was attending the game wearing a Severstal Cherepovets jersey, the Kontinental Hockey League (KHL) at which Buchnevich began his career, with the player's name on the back.
When Benjamin waved to his idol during the warmup session, Buchnevich immediately spotted his old jersey and skated to the boards to toss one of his sticks to the boy – prompting the boy to burst into tears.
"I'm wearing this jersey tonight, my grandpa got it for me from a Russian website," the Rangers season-ticket holder said after receiving the stick.
"[The jersey] took about three months to come and then I'm at the glass, I have [Mika] Zibanejad, [Chris] Kreider, they're all waving to me, and then I see Buchnevich and then he winks and he's like, 'Wow, that's a very nice jersey,' and then he's talking to Vlad Namestnikov because they're both Russian, like 'Wow look at this kid.'
READ MORE: Russian hockey team claims gold in PyeongChang, beating Germany 4-3 in overtime
"A second later, boom, Buchnevich comes and gives me the stick over the glass and I'm crying. I'm a huge Ranger fan so it's just really emotional," he added.
The team's Twitter account posted a picture of the two meeting following the Rangers' 4-3 overtime win clinched with a goal from Swedish forward Zibanejad.
After spending the 2015-2016 season in the KHL, he signed a three-year contract with the New York-based squad, making his debut last season. Buchnevich has played 63 games for the Rangers this season, scoring 14 goals and making 26 assists.