On your bike! Tour de France 2018 to ax podium girls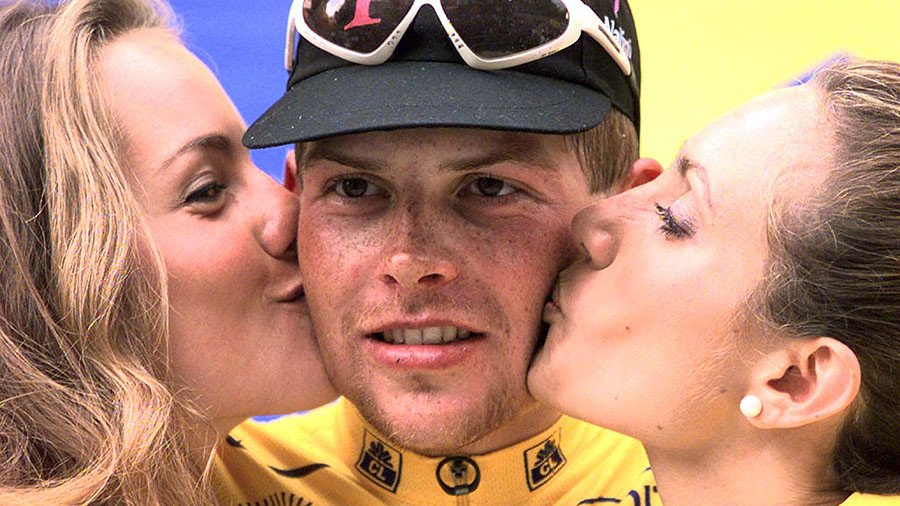 Tour de France organizers are planning to ditch the podium girls that traditionally greet stage winners with awards and a kiss on the cheek. In doing so they will follow the example set in Formula 1 and Darts.
The longstanding custom is deemed outdated and sexist by critics and will not be used at this year's event, which begins on July 7. The announcement was welcomed by equality groups, while others believe the girls will be denied an opportunity to work.
Downhill mountain biker Amanda Batty wrote in her blog last month that scantily-clad models working at sporting events are seen as "sex objects," and that those who hire them are simply "promoting the idea that women exist solely for the pleasure of straight men."
The issue was highlighted in 2013, when Slovak racer Peter Sagan pinched the backside of a hostess on the podium, while she was kissing the winner Fabian Cancellara.
Further controversy was created around that incident when in 2015, the E3 Harelbeke annual road cycling race in Belgium made a poster that explicitly made light of the pinch.
Last year, Belgian rider Jan Bakelants apologized for disparaging comments about the podium girls. When asked what items he would pack in his suitcase for his free time, Bakelants replied: "Definitely a packet of condoms. You never know where those podium hostesses are hanging out."
The Vuelta a España became the first Grand Tour race to ax female hostesses. With the Tour de France following the suit this summer, this leaves the Giro d'Italia as the sole Grand Tour event which still employs podium girls to promote the race.
On February 24, the Flanders Classic announced it would no longer use podium girls, also known as 'flower girls' at its meeting. In response, Dutch journalist and cycling commentator José Been wrote, "Whether your dream job is to be a cycling commentator, a podium girl, the next world champion or the head of the Netherlands, you can do it. Every position should be open to girls."
In January, the Professional Darts Council (PDC) announced their decision to scrap the practice of using walk-on girls at their events. Soon after, Formula 1 bosses also announced that 'grid girls' would not feature in the upcoming season, instead being replaced with a 'grid kids' initiative.
READ MORE: 'Grid girls' v feminists: F1 models fight back after role scrapped
Recently it became known that car manufacturing giants Ssangyong Motor, Toyota and Nissan have also refrained from booking scantily-clad female models for the upcoming Geneva Motor Show, opting for sensibly dressed male and female models instead.
You can share this story on social media: