Iran wrestler banned for throwing match to avoid Israeli matchup
Published time: 19 Feb, 2018 10:30
Edited time: 2 Mar, 2018 13:41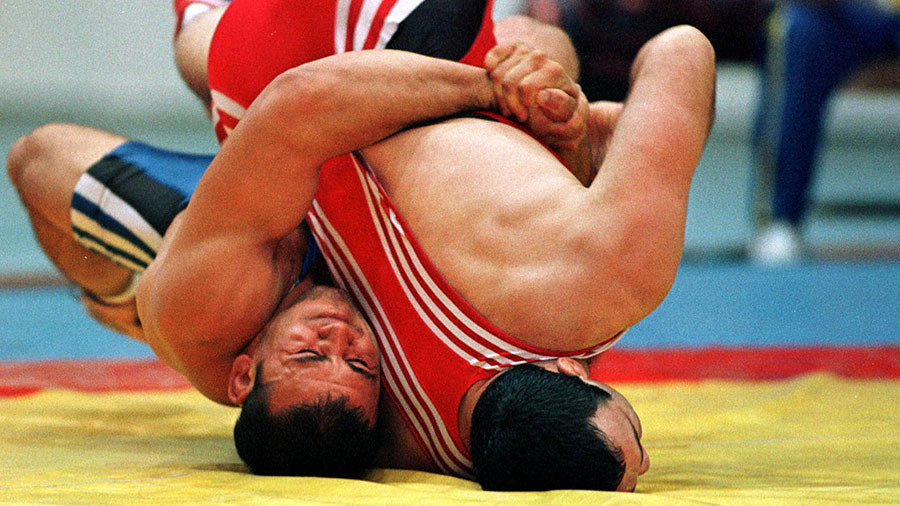 The Islamic Republic of Iran Wrestling Federation is to protest a 6 month ban handed to its wrestler Alireza Karimi, who threw a fight to avoid meeting an Israeli counterpart.
Karimi, who competes in the under-86 kilogram weight class, was punished after being found guilty of deliberately losing his Under-23 World Championship quarter-final against Russian wrestler Alikhan Zhabrayilov in Poland last November in a bid to avoid Israel's Uri Kalashnikov.
Karimi's coach Hamidreza Jamshidi was banned for 2 years for instructing his charge to lose, but the national federation has said it will not change its policy of forbidding its athletes to compete against Israelis.
TV footage showed Karimi gaining the upper hand in the match, at which point his coach started shouting "Alireza, lose" from the sidelines. The 2015 world bronze medalist duly succumbed to Zhabrayilov, rolling over several times to hand the Russian victory.
Iran Wrestling Federation President Rasoul Khadem said on state television that the federation will protest the verdict. Khadem blamed the ban on pressure from the International Olympic Committee, which he said was itself "under the influence of the world's major political and economic powers."
A statement posted on the federation website said it hoped "a solution is thought of by competent authorities for resolving this issue."
The last time an Iranian took on a competitor from Israel was at an event in Kiev in 1983. Iran has been an Islamic republic since the country's revolution of 1979, and is among 31 UN member states that do not recognize the state of Israel.
Elsewhere in the Muslim world the official line on Israel is less strict. In October last year, United Arab Emirates judoka Rashad Almashjari refused to shake the hand of Israel's Tohar Butbul during their match at the Abu Dhabi Judo Grand Slam, after which UAE officials apologised.
At the Rio 2016 Olympics, a judoka from Egypt named Islam El Shehaby was sent home from the games after he refused to shake his Israeli opponent's hand after their match, prompting the Egyptian Olympic Committee to strongly condemn his actions.
READ MORE: Israel-UAE no handshake incident at judo tournament leads to apology