Egyptian judoka jeered after refusing to shake Israeli opponent's hand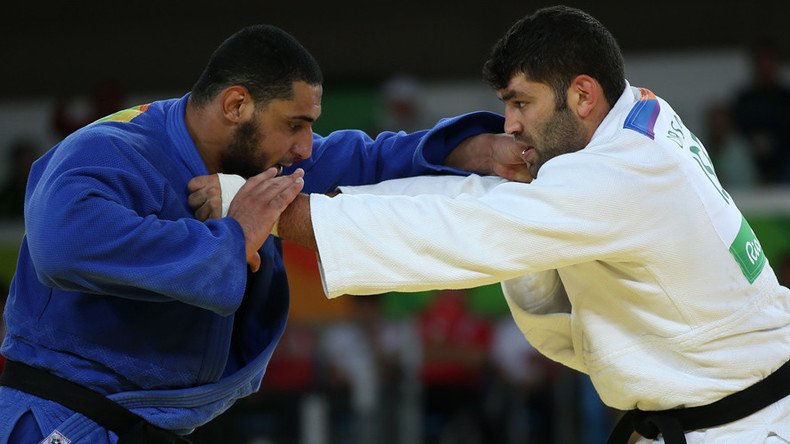 Egyptian judoka Islam El Shehaby was loudly booed at the Olympic Games for refusing to shake the hand of his Israeli opponent, Or Sasson, at the end of their first-round match.
The Israeli defeated the Egyptian with two throws to claim victory, with around 90 seconds remaining in the contest.
El Shehaby lay flat on his back for a moment before standing to take his place across from Sasson.
The Israeli fighter offered his hand, but El Shehaby shook his head and backed away.
The referee called the Egyptian back to the mat and instructed him to bow. El Shehaby gave a quick nod of his head before leaving.
The International Judo Federation (IJF) said the fact that the fight even took place was a major sign of progress.
Spokesman Nicolas Messner said judokas were under no obligation to shake hands, but bowing is compulsory.
Messner confirmed that the IJF would review El Shehaby's conduct to determine if any further action should be taken.
El Shehaby had come under pressure in the run-up to the fight to pull out.
The Egyptian Olympic Committee warned El Shehaby that his citizenship would be revoked if he withdrew from the bout, but fans still made their feelings known on social media.
"You will shame Islam – if you lose, you will shame an entire nation and yourself," one irate follower wrote.
"We don't want to think what will happen if you lost to an Israeli. Victory will give you nothing. How can you cooperate with a murderous nation?"
Miri Regev, the Israeli Minister of Culture and Sport, insisted that El Shehaby should"respect the spirit of the Olympics and act accordingly."
Diplomatic tensions between the Egypt and Israel have eased in recent times. Egyptian Foreign Minister Sameh Shoukry even watched the European soccer championships on TV with Israeli Prime Minister Benjamin Netanyahu during a visit to Jerusalem in July.
However, the Games have been hit by a series of politically-motivated scandals involving Israel.
On August 5, the Lebanese refused to share a bus ride with the Israeli team to the opening ceremony, and two days later Saudi Arabian judoka Joud Fahmy forfeited her match against Christianne Legentil from Mauritius, reportedly to avoid facing Israel's Gili Cohen in the next round.
You can share this story on social media: