Russian Football's Ethics Committee fine Spartak press officer for 'chocolate' tweets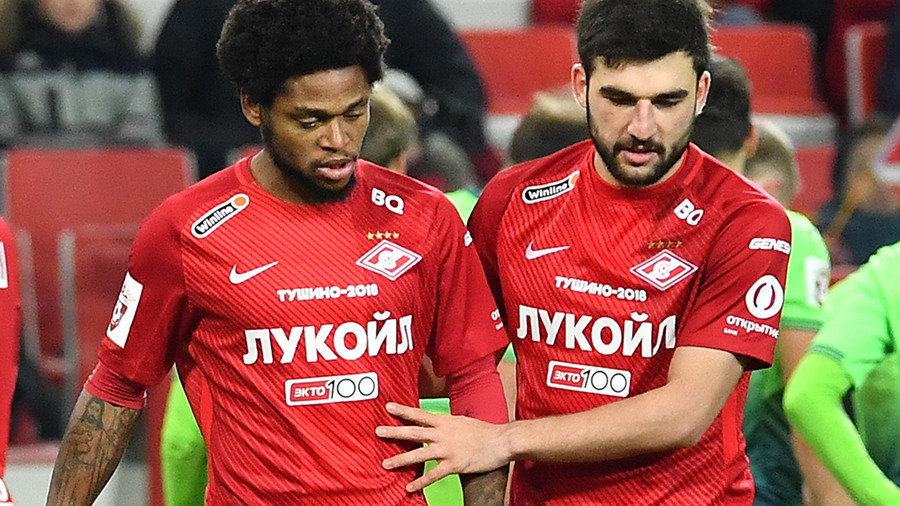 The Russian Football Union (RFU) Ethics Committee has reprimanded Spartak Moscow defender Georgi Dzhikiya and press officer Leonid Trachtenberg after an allegedly racist tweet was posted on the club's official Twitter account.
A committee meeting on Tuesday ruled to punish the player and fine Trachtenberg 20,000 rubles ($354) for a tweet showing a video of Dzhikiya filming Brazilian teammates Fernando, Luiz Adriano and Pedro Rocha at Spartak's training base in Abu Dhabi and commenting "see how chocolates melt in the sun" on January 13.
Speaking to journalists after the hearing, committee head Semen Andreev admitted that the incident was an "extremely unusual issue" and the first of its kind faced by the committee.
"The committee discussed all arguments and took the decision to reprimand Georgi Dzhikiya, and to fine Trachtenberg 20,000 rubles. Spartak have three days in which to appeal the decision," Andreev said, R-Sport reported.
"In our work, we have never dealt with such matters. Spartak's lawyer and press officer Leonid Trachtenberg spoke at the meeting. They admitted their mistake that such material was posted on Spartak's Twitter.
"Naturally, he is responsible for this material. They [the press office] let this material slip through and didn't attach any significance. They have admitted that," he added.
Trachtenberg refused to comment on the matter, and instead directed attention towards Spartak. "Can I not comment on that? Better I comment on Spartak's football match in their training camp," the 70-year-old said.
The comment from Dzhikiya's video was captioned in the tweet along with chocolate bar emojis, screened by the club's press office, and published before being deleted.
Spartak then posted a series of follow-up tweets with Dzhikiya and the Brazilian trio Fernando, Luiz Adriano and Pedro Rocha, in which Dzhikiya tells the camera: "We don't have any racism in the team. We are all brothers and one big family."
During Spartak's 1-0 defeat to Chinese side Shanghai SIPG, Dzhikiya injured his anterior cruciate ligament. The 24-year-old underwent an operation in Italy on Monday, from which he has made a recovery, but will face a race against time to be fit for the Russia 2018 World Cup in just under five months.
READ MORE: Russia international Dzhikiya suffers serious knee injury, could miss World Cup (VIDEO)
You can share this story on social media: