'It was sensationalized by journalists!' - Spartak player on 'chocolates' tweet racism row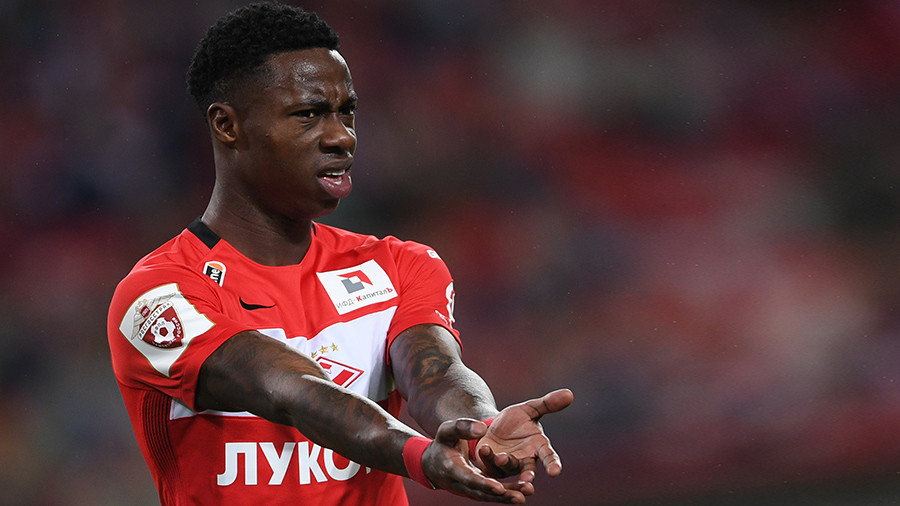 Spartak Moscow player Quincy Promes says a tweet published on the club's official Twitter account, in which defender Georgi Dzhikiya refers to three black teammates as "chocolates melting in the sun", has been 'sensationalized'.
On Saturday, Dzhikiya took charge of the club's official Twitter account, posting footage affording fans an inside view of the Red-Whites' mid-season training camp in Abu-Dhabi during the Russian Premier League (RPL) winter break.
In one of the posts, the 24-year-old films Brazilian trio Fernando, Luiz Adriano and Pedro Rocha during a stretching exercise on the training pitch. Dzhikiya can be heard laughing and commenting in Russian, "see how chocolates melt in the sun."
The comment was captioned in the tweet along with chocolate bar emojis, which was apparently screened by the club's social media team, and then published along with the video. It has since been deleted.
That was not before the post sparked outrage in Western media, with a string of publications accusing both the club and player of propagating racism.
English football's equality and inclusion organisation Kick It Out said the post highlighted "the prejudices towards black people in Russia." FIFA condemned the tweet as a form of racism, but said the "handling of this matter falls under the responsibility of the relevant national body."
This social media post from the official account of Spartak Moscow only continues to highlight the prejudices towards black people in Russia.It is a reminder, that along with the whole of football, there is significant work to do to eradicate racism of all forms from the sport. https://t.co/x4w3R5CT83

— Kick It Out (@kickitout) January 13, 2018
Spartak's Dutch winger Quincy Promes, who is of Surinamese descent and has been playing in Russia since 2014, said he found it hard to comprehend why Dzhikiya's comments had been met with such a reaction.
"I don't understand what happened, where this reaction is from. Everything was sensationalised by journalists. But I know the truth, and it's not what's written. 'Chocolates'... To me, is fully ok," Promes, widely considered to be the best foreign player in the Russian Premier League, told 8news.
"You can never call someone a monkey, for example, they are animals. But there's nothing to discuss here, there is no excuse to be offended. In Russia I've never come across racism. I cannot even think that the people here can be racists."
After removing Dzhikiya's tweet, the club then posted a series of follow-up tweets including messages from the players featured in the original video together in friendly manner. One featured Fernando delivering a personal message in Russian to the camera, stating, "There is no racism at Spartak, we are one united family."
Another showed the three players huddled with their arms around Dzhkiya, himself an ethnic Georgian, before Luiz Adriano says, in Russian, "This is my friend, my brother, a legend of Spartak. I love you my friend."
The Russian Football Union (RFU) said it had been made aware of the decision. The organisations Ethics Committee confirmed it would review the matter accordingly.
"We are reviewing this incident, and today (Tuesday) it should come to the attention of (acting RFU president) Alexander Alayev. I believe we will convene on January 25," RFU Ethics Committee spokesman Semyon Andreyev said, TASS reported.
READ MORE: UEFA charges Spartak Moscow with racism after alleged monkey chants at Liverpool youth game
In response, Spartak issued a statement in which the club apologized "to all who were offended by the the unfortunate comment on the club's official Twitter account. The player did not intend to offend anyone, but made an unfortunate joke."
You can share this story on social media: