NFL: Philadelphia Eagles fans go wild after team secures Super Bowl spot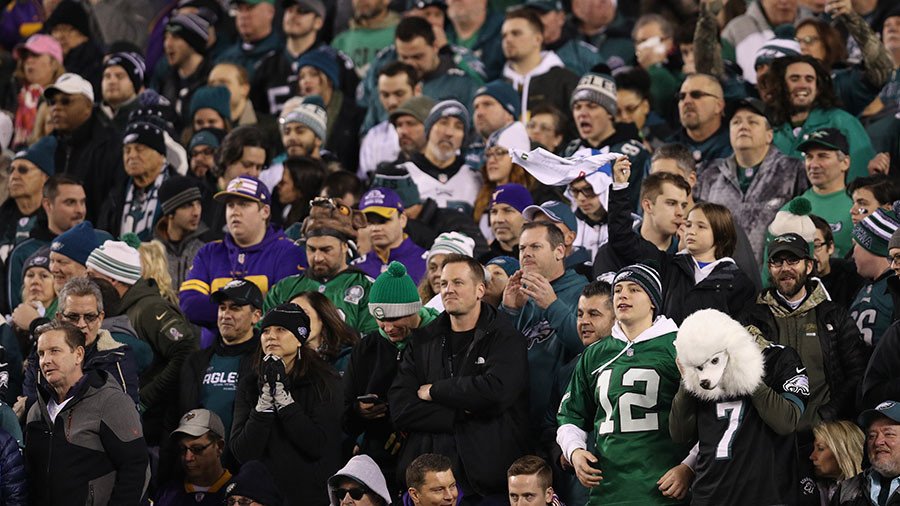 Philadelphia Eagles fans broke into wild celebrations after their team won the NFC Championship on Sunday, dismantling the Minnesota Vikings on their way to the Super Bowl.
Passionate Eagles fans confirmed their status as some of the most raucous NFL supporters once again by clashing with police hours before the start of the game at their home Lincoln Financial Field.
The clashes involving fans and police threatened to spiral out of control, with six officers on horseback being summoned to the scene to prevent further escalation.
Footage taken during the incident shows police detaining a man with a bleeding face.
The Eagles delighted the home crowd by outplaying the Vikings in a crushing 38-7 victory – a win that granted them a spot in their first Super Bowl since 2005. That sparkled jubilant scenes among rowdy fans who filled the streets of Philadelphia to celebrate the Eagles' triumph.
Thousands of people marched down central streets setting off fireworks, chanting slogans and waving flags. Several fans ran in-between cars stuck in traffic with drivers honking in support of the Eagles.
Philadelphia police, who kept control of the heated crowd, registered several incidents involving Eagles supporters.
A bus carrying the Vikings team was also attacked by furious fans who hurled beer bottles and various objects at the vehicle.
Another group of fans nearly burnt down buildings on one street, which was engulfed by an uncontrollable fire in the middle of the road.
Despite Philadelphia authorities' attempts to prevent disobedient fans from climbing lampposts by greasing them up, several men successfully overcame the challenge by shimmying up them.
Philadelphia police, however, reported no major disturbances, saying that the crowd was rowdy but "orderly complying by police commands," with just one arrest reported.
In the Super Bowl, scheduled for February 4 at U.S. Bank Stadium in Minneapolis, Minnesota, the Eagles will face off against the New England Patriots, who secured their participation in the game by winning a thriller against the Jacksonville Jaguars 24-20.
Super Bowl LII will be a rematch of the 2005 edition in which the Patriots took the upper hand 24-21, denying the Eagles a chance to win the coveted title. Thirteen years later, the Philadelphians will finally have a chance to enact revenge.
You can share this story on social media: