Colin Kaepernick named GQ 'Citizen Of The Year,' not quoted in article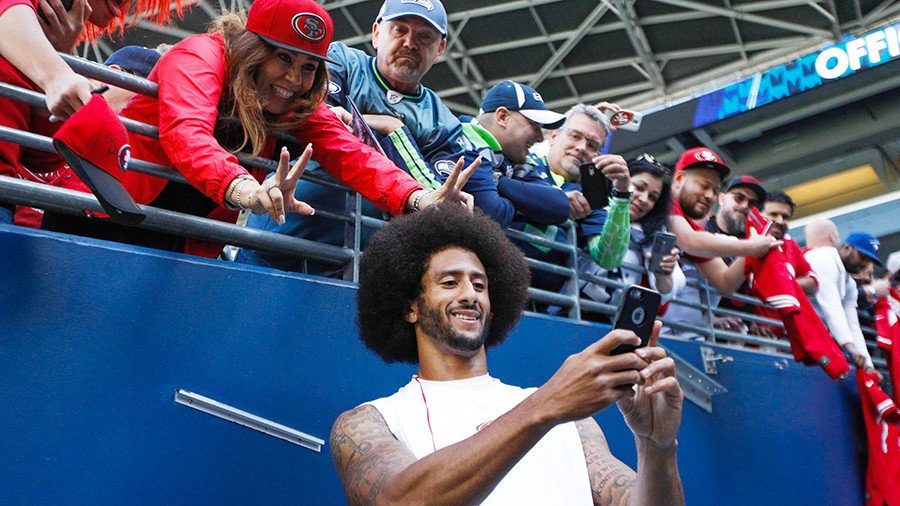 Former San Francisco 49ers quarterback Colin Kaepernick, who instigated the NFL anthem protests, has been named GQ magazine's 'Citizen Of The Year' for 2017.
In 2013, Kaepernick appeared in a GQ photoshoot as one of the NFL's most talented players after leading his team to the Super Bowl, where they were beaten by the Baltimore Ravens 34-31.
Four years later, he is on GQ's front page, as a symbol of the anthem protests campaign which he instigated last season by refusing to stand for the national anthem, to draw attention to what he viewed as racial injustice in America.
The player didn't give an interview to the magazine, but "remained silent" and posed for photographs.
"When we began discussing this GQ cover with Colin earlier this fall, he told us the reason he wanted to participate is that he wants to reclaim the narrative of his protest, which has been hijacked by a president eager to make this moment about himself," the article reads.
"But Colin also made it clear to us that he intended to remain silent. As his public identity has begun to shift from football star to embattled activist, he has grown wise to the power of his silence."
In the article – titled "Colin Kaepernick Will Not Be Silenced" – the former football player is compared with legendary boxer Muhammad Ali, whose refusal to be drafted into the US Army's war in Vietnam led to a three-year layoff in his professional career.
In 1967, Ali, an outspoken protester against the war, was arrested for draft dodging and stripped of all his boxing titles and licenses following his refusal to fight in Vietnam, spending more than three years out of the ring and losing millions of dollars.
The GQ photographer decided to take pictures of Kaepernick in Harlem, New York City, where Ali visited frequently, "among the men, women, and children he is fighting for...to connect him to a crusade that stretches back decades."
The article also contains short statements of Kaepernick's 10 closest confidants, including rapper J.Cole, filmmaker Ava DuVernay, activist Carmen Perez and national co-chair for Women's March Tamika Mallory, who shared their views on the subject of social activism.
Kaepernick still remains unsigned after opting out of his contract with the 49ers in March. In October the 30-year-old player filed a grievance against the NFL over alleged collusion to keep him unemployed. He linked his inability to find a new club with the protests he displayed last year.
You can share this story on social media: