North Korea to send 22 athletes to compete in 3 sports at 2018 Olympics in South Korea – IOC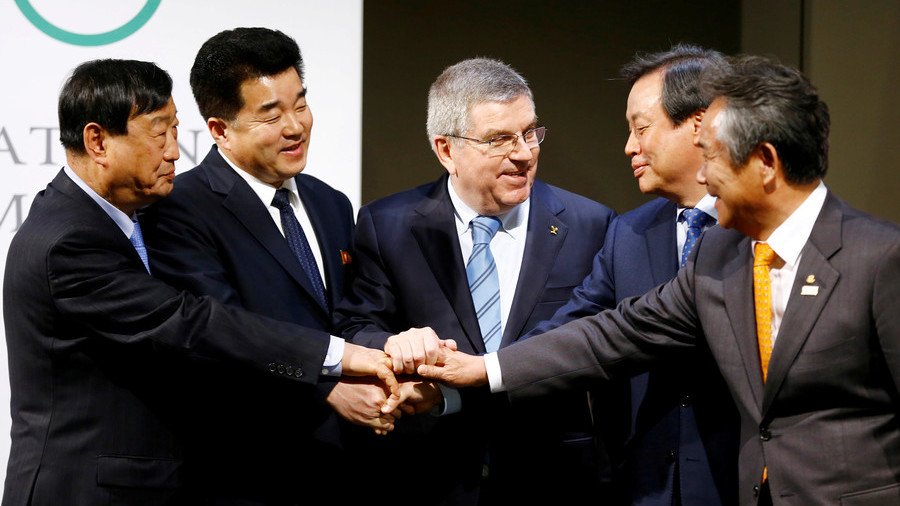 The IOC has approved the participation of 22 North Korean athletes in the coming Olympic Games in PyeongChang. Apart from the first-ever joint hockey team with Seoul, the North will also compete in skating and skiing.
READ MORE: Give Piste a Chance: S. Korea's skiers to train at Kim's resort
Next month's Winter Olympics in South Korea will display some long-lost unity between Seoul and Pyongyang, as their sports delegations will march together at the opening ceremony under the Korean Unification Flag, the International Olympic Committee (IOC) announced Saturday, thus greenlighting previous bilateral agreements. The flag is to be carried by two athletes, one from each side.
The IOC let North Korea send some 22 sportsmen, 24 officials and 21 media representatives to PyeongChang. The athletes are to compete in a total of 5 disciplines of 3 sports – ice hockey; figure- and short-track speed skating; cross-country and alpine skiing.
"The IOC has decided to allow the two National Olympic Committees, for the first time in their Olympic history, to form a unified team in a sport," the international organization said in statement following four-party talks at the IOC Headquarters in Lausanne, Switzerland.
The united women's ice hockey team called "COR" will be comprised of 35 players, but only 22 of them, selected by a South Korean coach, will take part in each game. In four other disciplines the athletes will compete separately for their national teams.
READ MORE: N.Korea WILL send team to prep for Olympics in South
The North Korean delegation will arrive in the Olympic Village no later than 1 February 2018 and the athletes will have to go through anti-doping tests. Meanwhile, one more delegation from the North is to arrive to South Korea by a land route on Sunday as the North's seven-member art troupe is to check venues for the performances.
Earlier this week, South and North Korea announced the joint participation in the opening ceremony of 2018 Winter Olympics and agreed to form a unified women's hockey team following the first inter-Korean peace talks in two years. The countries are technically at war despite the de-facto end of hostilities in 1953, but the recent steps are considered to be long-awaited sign towards easing tensions between once-united states.
Think your friends would be interested? Share this story!
You can share this story on social media: