'21st century guy' Kim Jong-un & Trump 'pretty much the same' – Dennis Rodman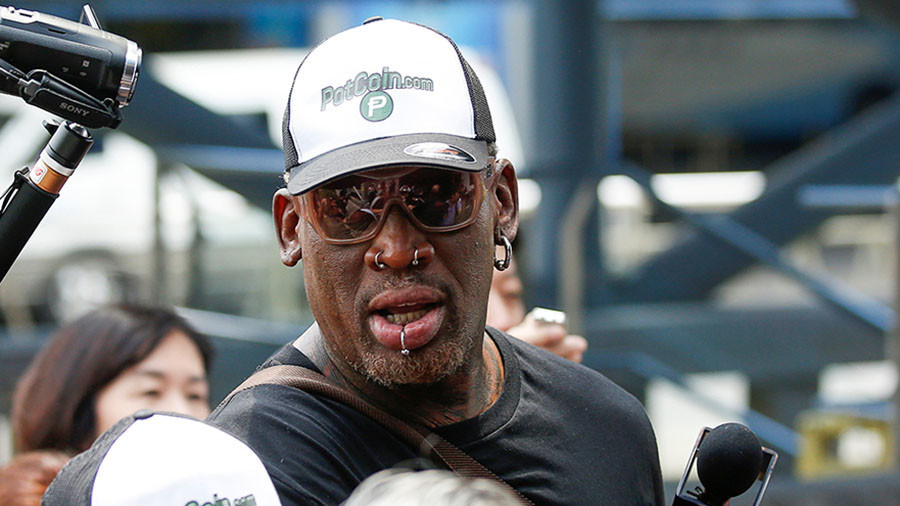 Retired NBA star Dennis Rodman is convinced that the North Korean leader and the US president "are pretty much the same people," with a threat of a nuclear war being merely an "entertainment."
Despite Kim Jong-Un and Donald Trump quite often indulging in exchanging personal insults, resorting to a peculiar name-calling, the two are no different, the former basketball player told AFP.
"They love control," Rodman said. While the angry war of words between the two politicians occasionally escalates to annihilation threats, the nuclear warnings are only "entertainment," Rodman said. "Ain't nobody got no finger on the button," the 56-year-old Rodman said.
Rodman made his remarks in Beijing, from where he hoped to set off to the hermit state's capital, Pyongyang. "We thought we would give it a shot while we're here," he said.
Rodman had urged the US president to arrange his sixth trip to North Korea so "things will settle down a bit," he told the Guardian on Monday.
However, the US State Department dashed his hopes, telling the ex-athlete it was not "a good time right now." US citizens have been banned from visiting North Korea following the death of American student Otto Warmbier, who had been held in a North Korean prison for more than a year.
The retired NBA player turned volunteer diplomat said he could "alleviate some pressures as far as communication" between Washington and Pyongyang. As part of his mediation efforts, Rodman intends to organize a basketball game between players from North Korea and the US territory of Guam in the "neutral site" of Beijing. The match would "give something historical for everyone to see" and demonstrate that "there's no hatred at all."
READ MORE: Dennis Rodman offers to 'straighten things out' between Trump & N. Korea's Kim
Rodman's previous visits to North Korea laid the foundation for his bond with "marshal" Kim Jong-Un, who is a "21st century guy," he said. While Kim "probably wants to do a lot of things that are really positive," the North Korean "structure of the system just don't let him do it," Rodman was quoted as saying. "He wants to pull that trigger where he wants to let his people be more free."
Apart from singing rock-n-roll songs, smoking cigars and playing games with Kim, who "lives and breathes basketball," Rodman has been keeping three "pretty reasonable requests" he received from Kim during his earlier travels to pass it on to the US leader.
"This whole thing with me, [Kim] and Donald Trump – it's a whole different dynamic right now," he said. Probably unconvinced, Trump "told me to f*** off," Rodman added.