Dennis Rodman offers to 'straighten things out' between Trump & N. Korea's Kim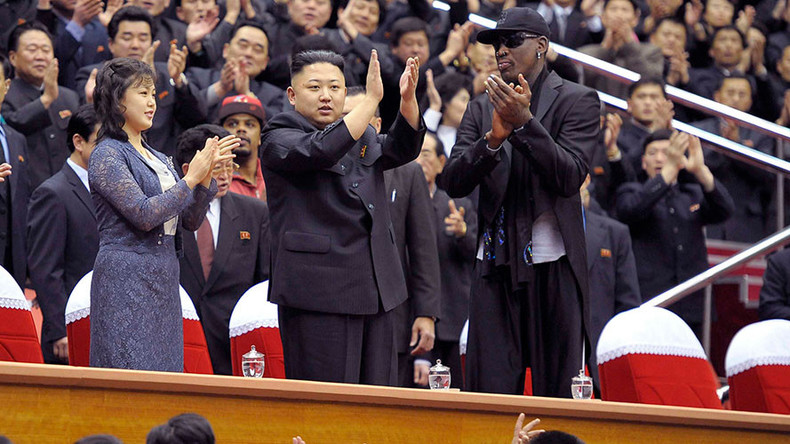 Former NBA player Dennis Rodman, who regularly visits North Korea and meets its leader Kim Jong-un while promoting sports, wants to "straighten things out" between Donald Trump and Kim.
Speaking on Good Morning Britain on Wednesday, Rodman was asked about his relationship with Kim Jong-un, whom he has met on numerous occasions during his many visits to North Korea.
"I think if the president even tries to reach out for Kim, I think it would be a great possibility things can happen," he said, adding that if the two engaged in dialogue, "I think that'll open up maybe the door just a little bit."
Tensions between the US and North Korea are heightened following Pyongyang's recent missile tests and Trump's warnings that he will not tolerate its actions.
Rodman is also a fan of the US president, who was host of Celebrity Apprentice when Rodman was on the reality TV show. He endorsed Trump back in 2015.
"I just want to try to straighten things out for everyone to get along together," he said.
When asked what kind of man Kim is, Rodman detailed the time he spends with the North Korean leader. "I basically hang out with him all the time," he said. "We laugh, we sing karaoke, we do a lot of cool things together. We ride horses, we hang out, we go skiing. We hardly ever talk politics and that's the good thing about that."
"It's just funny the fact that me saying something like that, and people say, 'oh my God, Dennis Rodman protecting the marshal of North Korea'," Rodman continued. "It's not about that. My whole mission, my whole goal in going over there was to bring sports to North Korea."
"I've always said I'm not a politician, at all," Rodman continued. "I just go over there to be an ambassador for sports."
Rodman spoke highly of the people of North Korea, saying he asks them if they hate America and they all say no.