Man City fans unveil pro-Ukraine banner, but have scarves stolen by local hooligans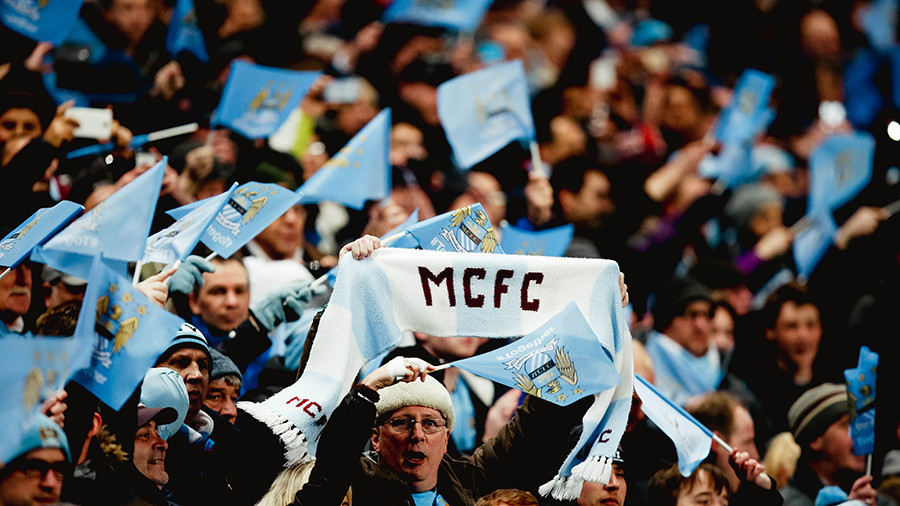 Fans of English Premier League club Manchester City displayed a pro-Ukrainian banner during their final Champions League group game versus Shakhtar Donetsk on Wednesday, but also had their scarves stolen by local ultras.
City were subjected to their first defeat of the season in the match, going down 2-1 to the home side. However, both qualified for the last 16 of the tournament.
During the game, a banner with the message "Glory to the heroes of ATOs" (Anti-Terrorist Operation zones), written in Russian, could be seen hung in the section of the ground designated for away fans at Metalist Oblast Sports Complex in Kharkov.
'Anti-Terrorist Operation zone' is a term used by the Ukrainian government for areas of Lugansk and Donetsk that it describes as under Russian military or pro-Russian separatist control. The message was spelled out with blue and yellow lettering – the colors of the Ukrainian national flag – on a white background.
READ MORE: 'With the mask or without?' – Coach keeps Champions League bet, wears Zorro costume to presser
It is not known whether Ukrainian or English fans of the club wrote the banner, but it is widely believed that it came as a gesture of 'solidarity' with the Ukrainian fans. However, it seems the gesture was not reciprocated, as images surfaced on social media of young local hooligans brandishing scarves stolen from the traveling fans.
Man City fans yesterday: displaying a banner in solidarity with Ukraine in the conflict. Kharkiv far-right hools: hunting British tourists all day taking their scarves. Savages. pic.twitter.com/0wzWndayHs

— Pavel Klymenko (@Pavel_Klymenko) December 7, 2017
Some hooligans were pictured in front of a monument on Constitution Square in Kharkov, which is decorated with the words 'Glory to Ukraine.' The picture, featured on the social media group 'Troublemakers & Ultras Action,' was accompanied with the caption: "With trophies of Manchester City's colors."
Another post to the site announced on the day of the game that local fans had planned to "snatch" scarves from visiting fans and keep them as "memorabilia."
"In the buildup to today's match between Shakhtar and Manchester City in Kharkov, there will be some minor local skirmishes and snatching of memorabilia from the visitors. However, no kind of major confrontation has occurred, because of the absence of groups of away fans. We are awaiting new information," the post read.
It is believed the fans were members of hooligan youth groups of local team Metalist Kharkov. Shakhtar moved to play their home games in Kharkov from Arena Lvov following the 2016/17 season winter break. The club had moved there in 2016 from their home Donbass Arena due to the War in Donbass.