Ball boy sparks brawl that mars Australian football cup final (VIDEO)
This is the moment a reluctant Australian ball boy caused a mass on-field melee in a match between rivals Sydney FC and Adelaide United in the dying moments of the Football Federation Australia (FFA) Cup final.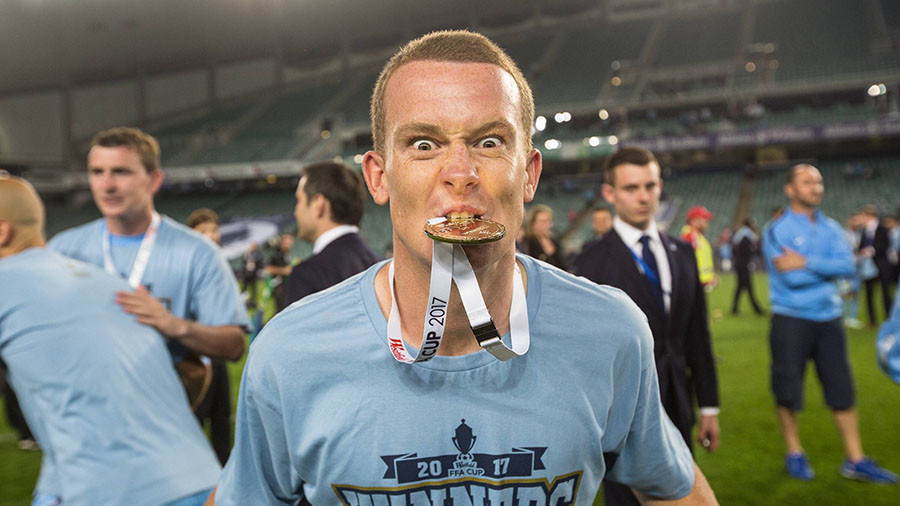 Deep into extra time in the match, with Sydney leading 2-1 in their home Allianz Stadium, the ball is cleared out of play by a Sydney player and is picked up by a ball boy on the sideline.
When Adelaide defender Matt Marrone runs over to collect the ball, the youngster turns his back and refuses to return the ball. In Marrone's haste to get the game going again, he attempts to prize the ball from the boy's grasp but instead sends him sprawling to the floor.
Enraged Sydney midfielder Matt Simon, standing on the pitch nearby, sprints towards Marrone to tear the player away from the boy, who is lying on the floor after being bundled over.
The ensuing melee sees almost every active player, substitutes, members of both teams' benches and even officials involved in a shoving match near the tunnel.
READ MORE: FIFA announce star-studded World Cup final draw for Kremlin ceremony
The incident happened in the 114th minute of the game, some three minutes after Brazilian striker Bobo netted what turned out to be the winning goal for Sydney.
Video footage of the incident shows that the ball boy was just shaken by the incident, and was not injured.
You can share this story on social media: