Hundreds of protesters kneel outside stadium to support protesting NFL players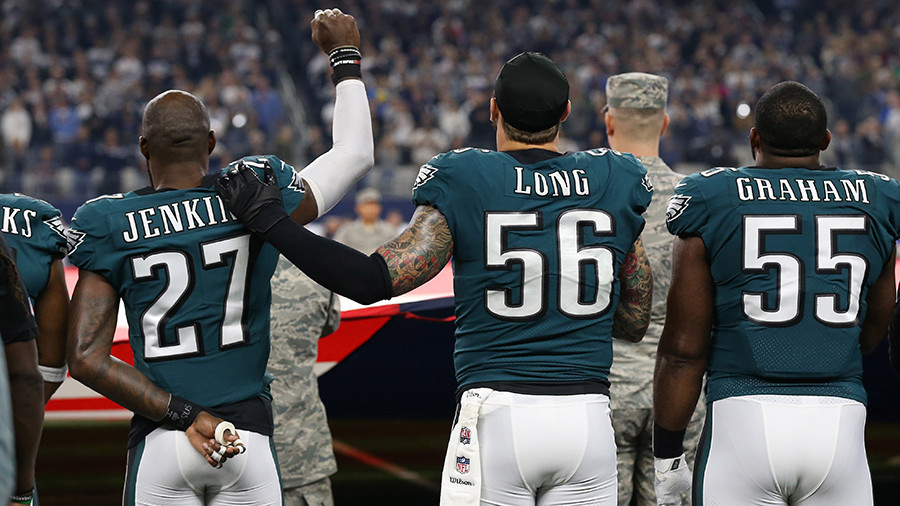 Hundreds of people gathered outside AT&T Stadium in Texas before the NFL game between the Dallas Cowboys and Philadelphia Eagles on Sunday, in a show of support for players who kneel during the national anthem.
The crowd of protesters, some of whom wore Colin Kaepernick jerseys, rallied around the statue of former NFL player and coach Tom Landry. They remained silent for half an hour once the national anthem was played inside the stadium, joining the wave of protests which has swept the league this season. Many of the demonstrators were also pictured raising their fists.
The action was directed by Freddy Haynes, a pastor at Friendship West Baptist Church, which is one of the largest predominately African American congregations in Dallas, to support "those NFL players who have been silenced by the NFL and the NFL team owners," as stated in the description of the meeting's Facebook page.
The Cowboys are one of the few NFL teams to have been relatively unaffected by the protests instigated by Kaepernick last season. Defensive lineman David Irving appears to be the only Cowboys player to have demonstrated by raising his fist at the end of the anthem on multiple occasions.
The Cowboys players' preference to stand for the anthem, however, has frequently been associated with comments made by the team owner, Jerry Jones, who promised to bench athletes who "disrespect" the flag.
Pastor Haynes, who claims to follow "the narrative of what Colin Kaepernick originally took a knee for," launched a "Justice for all movement" to support the NFL players "who are courageously protesting against police brutality and injustice against black and brown members of the community."
One more protest action, also displayed on Sunday, took place outside NRG Stadium in Texas, where the Houston Texans hosted the Arizona Cardinals.
The demonstrators, among them members of the Texas Organizing Project, rapper K-Rino and state Rep. Ron Reynolds, reportedly called for Texans owner Bob McNair to step down, and chanted "McNair don't care" and "We stand with Kaepernick."
READ MORE: Almost entire NFL team 'takes a knee' in protest at owner's 'inmates' remark
Tensions between the club owner and the Texans players escalated following McNair's controversial remarks at the NFL meeting, where he reportedly said "we can't have the inmates running the prison," referring to the ongoing protests.
He later apologized for the comments, adding that the "inmates" comparison was not addressed to the players. Two days after the incident almost the entire Texans squad took a knee ahead of their game against the Seattle Seahawks in response to the team owner's words.