'Thank you Russia for beating hate with love' – New Zealand fan's heartfelt letter to football fans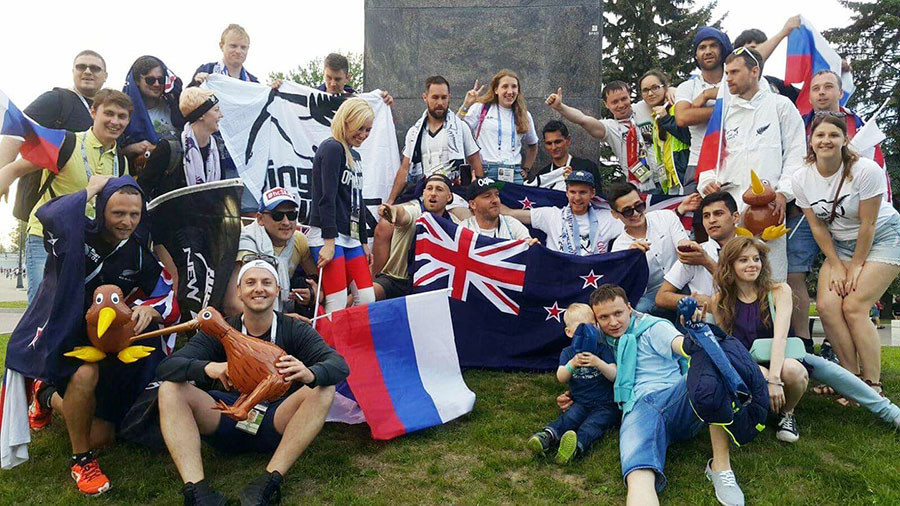 When New Zealand failed to become the 32nd and final qualifiers for the Russia 2018 World Cup, going down 2-0 to Peru in their play-off second leg in Lima, it shattered the dreams of their steadfast official supporters group – 'The Flying Kiwis'.
The group had hoped for a return to Russia since visiting last summer for the 2017 Confederations Cup, held in four Russian cities from June 17 to July 2, and in which New Zealand played in the opening match against hosts Russia at St. Petersburg Stadium.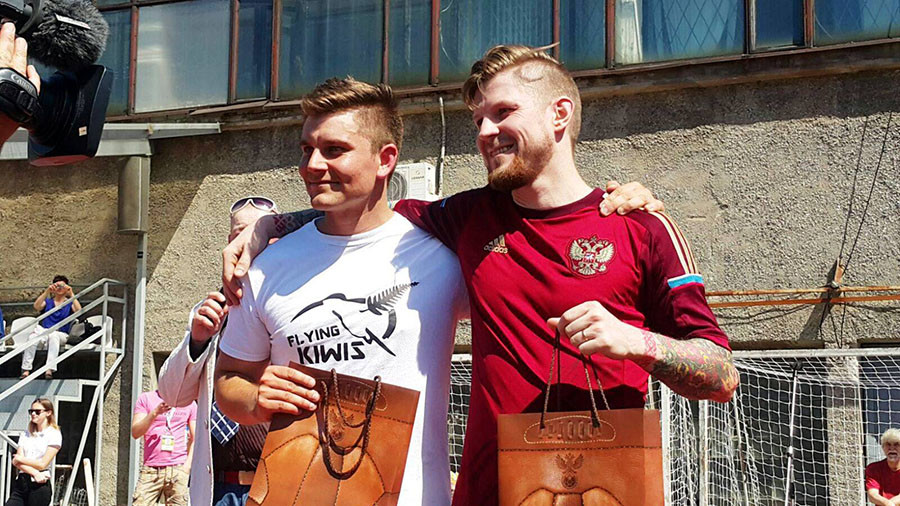 Defeat hit 'All Whites' fan Matt Fejos the hardest. The Wellington native traveled to all three New Zealand games at the tournament, from St. Petersburg to Sochi and back.
He also personally organized a football match between the Kiwis, whose name juxtaposes their flightless national bird and unofficial demonym with their jet-setting tendencies, and local fans before that game.
The Kiwis won the match 3-0; faring far better than their national team, who were defeated 2-0 in the Confed Cup curtain raiser.
A lifelong football fan, Fejos has taught futsal to youngsters at Tranmere Rovers FC in England, and is a season ticket holder at Old Trafford, home of his heroes Manchester United. On his journey back to the Southern Hemisphere, Fejos felt compelled to pen a message to Russian supporters he'd met during his trip.
Fejos thanks them for "showing genuine and sincere hospitality," and expressing regret at his team's absence from next summer's World Cup. He declared every Russian he encountered on the journey to be "Open. Warm. Welcoming. Friendly," damning some of the more widely-held Western stereotypes of the country as dangerous, confrontational and unable to hold a major sporting event.
Conversely, he wrote: "I couldn't think of more deserving hosts for the 2018 World Cup."
In the letter, sent directly to RT Sport and entitled: "To the people of Russia, from The Flying Kiwis," Fejos writes, "New Zealand's fairy tale is over as we fell at our final hurdle to return to Russia for the 2018 World Cup. For the Flying Kiwis supporters, going to the 2017 Confederations Cup in Russia was a magical experience we will never forget."
"People we didn't know, and our friends and family, told us not to come. It's too dangerous they said. They're all hooligans. There's gangs. The police are aggressive, the authorities heavy handed and the politicians dictatorial.
"So they said.
"And what if all these things are true? What if there are statistically more arrests in football in Russia? What if Moscow has one of the highest crime rates in the world? What if police brutality exists?
"Well, the gangsters, hooligans and politicians are the minority. And everyone deserves a chance.
"Did you know New Zealand has one of the highest rates of domestic violence in the world? And that with every (thankfully rare) loss of the All Blacks national rugby team a spike in domestic violence invariably results? Of the developed world, New Zealand has the highest reported rate of partner violence, and child abuse. More disturbingly, over 80% of cases are not reported.
"So if we want to categorise an entire group of millions with sweeping prejudice, then no girls should ever speak to me. Statistically, of any 'developed' nationality, I am most likely to abuse them. I am one of the most dangerous men in the world, to the people I should love the most. According to statistics and prejudice.
Read more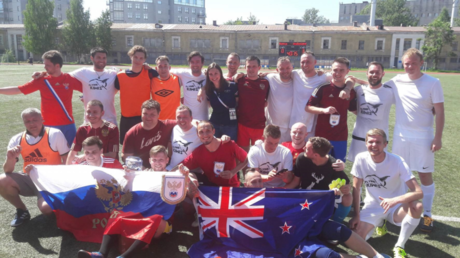 "If all Russians are violent thugs, then I am a wife beater. But neither is true. Only the irrational fear that exists in your head creating such simplistic realities. Because that's easier right? But it's not right.
"So we came. We gave them a chance. Against the wide popular opinion and media feeding us the message that is was one of the most dangerous places we could go. But how you, the Russian people, proved them wrong.
"Everyone we asked for help, bought food off, asked for directions, said hello to, met on the street or at the football was amazing. Open. Warm. Welcoming. Friendly. And so happy and proud to show us Russia. The real Russia.
"When we were your opponents on the first game of a major tournament but you saw us as friends. With support from Football Supporters Europe and the Russian FA, you hosted us for a friendly game and welcomed us into Russia with such warmth and hospitality. So thank you.
"To every fan selfie, hostel receptionist, ticket officer, policeman, volunteer, shop attendant and football fan. When the world, the media and simple-minded opinion were all against you, it would have been easy to respond in anger and ironically prove them right.
"And I did see one horrific beating. I saw the beating of hate and prejudice with overwhelming love and friendship. And it filled my heart with hope and love. God knows how much the world needs that at the moment.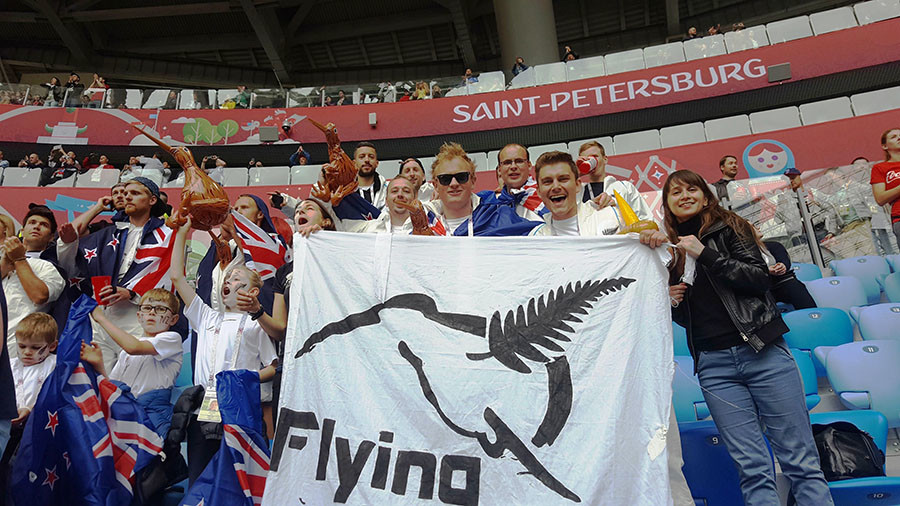 "So thank you for welcoming us New Zealanders to Russia. Despite our gangs, our prejudice, the biased media and our shocking rate of domestic violence. Thank you Russia.
"For reminding us that everyone deserves a chance. For beating hate with love.
"And showing us such genuine and sincere hospitality.
"I couldn't think of more deserving hosts for the 2018 World Cup, than the real people of Russia, the ones you meet every day. Until New Zealand play Russia in a friendly someday. Much love. The Flying Kiwis."
Explaining why he wrote the letter, Fejos said, "It's a heartfelt message thanking the Russian people for an amazing experience and want to emphasize how good the World Cup will be with Russian hosts based on our experience there in June."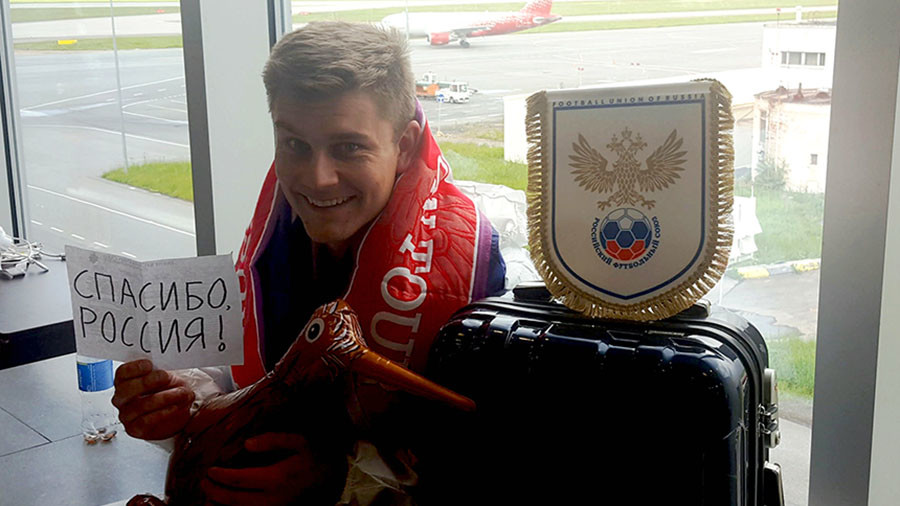 Despite missing out on the World Cup, Fejos has many bright memories to look back on from the Kiwis' Confederations Cup experience. His proudest, personally, was seeing New Zealand take the lead against Mexico in the south Russian resort of Sochi. Not for the celebrations or the satisfaction of his tiny rugby-nation homeland
"In Sochi versus Mexico and the first half goal to go 1-0 up from Chris Wood I will never forget," Fejos reminisces. "Young boy who assisted the goal – Clayton Lewis – I coached three-and-a-half-years ago in futsal and that tournament got him a move to Scunthorpe."
Although Fejos will not be attending Russia 2018 to support his beloved All Whites, his measured words of encouragement weigh heavy in the face of stereotypes, harsh preconceptions and fear-mongering, in anticipation of what will be a celebration of football for all sets of supporters from all cultures.
By Danny Armstrong, For RT Sport