Pitching the question - Houston Astros player proposes to girlfriend after World Series win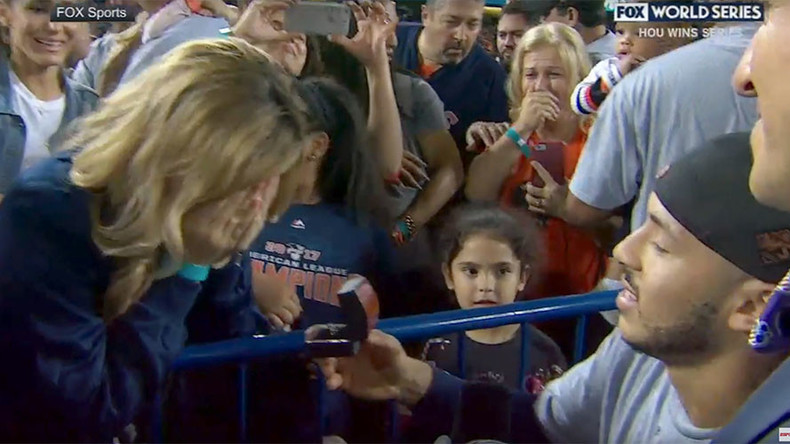 Houston Astros player Carlos Correa proved he's quite the catch when he made a surprise proposal to girlfriend Daniella Rodriguez immediately after his team won their first ever World Series.
Moments after the Astros clinched the World Series with a 5-1 victory in Game 7 over LA Dodgers at Dodgers Stadium, Puerto Rican-born shortstop Correa wasted no time hitting his proposal out of the park.
In a post-game interview, the 23-year old told Fox Sports, "Right now I'm about to take another big step in my life," before reaching into his back pocket for the ring. "Daniella Rodriguez, you make me the happiest man in the world, will you marry me?"
Former Miss Texas USA Rodriguez clasped her hands around her mouth in shock and, when Correa dropped down on one knee, she doubled over and wailed before breaking through the crowd barrier to plant a huge kiss on the face of her new fiancé.
Correa later revealed that his mother had urged him to pop the question to Rodriguez weeks earlier, but the younger Correa had gambled on getting down on one knee only when the Astros capped off their season with World Series success.
Rodriguez said she still had no idea her boyfriend of over a year was planning the shock proposal, despite his constant requests for her to be by his side during the interview.
"Everyone knew besides me," Rodriguez said, AP reported. "I'm really good at finding stuff out. Every time I had a surprise birthday party, I would always find out. So I was literally in just the complete dark about this. Everyone knew but me.
"He had been so focused on the game," Rodriguez added. "All he ever talked about was winning the World Series, so I never really thought something like this would be on his mind, so when it all went down, I was just shocked."
READ MORE: 'F**k the Dodgers!' Irate baseball fan steals home run catch & throws it back (VIDEO)