'F**k the Dodgers!' Irate baseball fan steals home run catch & throws it back (VIDEO)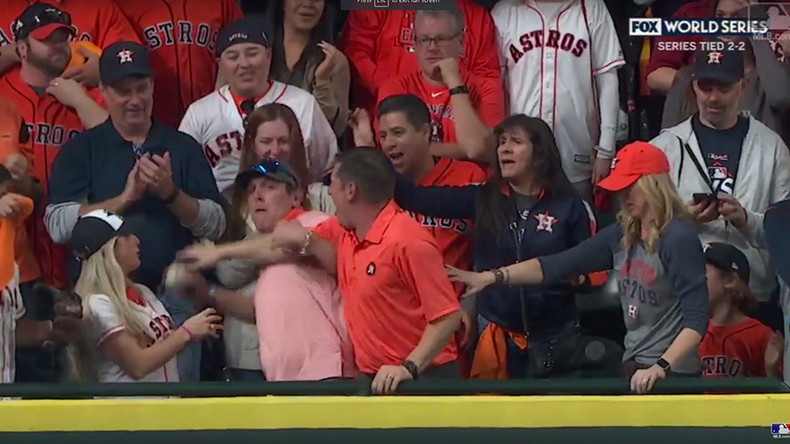 This is the moment an irate Houston Astros fan stole a home run ball caught by a nearby supporter and angrily hurled it back to the field of play during World Series Game 5 with the LA Dodgers.
When the Dodgers' Yasiel Puig hit a ninth-inning home run in Game 5 of the World Series, Astros fan Sarah Head, sitting in the left-field seats, caught the homer ball.
Seconds later, a man two seats to her right angrily snatches the ball from her grasp. Despite desperate preventative attempts from Sarah's husband, the man defiantly hurls the ball back to the field of play.
The man turned out to be her brother-in-law, Kirk Head, and Sarah is only annoyed because she didn't get to throw the ball back herself but says she knew he was going to take it and throw it back.
"I would have liked the opportunity to throw it back myself," Sarah told Yahoo Sports.
The clip of the incident has since gone viral with Kirk quickly becoming Public Enemy No. 1 and having a torrent of online abuse aimed his way.
READ MORE: NFL star 'in danger of losing leg' after horrific injury in failed touchdown attempt (GRAPHIC VIDEO)
When Kirk was contacted by reporters of his new found infamy, his only reply was, "F**k the Dodgers."
However, all was well after the game with Kirk confirming they "hugged and made up," and even stretching to giving Sarah signed memorabilia by way of apology for robbing her of the chance to return the ball herself.