NFL star 'in danger of losing leg' after horrific injury in failed touchdown attempt (GRAPHIC VIDEO)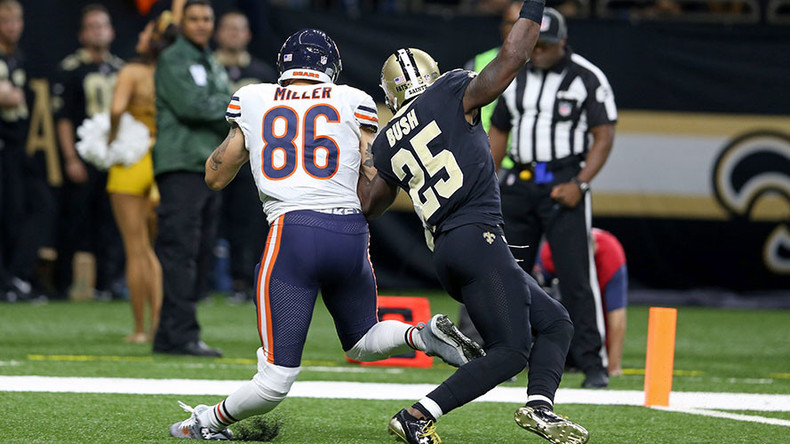 Chicago Bears tight end Zach Miller is reportedly in danger of "losing his left leg" after suffering a sickening injury while attempting to score a touchdown against the New Orleans Saints on Sunday.
Miller's left leg crumpled at the knee as he collected rookie quarterback Mitchell Trubisky's 25-yard pass for what the team thought was a touchdown.
The 33-year-old appeared to gather the ball cleanly in the end zone despite his knee contorting excruciatingly in the process. However, to add insult to injury officials ruled it an incomplete pass after viewing the replay, deeming that the ball had hit the ground out of Miller's control.
READ MORE: NFL 'suffering negative effects' from protests – Dallas Cowboys owner
The incident was replayed on the scoreboard several times, making the horrific extent of the injury clear to the more than 70,000 fans gathered at the Mercedes-Benz Superdome in New Orleans.
Miller was carted off and the Bears later confirmed that he had dislocated his knee.
The sickening injury came late in the third quarter on a third-down, and although the Bears scored the subsequent field goal, they went on to lose 20-12.
ESPN reporter Chris Mortensen said Monday that Miller had undergone urgent surgery in an attempt "to save his injured leg."
Mortensen quoted sources as saying that the injury was "more significant" than a regular dislocation, and that efforts to repair Miller's left leg had involved grafting tissue from the other leg to repair the damaged artery. He was not clear whether the danger meant Miller losing the functionality of the limb or the entire leg.
After the defeat much of the talk was on Miller's horrifying injury and the decision not to award the touchdown.
"He made a heck of a catch. It was a great effort on his part," Trubisky said, AP reported.
Bears running back Jordan Howard said the team felt hard done by at the decision, saying: "I definitely was very surprised. I thought he [Miller] had control the whole time."
The social media reaction was a mixture of anger at the officials, sympathy for Miller and collective recoil at the nature of the injury.
The injury is the latest in a long line of tough blows for Miller, who missed the last six games of 2016 with a fractured foot, and was forced to miss the whole of 2012 through 2014 with various foot and shoulder problems.