Tyson Fury asks Donald Trump to accompany him on comeback fight ring walk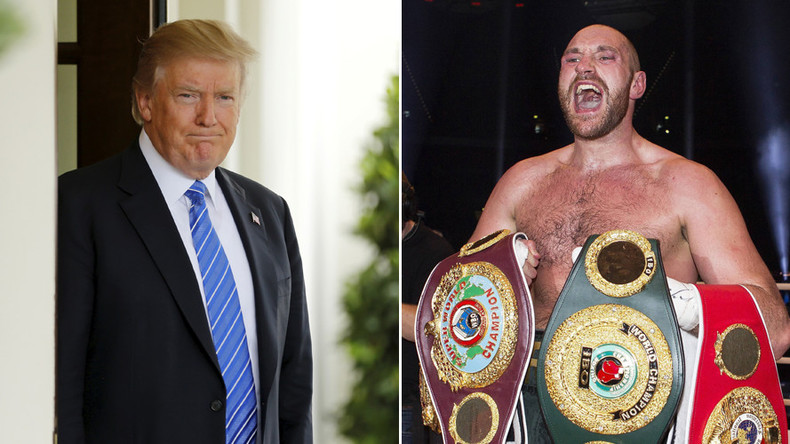 Former undisputed world heavyweight champion Tyson Fury has asked US President Donald Trump to join his ring walk for a possible comeback fight against British rival Anthony Joshua.
Fury, who has not fought since November 2015, extended the offer to Trump on Twitter, asking who would win in a much-mooted matchup between him and current IBF and WBA heavyweight champion Joshua.
The 29-year-old recently announced he was in training for a comeback and named Joshua as his preferred future opponent, and wasted no time in ironing out the particulars of his ring return.
@realDonaldTrump who do you think wins the fury vs AJ fight? You can walk me out if you want, be a part of the biggest fight ever,🙏🏻🙏🏻❤️❤️

— TYSON2FASTFURY (@Tyson_Fury) October 31, 2017
"@realDonaldTrump who do you think wins the fury vs AJ fight? You can walk me out if you want, be a part of the biggest fight ever," Fury tweeted Tuesday.
In a characteristically outlandish claim, Fury said the fight would be reminiscent of the 1974 'Rumble in the Jungle' matchup between Muhammad Ali and George Foreman, fought in Kinshasa, Zaire.
Trump is no stranger to the rough and tumble of the sports entertainment industry. He famously made an appearance at a World Wrestling Entertainment (WWE) event, taking down and then peculiarly shaving president Vince McMahon in a rehearsed skit.
In the 1980s, Trump also became known as an associate of 'Iron' Mike Tyson, the youngest man to win the world heavyweight crown. Tyson trained at Trump Plaza the hotel and casino resort in New Jersey owned by the now-US president, before some of his world title defenses.
Named in honor of 'Iron Mike,' Fury has been out of action since defeating Ukraine's long-time champ Wladimir Klitschko by unanimous decision over 12 rounds in Germany two years ago to win the IBF, WBO and WBA titles.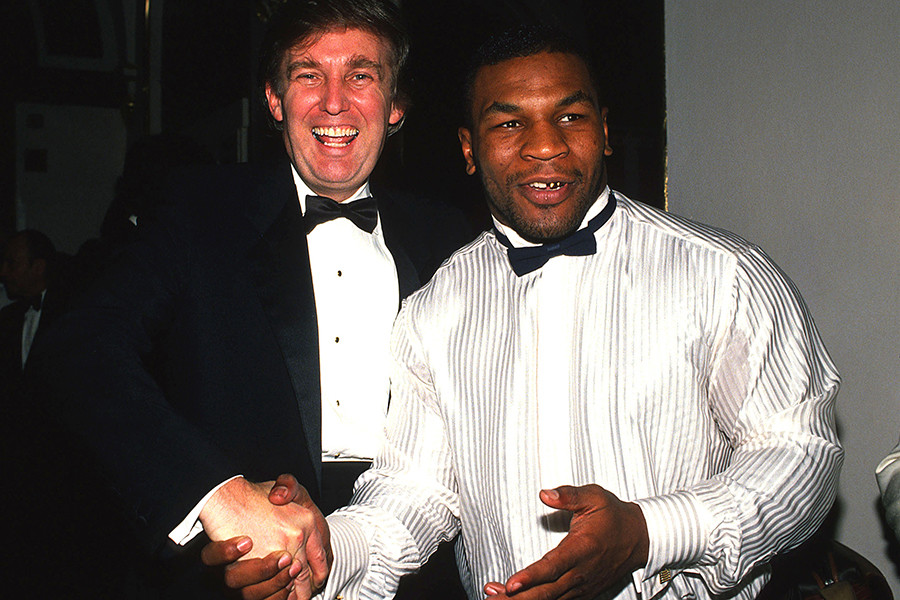 Although the 29-year-old is still recognised as heavyweight champion by 'Ring magazine,' the publication known as 'the bible of boxing,' Fury was either stripped of or relinquished his championship belts soon after winning them amid burgeoning personal troubles.
In October 2016, the fighter known as 'Gypsy King' had his license revoked by the British Boxing Board of Control (BBBofC) pending a probe into "doping and medical issues." Fury has since admitted to battling mental health problems - including depression - and heavily using cocaine.
This allowed Joshua to fight for and win the IBF title with a two-round demolition of American Charles Martin last year, before going on to stop former Fury foe Klitschko in April to capture the WBA strap.
Fury announced recently on Twitter he had been given the 'green light' to box in 2018 after receiving contact from the BBBofC to provide a date so his UK Anti-Doping (UKAD) hearing can resume. It means a matchup between Fury and Joshua could potentially take place next year.
The fighter from Manchester has attended hearings on his UKAD drug suspension, and must prove his mental welfare and physical condition to the board before his license will be renewed.
BBBofC chairman Robert Smith said the board has not yet received a date from Fury's legal team, but will only consider a ring return should Fury prove he is physically and mentally able to.
"We want Tyson Fury to come back fit and healthy, in the right circumstances," Smith told the Sun.
"At present time, he has a few things going on, so he needs those things resolved. Once they're resolved and he is a position to do so, we want to make sure he's healthy.
"But if we are able to consider him boxing again, we want that to happen."
Anthony Joshua is unbeaten in his 20 professional fights, winning all 20 by knockout, his last victory coming by way of a 10th-round stoppage of challenger Carlos Takam to retain his belts on Saturday.
You can share this story on social media: