30yrs ago 'Iron' Mike Tyson became youngest heavyweight champ in history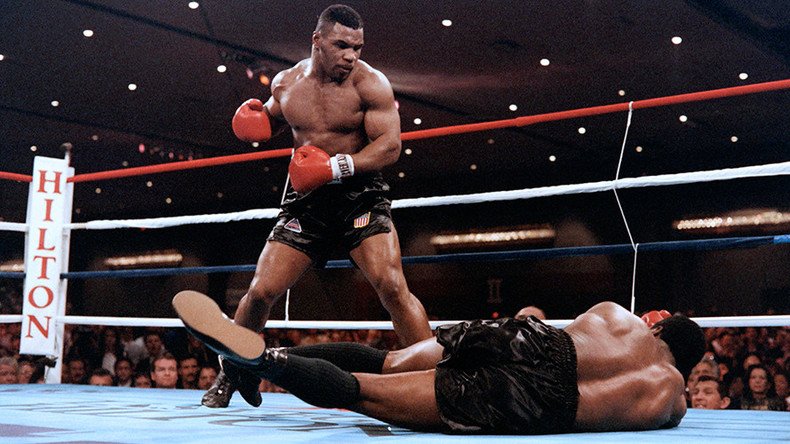 Thirty years ago this week, Mike Tyson became the youngest heavyweight champion in boxing history when he knocked out Trevor Berbick, to pave the path for one of the most colorful sporting lives ever lived.
Tyson was just a young man from the backstreets of Brownsville, Brooklyn, when he challenged 32-year-old Berbick for his WBC heavyweight title at the Riviera Hotel & Casino in Las Vegas, Nevada, on November 22, 1986.
His fledgling professional career up to that point had yielded 26 knockouts from 27 wins. At 2 minutes 18 seconds of the second round of the fight in question, Tyson let Berbick know exactly why he had become known by the moniker 'Kid Dynamite', landing a slicing left hook to the defending champ's temple.
The blow sent Berbick crashing to the floor, his shaky legs unable to raise him. After trying to stand up – "like a drunken baby in a playpen," as described by commentator Reg Gutteridge – he was counted out by referee Mills Lane.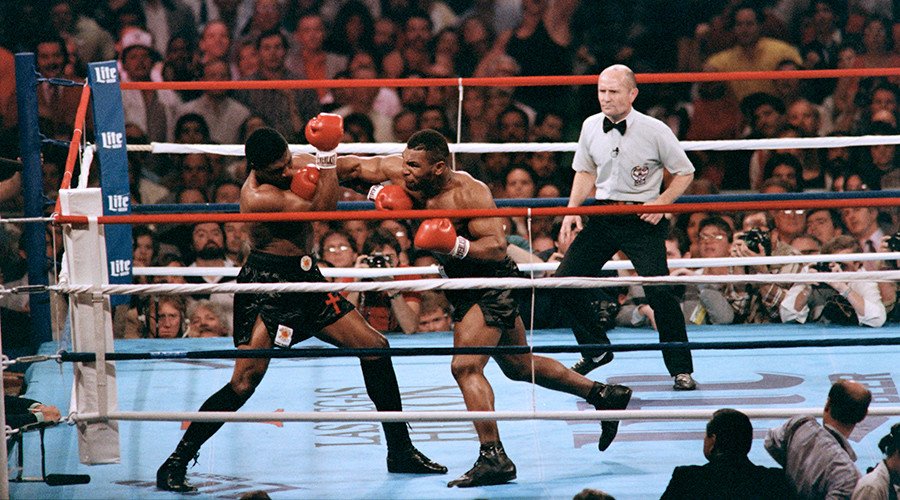 Tyson, hands outstretched in acknowledgement of his knockout win, was the champion; with those same hands, he had written himself into the history books.
At 20 years, four months, three weeks and two days old, Tyson had beaten Floyd Patterson's record for becoming the youngest world heavyweight champion in history. Patterson, who was also a prodigy of Tyson's now late legendary trainer Cus D'Amato, was 21 when he won the vacant heavyweight title in 1956.
Tyson also bettered the record for being the youngest man to win the title from a reigning champion set by a 22-year-old Muhammad Ali – at the time known as Cassius Clay – when he beat Sonny Liston in 1964.
Coincidentally, Tyson said after the fight the beating he gave to Berbick was revenge for the defeat the latter had inflicted on Ali that ended the storied career of 'The Greatest' five years previously and forecast that his feat would never be matched.
"It's the moment I waited for all my life, ever since I started the game of boxing. Every punch I threw, I threw with bad intentions," Tyson told HBO broadcaster Larry Merchant in his post-fight interview.
"I'm the youngest [heavyweight] champion ever in the history of the sport and my record will last for immortality – it will never be broken," he added.
Tyson's prediction has thus far proved correct. Exactly three decades after Iron Mike announced himself to the boxing world as one of the most exciting fighters in the world, no one has even come close to matching either record.
He went on to defend his title nine times, unifying each sanctioning body belts and being named Ring magazine fighter of the year twice in the process. In 1988, Tyson set yet another heavyweight boxing record when he bludgeoned Michael Spinks into defeat in merely 91 seconds - the quickest heavyweight title defense ever. That record has also gone untouched.
"There's no fighter like me and I can beat any man in the world. Brownsville! Alright!" Tyson exclaimed to Merchant in his post-fight interview. He went on to make two more crushing defenses the following year, increasing his record to 37-0.
But in 1990, Tyson was brought crashing down from atop the crest of his devastating wave when Buster Douglas hammered him into a 10th-round knockout loss in Tokyo, Japan. There were rumors that Tyson had not trained for the fight, and had instead indulged himself in the fruits of his sky-high celebrity.
Already-prevalent managerial and marriage problems had unraveled, and just two years later Tyson's career was truncated by a rape conviction, the result of which saw him spend three years of his prime behind bars. His release from prison in 1996 brought about a much-anticipated and successful comeback and a ferocious Tyson quickly won back the WBA and WBC titles.
However, a belated showdown with seasoned warrior Evander Holyfield in 1997 brought his second career defeat, this time by 11th round knockout. The rematch has since become infamous for an incident where an enraged Tyson bit off chunks of Holyfield's ears and shoved him in the back in retaliation, as Tyson later alleged, to head-butting.
Tyson was disqualified and banned from boxing for over a year and fined $3 million, all of which added to his persona which had evolved from 'Kid Dynamite' to 'The Baddest Man on the Planet'. The fury which had been tamed and channeled inside the ring had spilled over and spiraled out of control, and Tyson's personal life soon followed suit. After sub-par performances in the ring Tyson retired aged in 2005, just short of his 39th birthday.
Almost all of the $300 million wealth he had accumulated along the way had gone, squandered on luxuries from pet Bengal tigers to fleets of Bentley cars. Murky contract disputes with notorious promoter Don King and divorce from actress Robin Givens, as well as legions of hangers-on also contributed to Tyson's dire financial state.
READ MORE: From boxing's bad boy to devoted family man: 'Iron' Mike Tyson turns 50
Today living in Nevada, Tyson, who celebrated his 50th birthday in June, is now a devoted husband and father who tours a one-man stage show in which he captivatingly recounts his life stories with tales of his equally evocative and extreme highs and lows.
Through each of them Tyson's life has changed dramatically. But one thing remains permanent in the annals of history: Mike Tyson, aged 20 years, four months, three weeks and two days on November 22, 1986, is still the youngest heavyweight champion in boxing history.
You can share this story on social media: