British & Irish football associations to ask FIFA to grant controversial poppy permission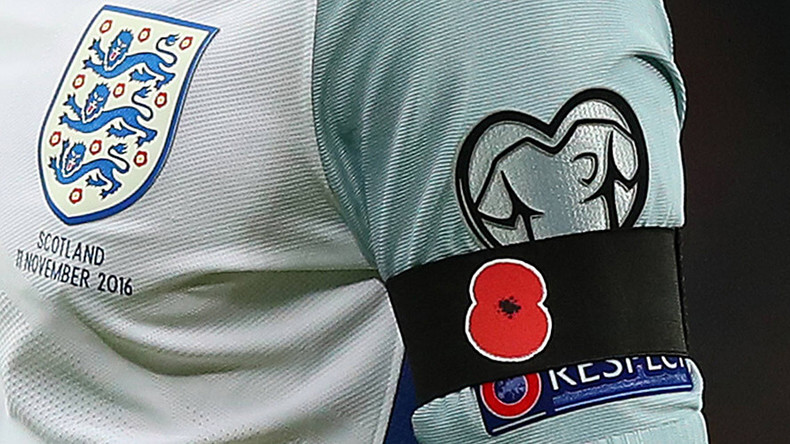 The Football Associations of England, Wales, Scotland and Ireland will ask world football's governing body FIFA for permission to wear poppies on armbands in remembrance of Armistice Day in upcoming friendlies.
The English Football Association (FA) posted a statement Monday announcing its intention to seek permission to wear the poppies during England's game against Germany at Wembley on November 10.
That game is played one day before Armistice Day, known as 'Remembrance Sunday' in the United Kingdom, which commemorates the signing of the armistice that ended hostilities on the Western Front in 1918, signalling the end of the First World War. It is traditionally marked on November 11.
The FA also stated that the associations, known collectively as the home nations, "welcomed" a new law that governs what can and cannot be worn on players' shirts. Last year, FIFA turned down a home-nations request to wear the poppies, as it went against its rules on "political symbols".
"The four football associations of the home nations (The FA, FA Wales, Scottish FA and Irish FA) welcome the new clarification on Law 4, issued on 26 September 2017 by the International Football Association Board (The IFAB), in close cooperation and agreement with FIFA, governing what can and cannot be worn on players' shirts," the statement read.
"It was important that clarity was brought to this issue as it affects many football matches/competitions throughout the world and is particularly helpful in relation to remembrance and poppies.
"In any year when there are international matches in the week leading up to and including Remembrance Sunday, it is the intention of all four home nations to seek permission from the opposition team and FIFA (as the authority responsible for those matches) to display the poppy on armbands."
All four home nations observe Armistice Day or Remembrance Sunday, when British football teams traditionally hold a minute's silence and wear embroidered poppies on their shirts that weekend.
Last year, FIFA refused an appeal from England and Scotland to wear poppies when they played each other in a World Cup Qualifier at Wembley on November 11, citing its laws on prohibiting political, religious, or commercial messages on shirts.
READ MORE: England & Scotland to defy FIFA poppy ruling despite sanction threat
Despite the ruling, both teams wore black armbands bearing the poppies, with the FA saying it did "not believe it represents a political, religious or commercial message, nor does it relate to any one historical event."