Labor union files complaint against NFL owner's decision to punish protesting players
Published time: 11 Oct, 2017 20:42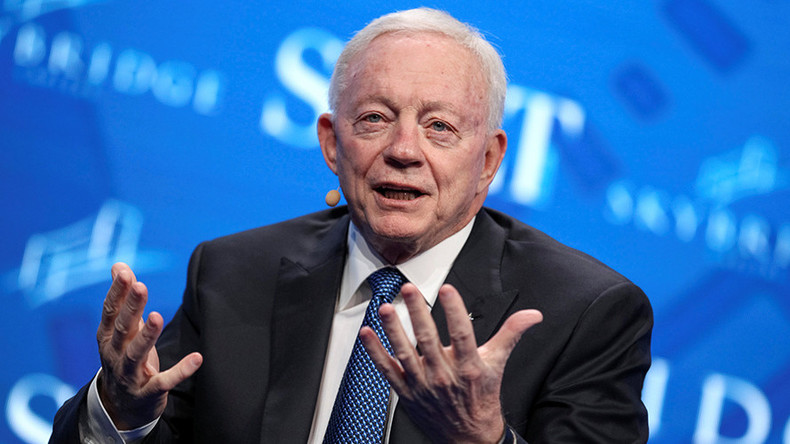 A prominent US labor union has filed a complaint against the Dallas Cowboys owner, Jerry Jones, following his threat to punish players who kneel during the national anthem.
Local 100 United Labor Unions, which unites union representatives from Texas, Arkansas and Louisiana, filed the complaint with the Fort Worth office of the National Labor Relations Board on Tuesday, after Jones promised to bench protesting athletes.
READ MORE: 'Stand for anthem or sit for game': NFL owner's ultimatum to players
Wade Rathke, chief organizer of Local 100, said that Jones' threat violates the National Labor Relations Act of 1935, which allows employees "to engage in protected concerted activities for the purpose of collective bargaining or other mutual aid or protection."
Rathke fears that Jones' decision may lead to illegal firings of the NFL players.
"It's a threat and you can't threaten someone's job for concerted activity. The point is he is threatening anybody and everybody. We are trying to send Mr. Jones a message that there is a law here," he told the Star-Telegram.
Earlier this week Jones, arguably one the most powerful owners in the NFL, voiced his hardline position on the kneeling protests, stating he will bench players who disrespect the anthem.
The wave of protests, which has spread to other US sports leagues, was launched by San Francisco 49ers quarterback Colin Kaepernick in 2016, when he refused to stand for the national anthem.
Last Sunday, US Vice-President Mike Pence walked out of an NFL game between the Indianapolis Colts and San Francisco 49ers, when more than 20 players of the visiting side kneeled during the anthem.