'I recognized a really good atmosphere!' – Liverpool manager on Russian football fans
Reigning Russian champions Spartak Moscow held English Premier League giants Liverpool to a 1-1 draw in their UEFA Champion League meeting Tuesday.
Around 1,000 fans travelling from England for the match soaked in a full football atmosphere in the Russian capital for the much anticipated Group E clash between two of the most successful sides in European football.
Russian fans welcomed their English guests by presenting them commemorative red t-shirts with 'Gentlefan: Russian Warm Welcome' emblazoned on the front, complete with dates of the previous meetings between the two clubs on the back.
A strong 43,376 were in attendance at the Otkrytie Arena, where Spartak fans welcomed the long-awaited Champions League anthem with 'Spartak Moscow' and 'One And Only' red and silver sparkling banners at opposite ends of the pitch.
Spartak were first to draw blood when Brazilian midfield wizard Fernando curled in a free kick past the Liverpool goalkeeper on 23 minutes to put the home side ahead.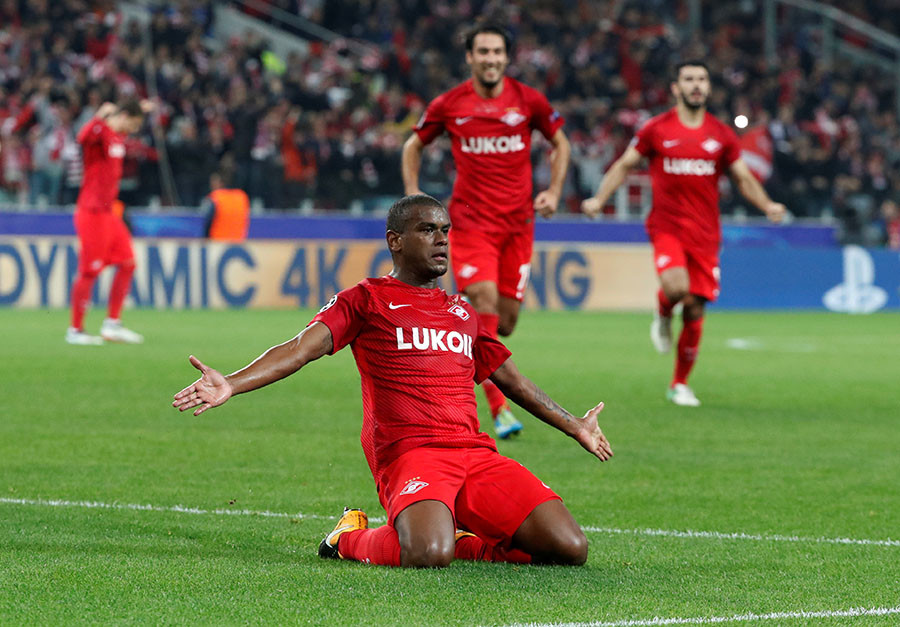 However, Spartak's lead lasted only 8 minutes as Liverpool broke down the other end and Philippe Coutinho, who was rumoured to leave the Merseyside club for Barcelona in the summer, lifted the ball over Spartak stopper Artem Rebrov from close range on the left.
Rebrov, who was the stand-in skipper in place of the injured Denis Glushakov, was Spartak's best player up until that point, but even he could do nothing about the strike from Liverpool's own Brazilian bright spark and both teams went into the break level.
Liverpool were guilty of not converting some clear cut chances in the second half. Substitute Daniel Sturridge fired over from a Jordan Henderson lofted pass when unmarked and onside, moments after the Englishman had hit the post.
Trent Alexander Arnold also found the woodwork for the visitors, and Mohamed Salah could find neither Sturridge nor Roberto Firmino from wide and instead squared to a Spartak defender who cleared.
In the midst of the action, goalkeeping hero Rebrov went off injured in a motor buggy to a standing ovation. He was replaced by Aleksandr Selikhov who carried on the stand-in skipper's heroics to make sure the game ended level.
After the match, Liverpool manager Jurgen Klopp said the draw was a result of his side wasting chances, but also praised the defensive nature of Spartak.
"We are not right now the luckiest team in world football. It was hard against a very defence orientated team" the German coach lamenting his team's lacklustre display in front of goal.
Klopp was also presented with a gentlefan t-shirt from a journalist, who asked "why couldn't you score?" to which the Liverpool manager dryly replied "Because we couldn't", despite his side having "four or five 100% chances."
"It's a cool idea in actual fact, it is something that sticks in the memory," Russian reporter Alina Matinian, who gave Klopp the t-shirt, told RT Sport at the stadium.
The Russian football association thought the idea up. "I gave a gentlefan blanket to Jose Mourinho last year in Rostov in the Europa League match. And they asked me to do it again this year to Klopp, but this time a t-shirt," Matinian said.
The game between Spartak and Liverpool could have been played behind closed doors after UEFA opened disciplinary proceedings against Spartak fans following their behaviour at their Champions League opener away to Maribor.
READ MORE: UEFA bans Spartak Moscow fans from away tie after rocket stunt - Liverpool match unaffected
It was rumoured the game would be played behind closed doors, but UEFA instead decided to fine Spartak €60,000 ($70,000) and barring them from the next away game on November 1 at Sevilla.
Klopp however said he was impressed with the atmosphere dished up by the Spartak fans who created a cauldron of white-hot atmosphere fit for the occasion.
"What I recognized was a really good atmosphere," Klopp said.
"I'm not really interested in the great atmosphere at an away stadium.
"But about the discussions (about the fans' behaviour), when we heard it, it's not that we're looking forward to game behind closed doors, I prefer playing in a full stadium."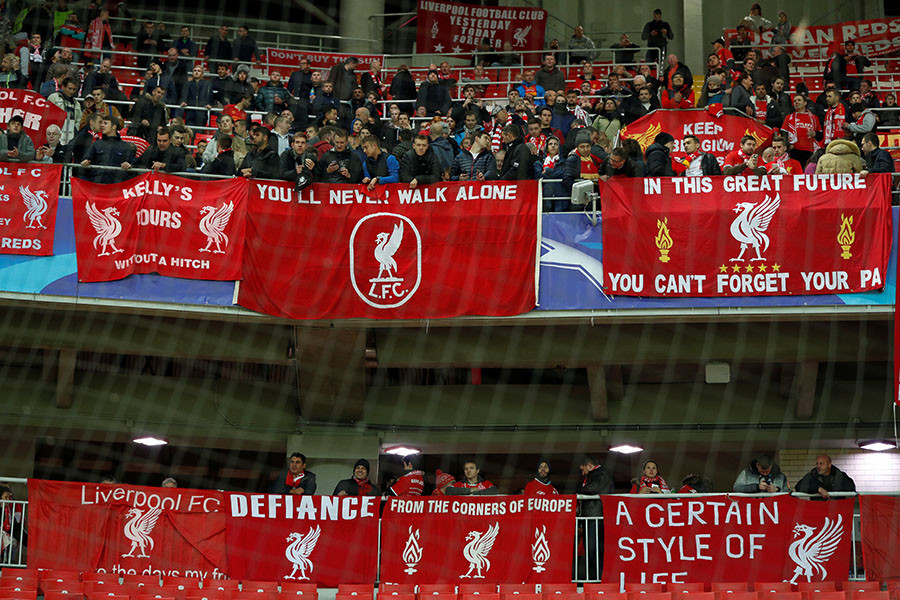 Klopp started with Sadio Mane, Philippe Coutinho, Mohamed Salah and Roberto Firmino in the same side, something of a rarity in his Liverpool teams of late and said that he intends to continue with such an attacking formation.
Klopp acknowledged his side had to be more clinical on the night but expressed belief that Liverpool would qualify from the group stage after picking up just two points in their first two games.
"We created, created, created, but the chances we had were big enough to score two, three or four times.
"We tried with all we had. We have to carry on. The effort was great. It was a very intense game for our side. We created the chances but we have to be more clinical, that is 100 percent sure.
"The only way to change it is to do it again, do it again and do it again. We got in the right positions," he said.
Both Spartak and Liverpool have drawn their two opening Champions League games and sit level on two points with Sevilla top of the group on 4.
by Danny Armstrong for RT Sport