'We're back': German fans invade English stadium after 25-year Europe absence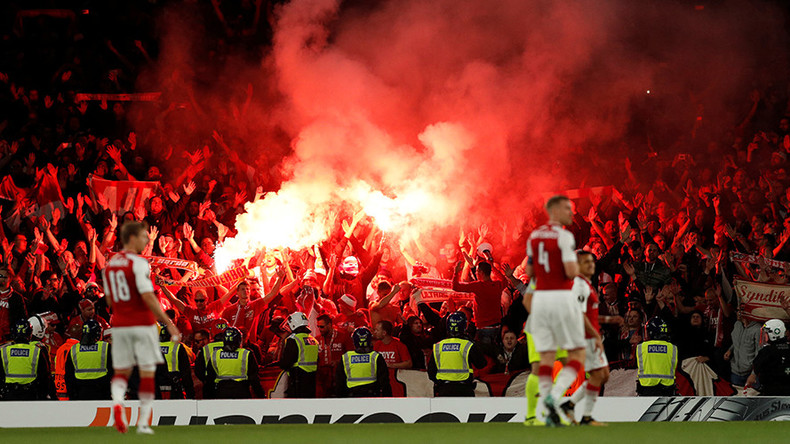 Fans of German football club FC Cologne made their presence felt after a 25-year absence from European football by swamping Arsenal's Emirates Stadium on Thursday.
Around 20,000 fans made the trip from Cologne to London for the Europa League game, each desperate not to miss their club's first European game in a quarter of a century.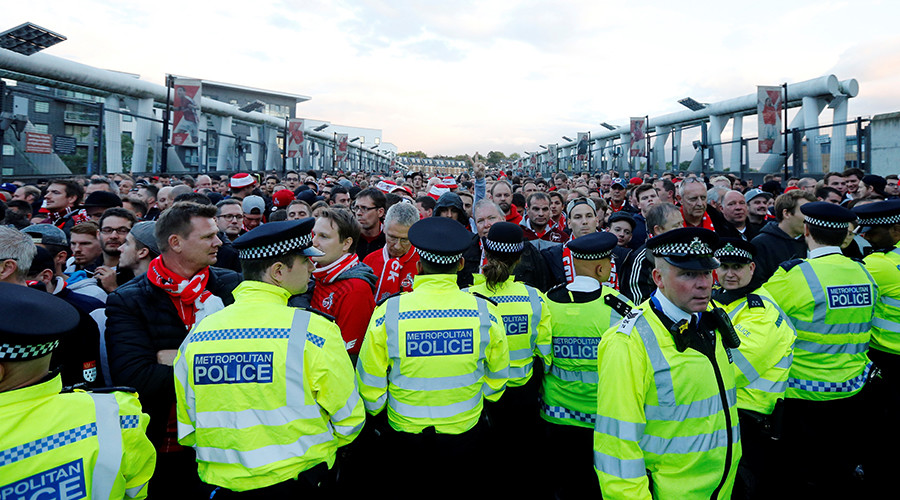 Some ticketless Cologne supporters resorted to buying Arsenal jerseys from the nearby club store in a bid to force their way into the stadium.
Kick off to the match was delayed by one hour as masses of fans began to fill the home end, designated exclusively for Arsenal fans, particularly in the Clock End section of the Emirates.
UEFA regulations dictate home clubs are only obliged to offer visiting teams 5 per cent of the stadium capacity - working out at just 2,900 tickets for the 60,000 Emirates Stadium.
Footage before the match had surfaced on social media of hundreds of Cologne fans marching through London, creating a sea of red and white.
The joy for Cologne fans heightened when the action finally got underway, and their team soon went 1-0 up through a spectacular Jhon Cordoba long range chip with Arsenal 'keeper David Ospina off his line.
In the second half, Arsenal managed to find a way back into the game with a rocket from Sead Kolašinac and then a glorious individual effort from Alexis Sanchez. Hector Bellerin made it three on 81 minutes to ensure Arsenal made a winning start to their Europa League campaign.
During and after the game, English media were quick to condemn the actions of the Germans, but those in attendance thought the event injected much-needed atmosphere into the usually sterile Emirates, and noted that the German fans hadn't looked for trouble.
If England fans had done that in Germany last night, the outrage would be incredible. It happens here and we look to excuse it. Bizarre.

— John Cross (@johncrossmirror) September 15, 2017
Koln fans injected noise and numbers into the slumbering, self-satisfied, seated world of another Premier League era English giant.

— Andy Mitten (@AndyMitten) September 14, 2017
Last night, 20,000 Cologne fans reminded us of what we lost as supporters. This mornings press/media reports remind us of why we lost it.

— Ian Stirling (@Stirling061) September 15, 2017
"It was one of the best away followings I've ever seen. But it had so much emotion to it," German football journalist Matt Ford, who attended the match, told RT Sport.
"FC Cologne is an institution in Cologne. Even people who aren't into football like them. It's part of the culture. Last night was a proper migration. Anyone who was anyone simply travelled, ticket or not.
"And that was their biggest game in 25 years. It was a dream come true for them. None of them were after trouble, even the ultras – who have been known to have their moments."
Arne Steinberg, managing editor of the FC Cologne fanzine effzeh.com, penned an open letter, which was published in the Guardian on Friday, entitled 'For Cologne fans it was the biggest night of our lives. Thanks for having us'.
"Thanks for having us yesterday. It was an absolute dream for us to see Cologne play in London," Steinberg wrote.
Read more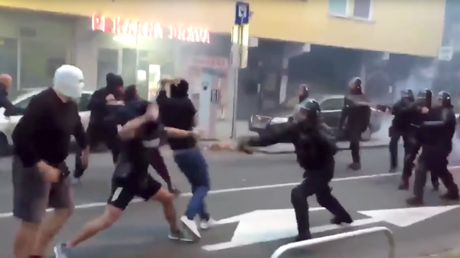 "Let's be clear from the outset: the fact that some idiotic fans tried to force their way into the stadium was a terrible idea that pretty much all Cologne fans strongly condemn.
"But please, the behaviour of 50-odd Cologne fans should not cloud the picture of the other 20,000, who had a peaceful party."
UEFA announced Friday that they will have charged both Cologne and Arsenal following the incidents.
The German club face four charges, including crowd disturbances and setting off fireworks while the Gunners face a charge over blocked stairways.
This case will be dealt with by the UEFAControl, Ethics and Disciplinary Body on 21 September.