Low blow! Boxer's son viciously attacks opponent with groin punch at weigh-in (VIDEO)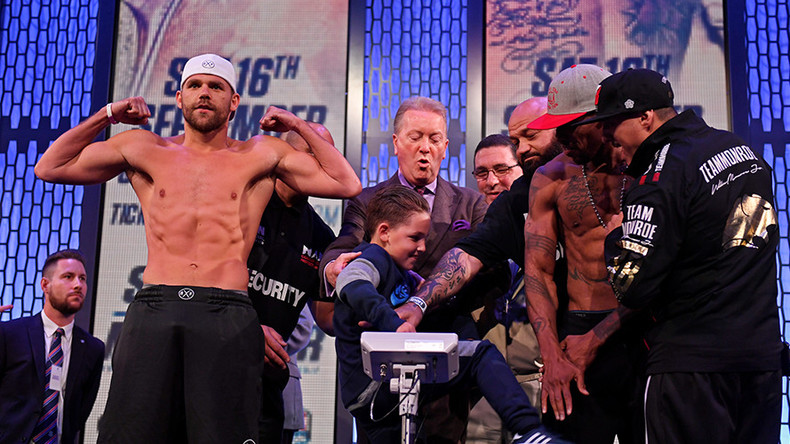 This is the moment the son of British world champion boxer Billy Joe Saunders kicked and punched his father's opponent, Willie Monroe Jr., in the groin at the weigh-in ahead of their fight this Saturday.
As WBO middleweight titleholder Saunders and American challenger Monroe Jr faced off, Saunders' son Stevie made his way in between the fighters and stood on the scales.
When Monroe Jr. ruffled the youngster's hair, Stevie unleashed a vicious dig at the fighter's family jewels, followed up by a kick before being pulled away.
"My son's been taught when a stranger puts their hands on them they don't know, punch and run away self defence," Saunders Sr. tweeted explaining his son's outburst.
Monroe's trainer was quick to step in and express his disgust at the young lad's behavior to fight promoter Frank Warren, with Saunders Sr. all the while flexing for the cameras.
Monroe Jr. seemed to take the incident with a pinch of salt and simply laughed it off.
Nicknamed 'El Mongoose', Monroe Jr. later took to instagram to vent his frustration about perceived poor treatment he has received since he arrived in London.
"I honestly thought people in London were cool but I've called a nigger..a w*nker...a Latin F*ck etc.
"And now at the weigh ins They bring a kid on stage to punch me in the Nuts and nothing was done about. Frank Warren should be ashamed of himself," he wrote.
The two fighters meet at the Copper Box Arena in London on Saturday night.
READ MORE: Slovenian hooligans violently clash with police after attempting to attack Russian fans (VIDEO)