Ex-UFC fighter Diego Brandao flees cage after illegal blow enrages fans in Dagestan (VIDEO)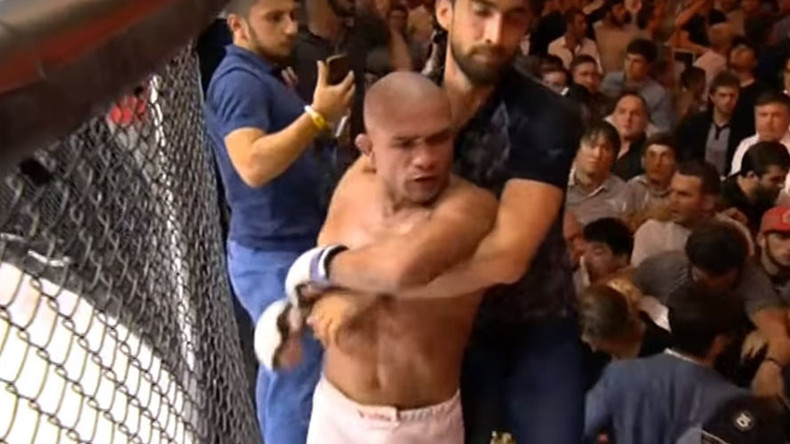 Controversial Brazilian MMA fighter Diego Brandao has once again attracted the attention of fight fans with his latest bout under the Fight Nights Global banner in Dagestan, Russia.
Following his departure from UFC due to a positive test for marijuana and assault charges, Brandao signed with Russian MMA promotion Fight Nights Global last year, and had already notched up two victories in the organization coming into his latest fight.
READ MORE: Hockey enforcer banned for life in KHL gets MMA offer from Fight Nights Global
Brandao gained popularity in Russia by winning both fights by spectacular stoppages, but also became notorious for his aggressive behavior outside of the cage.
Brandao won his first fight in Dagestan against local favorite Murad Machaev, performing a stunning helicopter armbar. He then engaged in a verbal conflict with the home fans, and had to be escorted from the arena by security guards for his own safety.
His second visit to Russia, when he knocked out Vener Galiev just 39 seconds into their fight in the city of Ufa, was marred by an altercation in the parking lot.
Video footage later appeared online showing a seemingly drunken Brandao arguing with people while Fight Nights Global president Kamil Gadzhiev attempted to usher him into a car away from the location.
His reputation has been cemented on his third visit, returning to Dagestan to face Akhmed Aliev in Kaspiysk at the Fight Night Global 73 event.
After a rather close and entertaining first eight minutes of the fight, Brandao took Aliev down.
And that's where things went wrong.
As Aliev was positioned atop his foe and landing blows on the Brazilian's head, Brandao seemed to reach his opponent's ear in an attempt to bite it.
Aliev responded with a head-butt to Brandao's chest, which forced the referee to stop the fight.
Aliev did not seem not hear or see the signal and continued the fight much to the annoyance of Brandao, who had stopped defending himself.
Brandao angrily delivered an up-kick to the throat of Aliev and walked towards to the cage door toward angry local fans, who had begun throwing garbage into the cage.
To make matters worse, Brandao climbed over the cage and left the fight, which turned out not to be a good idea as it increased the crowd's hostility.
One of the Fight Night officials, however walked him back to the cage, where the referee announced the official decision - a win for Aliev, as his opponent had left the cage.
Talking to RT Sport over the phone the day after the fight, Fight Night Global president Kamil Gadzhiev gave his view on the matter.
RT: What are your thoughts on the incident between Aliev and Brandao?
Kamil Gadzhiev: Brandao shocked us. Whatever happened in the bout was no reason for a fighter to leave the cage. He gave the referee no choice but to disqualify him.
RT: Many fans say that Brandao bit Aliev's ear prior to that head-butt. Do you know if that was the case?
KG: Aliev confirmed at the press conference that Brandao bit his ear. That's why he behaved the way he did. He said that of course he wanted to finish the fight differently.
RT: Is this going to affect the relationship between Fight Night Global and Brandao?
KG: We do not want to make any hasty decisions. The issue is Brandao's temperament and this is something he has to work with.
RT: How many fights does he have under his current contract?
KG: He had a six-fight contract coming into this fight. So now he has five more to go.
RT: Do you think that Aliev is also partially responsible for that situation?
KG: No, I don't think so. Yes, he did an illegal blow, but the most he deserved for that was a warning from the ref, while Brandao simply walked away from the fight.
RT: Were you satisfied with the referees and judges at the event?
KG: It seemed like the referees and judges did not fully control the situation. We will make our decision, it seems like it is time for us to reload.
RT: Overall, were you happy with the event in Kaspiysk?
KG: Despite all the things that happened around the Aliev – Brandao fight, the fans behavior and rather questionable refereeing, we sold out the arena and emotions were very high and the overall atmosphere was incredible. Good fights, great emotions - this is why we love MMA.
by Denis Geyko for RT Sport