Hockey enforcer banned for life in KHL gets MMA offer from Fight Nights Global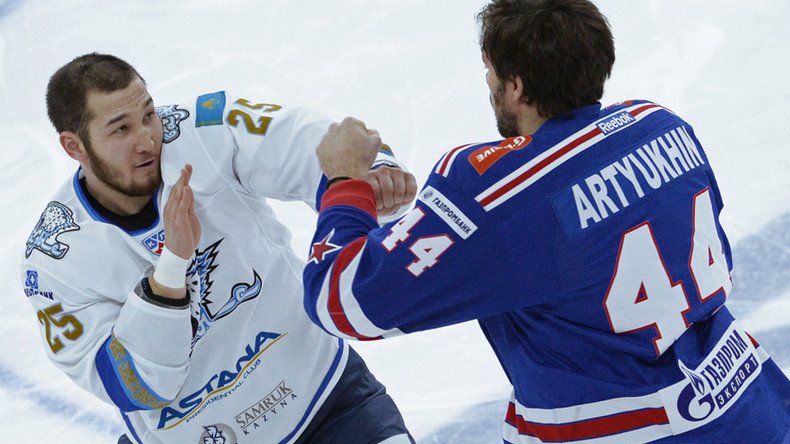 Defenseman Damir Ryspayev, who made headlines last year after the Kontinental Hockey League (KHL) banned him indefinitely for inciting a mass on-ice brawl, has received an offer from Russian MMA promotion Fight Nights Global.
During a preseason tournament in the Kazakh capital Astana in August of last year, Ryspayev attacked literally every opposing team player on the ice as his team Barys hosted Red Star from Beijing, China. He later proceeded to Red Star's bench to pick a fight with the rest of the team.
"There is no place for outright roughing, which has been displayed by Damir Ryspayev in the game with Red Star Kunlun," the KHL said in an official statement when imposing the first lifetime ban in the history of the league.
Ryspayev, 22, then spent the 2016-2017 season at Kazakhstan Hockey Championship team Nomad, which is a farm team for Barys Astana, where Ryspayev spent all of his short KHL career.
The Kazakh native scored 3 points (1 goal, 2 assists) in 25 games in his last season, while receiving a relatively low number of penalty minutes (37). In the 2015-16 KHL season he received 111 penalty minutes in just 16 appearances for Barys.
Reports about a possible MMA move were confirmed by Fight Nights Global president Kamil Gadzhiev, ahead of the Fight Nights 65 event in Kazakhstan on May 19. Gadzhiev is also a deputy general manager of another KHL team, Admiral, from the Russian port city of Vladivostok.
"I didn't get a chance to talk to Ryspayev directly yet," Gadzhiev told Match TV.
"But I will be in Kazakhstan soon and he will be there, I will talk to him. I think it's a great chance to bring together hockey and fighting fans. He's a big star in Kazakhstan."
READ MORE: KHL bans Ryspayev for life following infamous preseason brawl
Among the possible opponents for Ryspayev in the MMA cage is 27-year-old Admiral defensemen Samvel Mnatsyan (220lbs, 6ft 1in), who's also known for his ability to drop the gloves when his teammates need protection. But unlike Ryspayev, he's not solely an enforcer, but also one of the key players for his team.
Gadzhiev mentioned Mnatsyan when asked about the danger Ryspayev might present to KHL teams, should his ban be lifted.
"There are tough guys [in Admiral] as well. Look at Mnatsyan.
"We [Fight Nights Global] will have at least two tournaments in Kazakhstan a year, and if we will see Ryspayev at our tournament, I will be really happy."
Both Admiral Vladivostok and Fight Nights Global are sponsored by Dagestani businessman Ziyavudin Magomedov, the head of private investment company Summa Group, which specializes in port logistics, engineering, construction, telecommunications, as well as oil and gas industries.
Magomedov is also the main sponsor of the Eagles MMA team, which was created last November and is already one of the largest MMA teams in the word. UFC title contender Khabib Nurmagomedov is president of the team, which was named in a nod to his fighting moniker, 'Eagle.'
Magomedov was also among the guests at the opening ceremony of the Eagles MMA Gym in Moscow at the beginning of April. He mentioned back then that Vladivostok is among the cities where the Eagles MMA team is looking to build its branded gyms.
Ryspayev, however, doesn't seem to be enthusiastic about a possible move to combat sports.
"I can be at Fight Nights only as a spectator," Ryspayev told shaiba.kz.
"So if I have a chance, I'll be at their tournament [in Astana] in the stands. Talking about my sports career – I'm a hockey player. Everyone who follows this sport [hockey] knows that players can have different roles on the ice."
Gadzhiev says he hopes to convince him one day, however.
"I think sooner or later Damir will perform in Fight Nights. I am sure that an MMA fight between hockey players will be big."
If Ryspayev's MMA move does materialize, it certainly won't be the first time when hockey enforcers have stepped into the cage.
Among the most successful transformations is Canadian UFC fighter Steve Bosse, who played nearly 200 hockey games and now has a professional MMA record of 12 wins and two losses.
He has competed in the UFC since 2015 and will have his next fight in the world's largest promotion on July 7 at the T-Mobile Arena in Las Vegas, Nevada.
You can share this story on social media: