'Why are they giving him my belt? We didn't even fight yet' – John McCarthy shares KO stories
'Big' John McCarthy, one of the most respected MMA referees, was in Russia again last weekend to officiate at ACB 67 in Grozny, Chechnya.
Hosting the event in its hometown, and with one of its most stacked fight cards of the year so far, Absolute Championship Berkut (ACB) was looking to ensure a high level of refereeing. 'Big' John McCarthy and Herb Dean, two of the most respected officials in MMA, were on hand to provide that.
READ MORE: Perfect knee shot wins KO of the night bonus at ACB 67 in Chechnya (VIDEO)
The tournament was hosted at the Colosseum arena, which was purpose-built in the Chechen capital for mixed martial arts events in 2014. The event was headed by two championship title fights, with both the welterweight and heavyweight categories gaining new champions on Saturday night.
The co-main event saw a St. Petersburg native, heavyweight Denis Goltsov, tapping after a vicious ground and pound from local talent Mukhomad Vakhaev in the fourth round.
In the headline bout, Brett Cooper, the first American ACB champion, was defending his belt against Mukhamed Berkhamov, an undefeated native of the southern Russian republic of Adygea.
Berkhamov eventually knocked out Cooper in the second round to take his record to 12-0, much to the delight of the sold-out Colosseum arena.
Following the tournament, we spoke to John McCarthy, who refereed the final bout of the night, to talk about the tournament itself, a much-discussed incident with Daniel Cormier, and being an MMA referee.
RT: You've just finished working at ACB 67 here in Grozny, Chechnya. How did you like the event? Many people say it was one of the best cards this year.
John McCarthy: Fight-wise there was some really good talent, matched up really well and so it made for a really good night of fights where they were competitive, they were complete, and everything they were showing made it a great night overall.
RT: How did you like the arena in Grozny?
JM: You know I walked in, I've never gone to an arena that looked like it was built for MMA, and this one was made for MMA. You look at it and they have seats that are the Russian flag colors and then the Chechen in the other (side). It's just a really neat place, and a neat place to do fights. And the crowd was unbelievable. Unbelievable. Thank you very much, Grozny! You guys were awesome!
RT: Were you surprised how the crowd supported local fighters?
JM: You know, Brazil's got a huge following for their fighters. And when you go to Brazil for a fight and when it's a Brazilian fighter against a fighter from anywhere else, trust me that Brazilian fighter is backed. And you are going to Ireland - same thing, England - same thing. And man, you can see it here in Russia, especially in Grozny. Man, they were absolutely chaotic over their fighters. And you know what, that's the way it's supposed to be. That's great for the hometown fighter, that's part of the advantage of fighting in your hometown. But you also have a pressure of going there and doing that in front of those people and please them. So it works both ways.
RT: Is going to different places the reason why you are staying a free agent and not signing an exclusive contract with any organization?
JM: No exclusive! I work MMA. That's the truth of the matter - doesn't matter what promotion it is, what letters you attach to it - it's MMA. And my job is to go there and to do the best things that I can to make sure that the fighters are able to go there and do their best and come out safe. That's my job, and that's what I try to do to the best of my ability.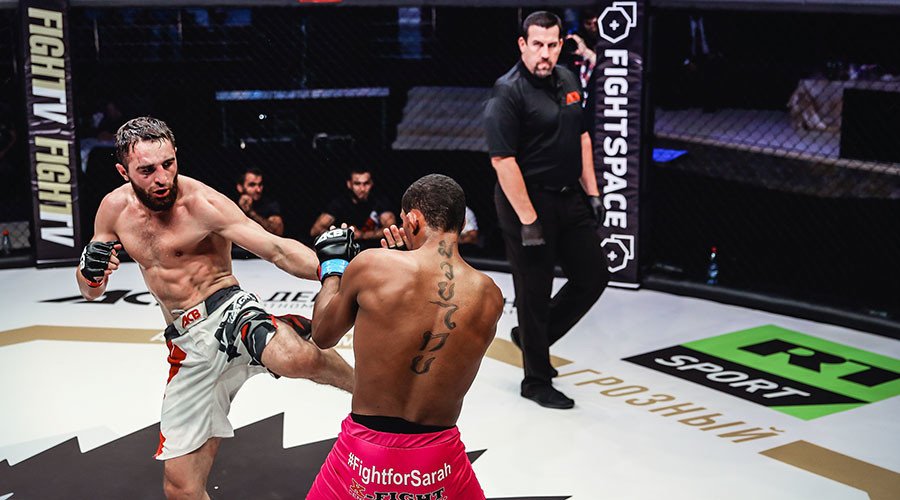 RT: What is the hardest part of being a referee in your opinion?
JM: This is the thing that people need to understand - everybody thinks they can do their job and it's nothing like anyone thinks. To sit there and watch it on TV - it's great, you have no responsibility, you are not making a decision, you have this grand view of everything because of the cameras and everything. It's completely different. I put on classes all the time, and I put people in the cage with the fighters, and all of them go, 'Oh my god, that is not what I thought.' It's a different world, it's a different experience. And the higher you go and more important that fight is. And if we are going to these championship fights the pressure increases, because you've got to do what's right, because that's what's gonna help the sport and that's what the fighters need, that's what the fans want. And look at it - referees are never going to make everybody happy, because the fans sometimes want one fighter to win, and that fighter didn't win and they think that the referee is the cause. Ok, that doesn't matter. The main thing is - we want all referees whether they are working in Russia, Brazil, the States, England, Ireland, wherever - we want them doing the same things, making the same calls, making the same decisions, based upon on what's right for the sport.
RT: Talking about making calls, people spoke a lot recently about the Daniel Cormier against Jon Jones fight. Cormier got upset with you when you stopped the fight after he was knocked out.
John McCarthy: DC got mad at me because he thought I stopped it early, but I didn't. I even let it go a little bit longer because of knowing that fight, and knowing the ramifications of doing things. There was a lot of pressure on everyone involved and there was a lot of responsibility. And UFC is handing that responsibility to you like, 'Don't screw us over.' And in the championship fight we have to make things decisive so there is no controversy, there is no doubt. And I let go Daniel as far as I can let him go and try because he is the champ. Jon Jones is the guy who was the champ. But Daniel is the champ. And you got to let them go. And I would have done the same in reverse for Jon. Some people understand it, some people don't. It's not my concern of those who don't.
RT: Cormier then talked back to you. You exchanged some words.
JM: It's no different than tonight. Brett Cooper fought a hard fight, he got knocked out. And in that moment he doesn't have memory of what occurred. He looked at me and he never even realized the fight started. He is sitting on the stool, he's been knocked out and he is saying, 'John what are they doing with my belt, we haven't even fought yet. Why are they giving it to him?' This is what occurs, this is the reality of fighting. And in the situation with Daniel Cormier, Dan doesn't remember any of that. His brain doesn't observe that information and put it in the memory because he got concussed. And this is part of our sport, and people need to understand what's going on with it. And they need to accept it and say, 'Hey I understand why he is saying those things.' But don't hold it against the fighter, don't think that fighter is trying to say something that isn't true. Because it's the part of time that they didn't get to live through. They did, but they didn't because they can't hold on to it and recall.
RT: But later he apologized to you.
JM: Daniel Cormier has got nothing to apologize to me for. Daniel Cormier is a freaking champion, he is a freaking incredible representative of the sport of MMA. He has never done anything wrong in this sport ever, as far as the way he represents it. He has nothing to apologize to John McCarthy for. He's done everything just the way he needs to do.
You can share this story on social media: