Perfect knee shot wins KO of the night bonus at ACB 67 in Chechnya (VIDEO)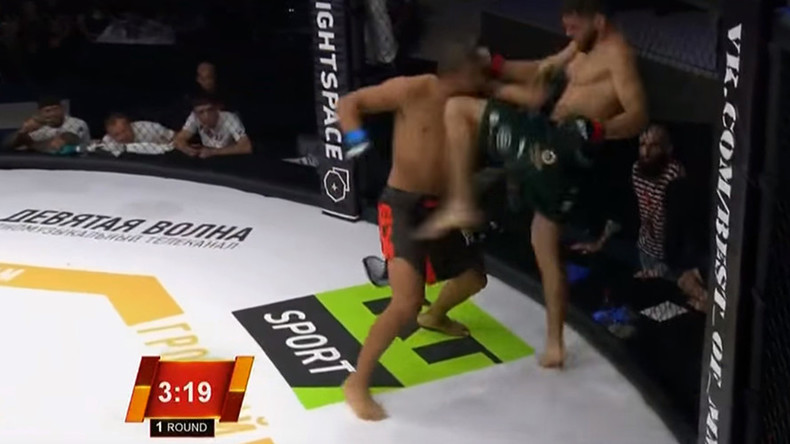 This is the moment Russian MMA lightweight Alexandr 'Peresvet' Shabliy landed a perfect knee shot to knock down his opponent at ACB 67, which took place over the weekend in Grozny, Chechen Republic.
Despite being just 24, Rostov-on-Don native Shabliy has already made a name for himself in Russian MMA, so far recording 16 wins, with nine knockout victories, during his seven-year career.
Three of those knockouts were after knee shots, including the latest victory against Brazilian Gleristone Santos, which came at the 2:41 mark of their bout in the capital city of the southern Russian republic of Chechnya.
Video of the moment was taken from different angles, including cageside by RT Sport's Denis Geyko.
Talking to RT Sport following the victory, Shabliy revealed that the knee shot had actually been spontaneous.
"I wasn't planning to finish that fight so quick, but my opponent started to pressure me from the very beginning," he said.
"He probably thought that I will back down, that I'm scared. So I thought that I should let him go, and that's when he fell into the trap. I didn't plan to set that trap, but I was acting according to the situation and technically it came off smoothly."
FULL VIDEO OF THE FIGHT
Apart from his fighting technique, Shabliy is also known for his walkouts and post-fight interviews. With the nickname 'Peresvet', adopted from the Russian Orthodox Christian monk who became a warrior during the Mongol invasion of Russia in the 14th century, Shabliy also wears Cossack headgear known as the papakha. He also carries a flag with an image of the legendary monk.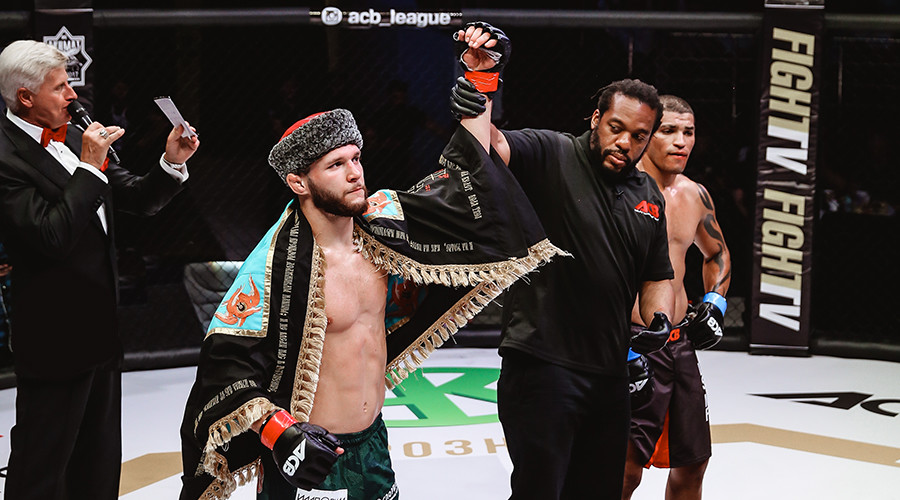 "My grandfather was a Cossack. Plus my family name is a Cossack name also. It's a different version of the word 'sablya' (Russian for saber). So my ancestor was the one making sabers. All that together means a lot for me. I'm an Orthodox Christian and descendant of Cossacks," he added.
After finishing his ACB 67 fight by knockout, which gave him a Knockout of the Night bonus, Shabliy has now become a free agent. He says, however, that he would rather stay with Absolute Championship Berkut (ACB) than move anywhere else at the moment.
"If we talk about UFC, they seem to have a strange policy towards Russian fighters at the moment. Plus I think I should get the ACB belt first before thinking of going there. We should talk about my new contract this week. I really like working with them."