'It'd be cool to thank Putin for seeing potential in me': Australian-Russian cyclist Perkins to RT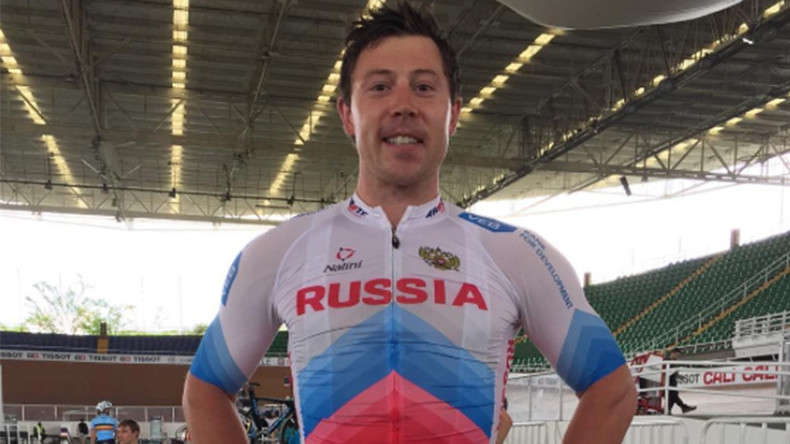 Track cyclist Shane Perkins has expressed his wish to thank Russian President Vladimir Putin after the Olympic bronze medalist's application for Russian citizenship was granted on Thursday.
Perkins, a two-time world champion, is currently in Russia where he won the gold in the team sprint at the Russian national championships in St. Petersburg on Wednesday.
He told RT Sport over the phone about becoming Russian, gold medals, Olympic hopes, new teammates, and resisting the temptation of Russian food whilst training.
RT: Describe your feelings when you found out Russian President Vladimir Putin had granted your application for Russian citizenship.
Shane Perkins: I got the call from the representative of the Russian Federation yesterday about the news. We didn't expect it this quickly to be honest and I got the news at the national championships (in St. Petersburg) this weekend. That was pretty cool then an hour or two later it sort of hit me. I was happy and emotional and I'm feeling really good about it. It was pretty cool. Cool feeling.
RT: Have you had any contact with Putin himself?
SP: (Laughs) Hopefully one day, that would be cool. It would be nice just to thank him for obviously allowing it to go through. It's great that he still sees potential in me as an athlete but also as a person, so it would obviously be great to thank him for that somewhere down the track.
RT: You won gold at the Russian national championships at the weekend. Was that your first medal with the team?
SP: First medal, first race for Moscow Olympic School Number 2. We won the team sprint together which was great. It's actually the first time a Moscow team has beaten St. Petersburg in three years, so it was a perfect start for the Moscow boys and a perfect start for me.
RT: How have you found your new training facilities in Russia?
SP: I've been up to St. Petersburg and the track is really nice. It's a pretty quick one actually which is cool. A nice track to ride on. It's a good track. At the Krylatskoye Velodrome in Moscow there's a lot of history there because it hosted the Moscow 1980 Summer Olympics, so it's pretty cool to be able to train on them here in Moscow. That's great facilities as well, that's our main training ground and Moscow Olympic school. There are apartments there too which is where I stay when I come to train. I'm feeling really good about it all.
RT: How are you getting on with your new teammates?
SP: Really good. I'm rooming with one of them now, Alex (Russian cyclist Aleksander Sharapov). Everyone has been really supportive of my decision of wanting to become Russian and wanting to ride for Russia. It's actually been really nice. Everyone has been really welcoming and full of support. Obviously when we race, we race like anyone else. On the track everyone has been really positive and excited about it all.
RT: How have you found keeping to your strict athletic diet with some of the food on offer in Russia?

SP: (Laughs) Man, obviously I've got to watch what I'm eating but yeah some of the food here is incredible. They just use all spice and plants and vegetables and fruits in all kind of different ways that I haven't really seen before. It's pretty healthy food but also some of it is a little bit fatty and I can't eat too much of it but it tastes amazing. It's brilliant, I love it, but obviously we have to watch it a little bit but once the championships are out of the way I will be able to have a good meal and a Russian beer.
RT: Are you living in Russia now?

SP: I don't have a Russian residency permit so I stay at the apartments at the Olympic school in Moscow when I do come here but I'm racing in Japan in the Japanese keirin soon. I've got a contract over there so I'll be heading over there and then we have the European Championships and then I'll be back to Japan after October, and then a camp in Miami in December through to January. Then I will head back to Australia depending on whether I can ride in the World Championships or not. And whether I go to those or to see my family. But we have decided it would be better not to move yet because we do so many training camps throughout the year. But it would be great for my kids to come out here when I am here. It would be a great experience for them.
RT: You moved to be part of the Russia team because you want to compete at the Tokyo 2020 Summer Olympic Games, is that still the goal for you?

SP: Yes. It sort of panned out through a good mate of mine, (Russian three-time European cycling champion) Denis Dmitriev. He knew my story in Australia and I was looking at retiring and he said let's see the potential of coming over to Russia and it was something I was interested in. It was going to be an adventure, you only get one life. I'm grateful for being Australian and being able to represent them for so many years but I've got a big heart and I'm also proud to call myself a Russian and race my heart out for them towards Tokyo and potentially after that, who knows. The main goal is still Tokyo and I'm going to do everything I can on the bike to try and win gold medals for Russia and I'm looking forward to the challenge. It's not going to be easy but it never is in sport. But I think it's going to be a fun adventure anyway, a cool journey.
RT: What are the positives of racing for Team Russia in comparison with Australia?
SP: I think the main thing is I've known Denis for such a long time and got to know the team around him as well. His coach is now my coach but I've always had a good connection with him as well so to have that is very important. To me, having a coach that you believe in and who you can trust is a big advantage as well. That's something that obviously brought me here and that's why I want to be part of it because they do have a good strategy when it comes to training. They're the things that make the difference between winning and losing like the consistency with the training and also the enjoyment factor; it's a fun team to be in so you know, they're the sort of main key things that I was looking for. Unfortunately in Australia it had gone a bit stale for me. Team Russia believed in me and believed I've got the potential.
RT: You said you are looking forward to becoming Russian. Have you gotten to grips with the Russian language at all?
SP: My coach and my teammates are teaching me a little bit and I'm slowly picking it up along the way, which is good. The more time I spend here, as I know with spending time in Japan over the last eight years, the easier it is to pick up. So I think the more time I spend here and doing a little bit of studying myself I do want to be able to speak Russia eventually. It would be cool, but won't be easy!
By Danny Armstrong for RT Sport