Ukrainian powerlifter beats up group of men on camera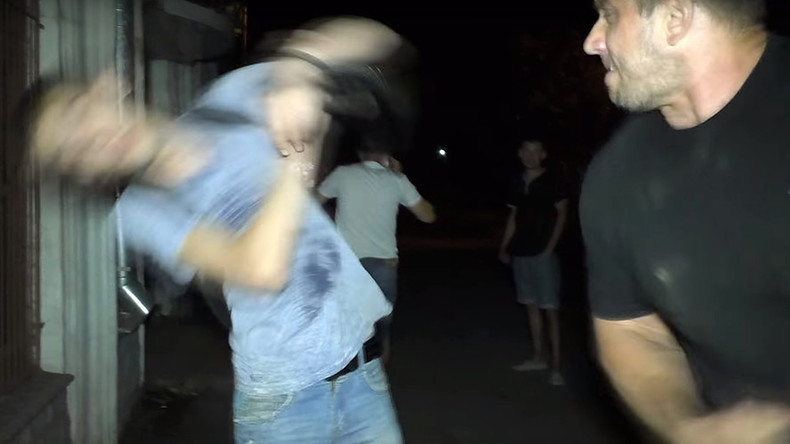 Ukrainian professional powerlifter Dmitry Golovinsky uploaded a video in which he attacked a group of men who appeared to be drunk and threatening him.
Golovinsky, who is 29, according to information published on his personal website, Last Man Standing, is the winner of various powerlifting and armwrestling tournaments and is also known as a video blogger.
His posts are usually dedicated to the sport of powerlifting and armwrestling, but the last video uploaded on his YouTube channel, entitled LMS Supremacy 4 (power endurance), includes controversial footage.
Starting in the seventh minute, Golovinsky describes a situation he recently faced when he says a group of men were outside his apartment building late at night, making noise and preventing residents from sleeping.
The video footage, which Golovinsky says was filmed by his girlfriend, shows the powerlifter confronting the men, one of whom threatens to stab him. The same man, who is wearing a white shirt, later promises to take Golovinsky down with the help of his two friends.
As the video continues, Golovinsky delivers a first punch to the man in the white shirt, who quickly steps back. Golovinsky then moves on to the man on his left, who is standing with his arms crossed and obviously not presenting any threat to the well-built powerlifter.
Golovinsky lands a punch to his face, stunning the much skinnier man. And as he walks away, still not presenting any apparent threat, Golovinsky launches one more strike, sending him sprawling.
Talking about the incident later in the same video, Golovinsky concludes that people should respect the privacy of others, which in his words he has helped to restore.