Best catch ever? Cleveland Indians star Austin Jackson stops homer with amazing leap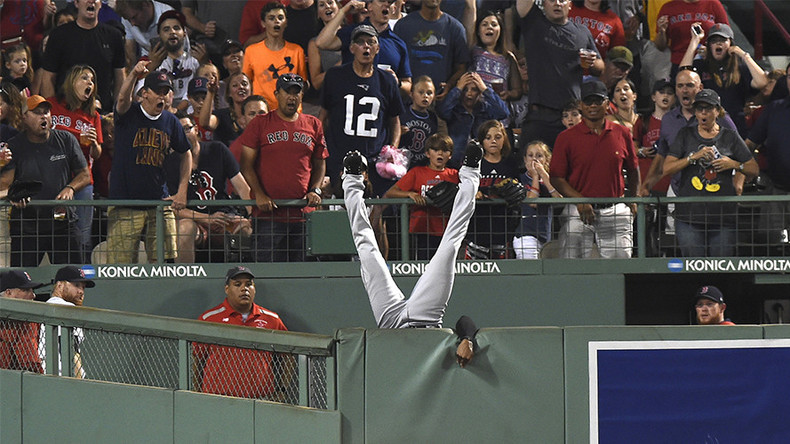 Cleveland Indians outfielder Austin Jackson made an amazing catch at the Boston Red Sox's Fenway Park on Tuesday, flipping over the center-field wall to deny Hanley Ramirez a home run.
Jackson's athletic effort even had Red Sox fans on their feet after it seemed Ramirez' long strike down the middle was certain to be a home run.
As Jackson flipped over the wall, it wasn't initially clear if he had held on to the ball or not, although he then raised his glove to show he'd taken the catch.
Although the Tribe went down to a 12-10 loss, there was plenty of praise for Jackson after the game.
"That was one of the best catches I think I've ever seen," Indians manager Terry Francona said, MLB.com reported.
"I've been in the game a long time. That's a hard wall out there and a lot of guys run away from it. Austin went up and over. That was one of the most exciting plays I've seen in a long, long time."
Jackson himself was modest, saying: "It's just kind of a reaction, honestly. You don't really think about it. You don't really practice it. In the moment, you see yourself going down head first, so you do whatever you can to break [the fall]."
Red Sox bullpen coach Dana Levangie said the feat was "absolutely incredible."
"He got up so high for that ball, and he was able to soften his landing by holding on to the wall.
"We've seen a few times going over that side of the wall, because it's short. It's a hard jump, because he didn't have any protection. But to hang on to it is insane. It's one of the best catches I've ever seen."