Disgraced former US Gymnastics doctor pleads guilty to child porn charges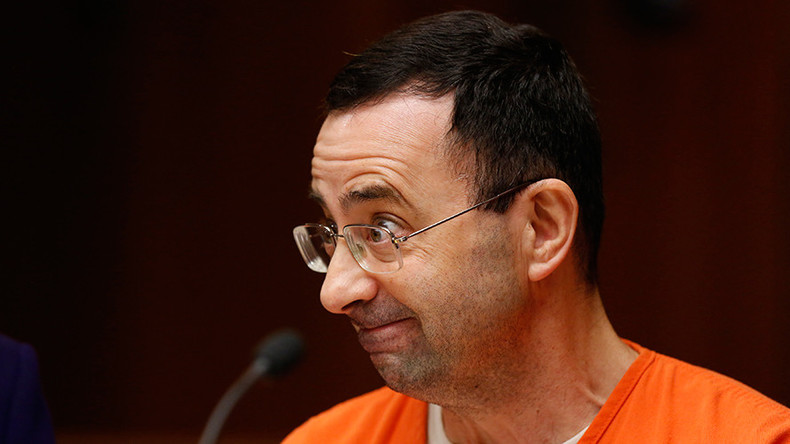 Former USA Gymnastics doctor Larry Nassar, currently facing allegations he sexually abused over 100 females athletes, pleaded guilty to possessing child pornography on Tuesday.
Nassar admitted dumping hard drives containing thousands of child porn images in his trash and paying $49 to wipe a laptop memory in autumn last year to 'impede and obstruct' police investigating allegations of sexual abuse from dozens of female athletes against him.
The 53-year-old pleaded guilty to three charges, each carrying up to 20 years in prison. The illicit images, some of which show Nassar sexually assaulting girls under the age of 12, were found by investigators in September 2016.
READ MORE: Former USA Gymnastics doctor accused of sexual abuse
Sentences for more than one crime usually run consecutively, but at the federal hearing in western Michigan, US District Judge Janet Neff that sentences for some of his crimes could run consecutively.
"Victims and the public can be assured that a day of reckoning is indeed in Dr. Nassar's future," Acting US Attorney Andrew Birge said after the hearing, AP reported.
Nassar will be sentenced on November 27 over the child pornography charges.
As part of a plea deal, the US government said it won't prosecute the former doctor for traveling internationally between 2006 and 2013 with the intention of engaging in sexual conduct with minors.
Nassar was part of USA Gymnastics between 1996 and 2015 and was a sports medicine specialist at Michigan State University, involved in treating gymnasts in the region. He was fired by the university in 2016.
He maintains his innocence in three cases in which he is alleged to have molested a total of nine girls at his campus clinic, home or a gymnastics club in the Lansing, Michigan, area.
Nassar is accused of penetrating the vaginas of female athletes with his fingers, without using gloves, while treating their injuries, prosecutor Angela Povilaitis said. Sometimes the parents of young gymnasts were present in the room.
One girl, identified as Victim A., 16, told a court hearing in June that she was 11 when the abuse took place, adding that the doctor displayed signs of arousal during the examination.
Another woman, Rachael Denhollander, 32, claimed that Nassar sexually abused her when she was 15.
The former doctor is also being sued by more than 100 women or girls, mostly former gymnasts, who claim he molested them during appointments. Some allegations go back as far as the 1990s. Initial concerns about Nassar were raised when the Indianapolis Star reported that USA Gymnastics mishandled complaints about sexual misconduct involving the doctor and coaches.
You can share this story on social media: