'All Russian World Cup 2014 doping tests negative' – FIFA head Infantino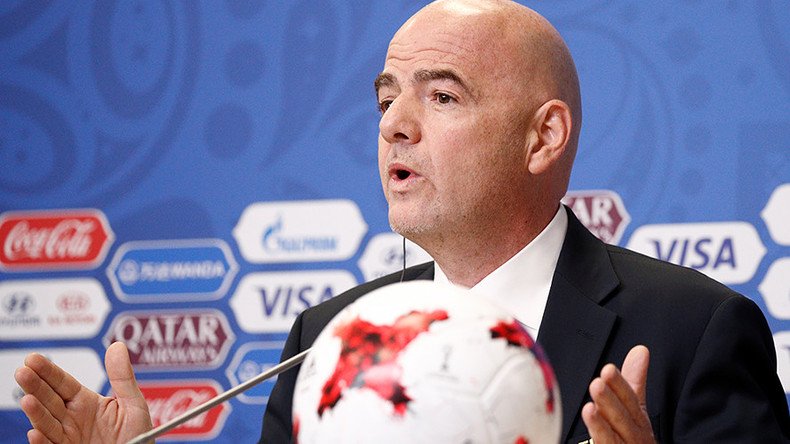 FIFA President Gianni Infantino has confirmed that all of the doping tests from the 23 Russian players taking part in Brazil's 2014 World Cup had come back negative.
Speaking at the closing press conference for the 2017 FIFA Confederations Cup at St. Petersburg Stadium ahead of the competition's final on Sunday, Infantino said it made no sense to impose sanctions on Russia in the absence of any wrongdoing.
"All 23 Russian players were tested by UEFA accredited doctors and had everything tested. In this Confederations Cup all players were tested, not by Russian people outside of Russia, but by people in our laboratory in Lausanne," the FIFA president said.
READ MORE: Every Russia player's World Cup 2014 doping probe negative, despite reports – FIFA
"All these tests, including, in addition, all these tests, not made in Russia, all done in WADA laboratory tests, all tests so far have given negative results. There can be no sanctions. Some people will want sanctions, but if there are no negative results, how can there be?" he said.
It had previously been reported that all of the members of Russia's 23-man squad for Brazil 2014 were "people of interest" in a doping probe. Four were on Russia's Confederations Cup squad as well.
The report that prompted the probe, which was compiled by Canadian lawyer Richard McLaren, alleged that 30 sports, including football, covered up samples from 1,000 athletes between 2011 and 2015. The accusations are still under investigation by FIFA.
However, Infantino suggested that the allegations were largely built on "speculation," while promising that FIFA will take immediate disciplinary proceedings in the event of positive results.
"When it comes to doping, it was always one of these issues that has been popping up. There is already an ongoing investigation. A few facts: a lot of news is made on speculations, as long as speculations don't become facts.
"When it comes to Russia, FIFA, UEFA, all Russian players playing in World Cup 2014, they were tested by FIFA- and by WADA- accredited laboratories. The tests and samples taken by FIFA doctors and samples were sent to Lausanne, (Switzerland), by all 23 players playing in the competition.
"What was done by WADA accredited laboratories in Lausanne, what was done after by FIFA or UEFA, are disciplinary proceedings, if the results of these tests are negatives, there is not much more we can do.
"If it comes out that there has been some tampering of samples... then there will be sanctions. When the results come out that there has been an anti-doping rule violation, then there will be disciplinary proceedings. If the result of the test is positive, there is no way you can hide this; if they are positive, then there will be disciplinary measures," he said.
Also attending the conference wrapping up the tournament were the chairman of FIFA's Referees Committee, Pierluigi Collina, Russian Deputy Prime Minister Vitaly Mutko, and Russia 2018 LOC head Alexey Sorokin.
On Sunday, Germany will take on Chile in St. Petersburg Stadium for the final game of the 2017 Confederations Cup, which serves as a dress rehearsal for the FIFA 2018 World Cup that is also to be held in Russia.
By Danny Armstrong for RT Sport
You can share this story on social media: