Tiger Woods struggles to walk straight in DUI arrest footage (VIDEO)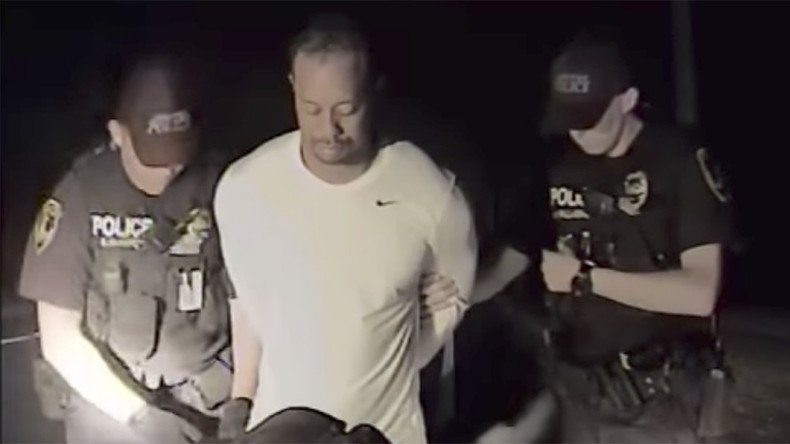 Police have released dashcam footage of Tiger Woods' arrest on suspicion of driving under the influence on Monday. The footage shows the US golfer struggling to walk in a straight line.
Woods, 41, was detained in the early hours of Monday morning by officers in the town of Jupiter, Florida.
He was charged with driving under the influence (DUI) and was later released from Palm Beach County Jail.
The 14-time Major winner released a statement after the incident saying that alcohol "was not a factor" in the arrest, and that his condition was the result of "a mix of prescription medications" he had taken.
It was later reported that police had found Woods asleep in his car in the right-hand lane, slumped over the steering wheel and with the engine running.
Florida police have now released footage of the arrest, which shows Woods struggling to walk in a straight line.
Woods was described as "cooperative" but his speech was "extremely slow and slurred, mumbled, confused," according to the police report cited by US outlets.
Breath and urine tests reportedly showed there was no alcohol in his system.
Woods told officers he was returning home after playing golf, but the report also says he appeared confused as to where he was.
"Woods had changed his story of where he was going and where was coming from," the police report stated. The golfer was given tests including a "one-leg stand" and "finger to nose," but failed to lift his foot off the ground 6in and had to place it back several times.
Woods has been plagued by injury in recent years, seeing him fall to a lowly ranking of world number 876 – a far cry from the days when he dominated the sport.
You can share this story on social media: