'The team's showing its character, the fans appreciate that' – Russian head coach Cherchesov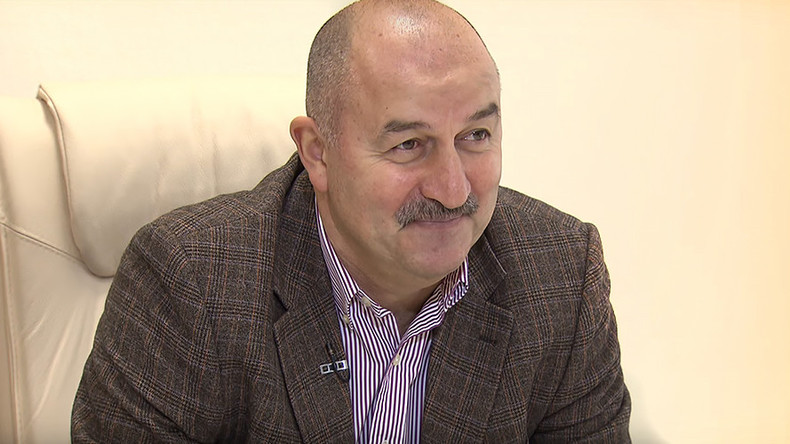 Russian national team head coach Stanislav Cherchesov has talked exclusively to RT about the pressures of being the host nation at the 2017 Confederations Cup, monitoring players, building a team, and moving forward from Euro 2016.
With the 2017 FIFA Confederations Cup just around the corner, national team head coach Cherchesov must bear the pressure of readying Russia for the tournament that serves as the precursor to the World Cup, and which the world will be watching.
Cherchesov, who made 39 appearances as a goalkeeper for Russia, including one appearance at the USA '94 World Cup, believes that despite the on-field issues facing his team, the players possess a pride and tenacity while representing their country that endears them to their fans.
RT: How full is your final squad?
SC: We already have the core of the team. But a week ago, for example, the Berezutski brothers [Aleksei and Vasili] informed us that they won't be able to participate in the tournament [Confederations Cup]. So now we're looking for other options. It's great to have players like them in the squad. But when they are out, you have to search for replacements – and that's what we're doing right now. But I can assure you that we'll find them.
RT: How would you rate the current level of the goalkeepers available to the national team?
Stanislav Cherchesov: There are a few good guys coming up. But what makes the difference for us isn't a game or two, but a season or two, when they show a solid level. When a player has a good number of games, the media react to it and say he should be in the national team. But we want to see a consistent result over a sustained time, not just a few good games.
RT: What can you say about the defenders available for selection?
SC: We're monitoring every defender we have in the Russian Football Premier League [RFPL]. Even if people are criticizing our defense, we can't complain, we have to help our players to improve. This is the only role we play in this.
RT: Fyodor Smolov and Artem Dzyuba have probably been the most consistent Russian forwards of the last few years. Does it bother you that only a few players perform consistently for the national team?
SC: We're ok with it. First of all, we're glad to have them playing with us, but we can't turn a blind eye to other players such as new, up-and-coming players. That's why we invited [Alexander] Bukharov to our camp, [Dmitry] Poloz is also maturing as a player. We're looking forward to seeing what [Dynamo Moscow's] Kirill Panchenko will do in the RFPL in the next season. Guys like Chalov and Ionov are also on our radar.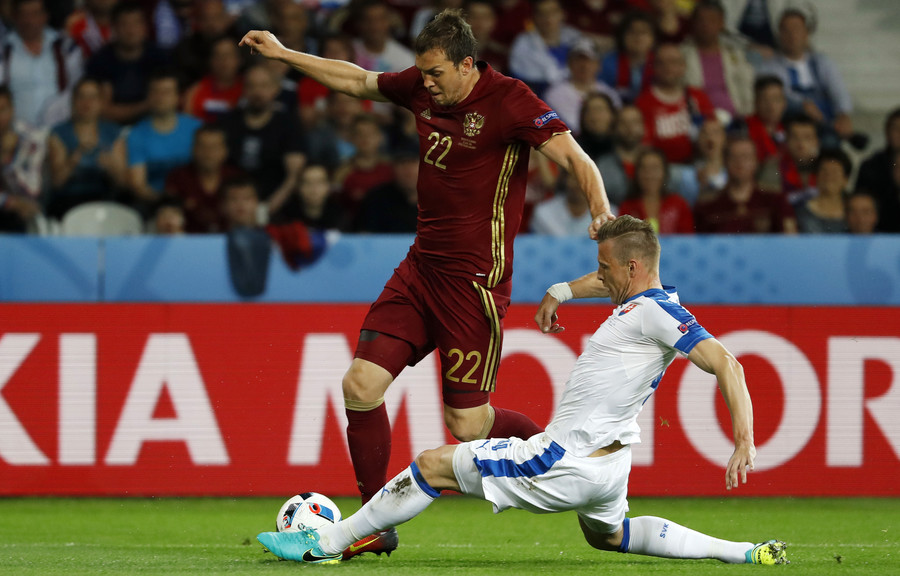 RT: Do you think the top players in Russia who receive offers from Europe would benefit more by moving abroad and playing fewer games but in a top division?
SC: We're looking at what players are doing on the pitch. We can't interfere in their careers, players changing clubs, players changing leagues. Of course we want them to improve, but we don't want to interfere in any way.
RT: What do you see as the major issues facing the national team right now?
SC: We don't have any. We have nothing to complain about. If we face some difficulties, we'll work with them accordingly. That's all.
RT: What do you like most about the current team then?
SC: I can't use the word 'like,' but I see some points that I consider positive – that the team shows its character. They saved the game against Romania in the last minute, saved the game against Belgium in the last minute. That's a positive trend. When fans talk to me, most of them mention these moments, and because of that they say they want to support the team. Fans want players that represent the country to fight until the end, despite the result. We just need to find out what our strong sides are and build our game on them.
RT: Will you be monitoring players from lower divisions?
SC: We never consider any players to be bad because you need to determine what a player can do – whether he's fast, slow, tall, technical or whatever. A player can of course exceed expectations because football is that kind of business where you need luck and clear potential. Our aim here is to observe and examine carefully and preferably not overlook anything.
RT: How many hours a day or a week do you spend watching players?
SC: We have a large enough coaching staff to allow us to monitor players, whereby Miroslav Romashchenko or I or someone else can monitor the goalkeepers, [deceased former legendary Soviet goalkeeper Viktor] Bannikov can watch somehow (laughs), running around gathering different bits of information. We're in contact with every head coach, for physical training it's really important. We try to be in the know about every event, but in minutes and hours I can't say.
RT: How much does it worry you that all 140 million people in Russia will be judging your work?
SC: I don't know, I'm not really an irritable coach. I take it all well. If there weren't as many fans or people watching us, then it means that we're doing something wrong. As it is, in the streets or wherever they approach us, it means we're interesting people [for them] and they back us. You have to satisfy these people – your supporters and fans – with your game.
RT: If there was the chance to return to August 2016, would a lot change about how you go about your work?
SC: There are always nuances, it's important that the direction we chose seems right to us. Another thing is that a situation sometimes throws up different issues for you on which you depend, but you aren't able to influence. Injuries that suddenly come up. I said it myself, and many people know, that we have practically never played with the team we were originally aiming for. That's something I'll say again, something we can never influence.
RT: Is the injury to Alan Dzagoev one of the main problems for the national team?
SC: Well, if we find out about it on the day, then by and large he should be able to recover and regain his fitness. CSKA [Dzagoev's club team] now will accelerate his fitness or not, or at least give him an opportunity to properly prepare. We here aren't hung up on this. The fact that he has a few of the same injuries over a course of time, of course upsets us. It's a different thing that he has already missed the last big international tournament at the European Championships in France because of injury, but we wouldn't want such a footballer to miss another one. So he knows he needs to look after himself, and the club also suffer to some extent from the fact that they're missing such a quality player. For us, we can only assist him to be in good shape.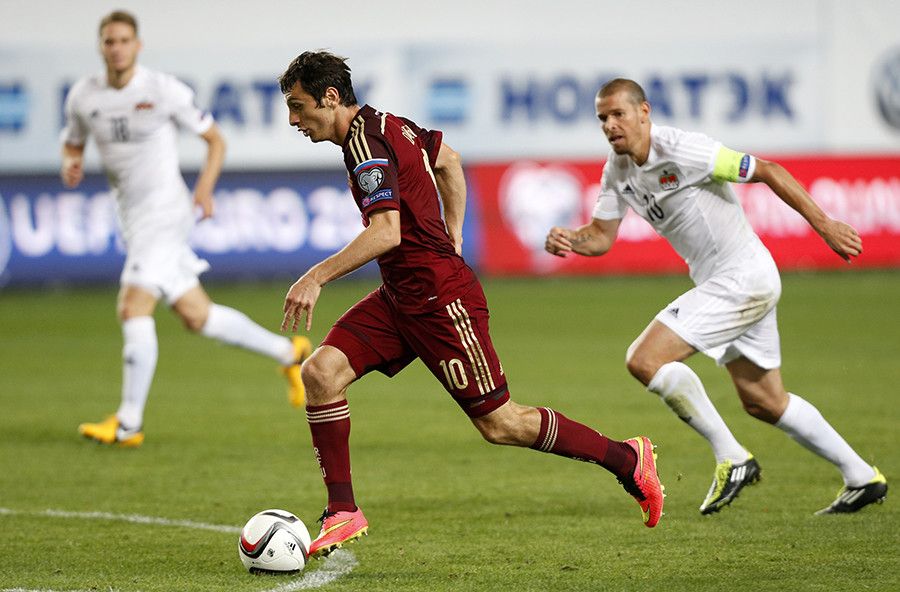 RT: Recently it's become customary in the media to mention Russia's FIFA rating – where they occupy 61st spot, behind Uzbekistan. What do you make of such ratings?
SC: Well, we all live in a society, you know. You can't live in society and not depend on it. You brought that rating up, for example. So I have to answer. Although I don't even know what position we're in. But on the other hand, you need to take these ratings seriously because people ask about them. On the other hand, we didn't play for the whole winter, and somehow got a better rating, and then you win and you get a worse rating. But we have these ratings and we need to take them into consideration.
RT: So could we use these ratings to our advantage in the upcoming tournaments?
SC: I can't say it will play to our advantage. We're not paying attention to it, we aren't hung up on it.
RT: How much pressure does the media put on you with articles written about the national team?
SC: I can't read everything, obviously. My press secretary brings me what's important for us, and that's what we follow. But everyone has their own opinion, and the head coach has his own. Although I admit that I agree with the media sometimes. But it depends what outlets we're talking about. Some write damaging articles, and correspondingly some write something to help us. I'll say again: you need to look at it in a calculated manner. But we're our own biggest critics.
RT: If it wasn't the Confederations Cup and you didn't have the pressure of being the host nation, would you prepare the team differently?
SC: Even if I didn't want to, I'd have to, because otherwise we'd have to play in the qualification rounds. All tournaments are different and you just act accordingly to their structure. We have to work with what we have. We have our own skill level, our own ongoing situations. Following the 2016 European Championships, a lot of players aren't in the national team anymore, and we have to build a new team. It will be good to find out soon, and the Confederations Cup will show us a clear picture. We'll go from there. We've learned a lot from our game with Belgium, for example. We just have to analyze our results and move forward.
RT: How difficult is it for you to build a family in the national team?
SC: I can't say if we created some kind of family or not, it's a different issue. We mainly need to create a competitive environment in the team. Chemistry. The players should be focused on the results, understand the psychological factors, but naturally it's luck which is always needed. I see that players are always happy to come to the national side, and in that sense, these people who played in the national team previously, they can now compare. In that context for us, I don't want to create a big family or something, but we try to create a team of a select few who are focused on winning.