Bastia v Lyon match abandoned in France after fans invade pitch and attack players (VIDEO)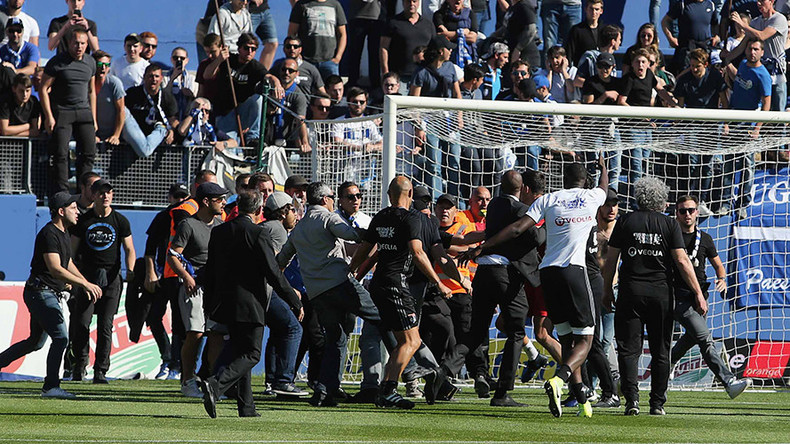 A football match between Bastia and Lyon in France's Ligue 1 had to be abandoned after fans repeatedly invaded the pitch and attacked Lyon players on Sunday afternoon.
Kick-off was originally delayed by 50 minutes after Bastia fans flooded the playing area at their Stade Armand-Césari home ground on the French island of Corsica and attacked Lyon players during their pre-match warm-up.
Footage of the disorder before the match shows winger Memphis Depay remonstrating with a supporter trying to enter the field as stewards attempt to restrain him, before further fans rush onto the pitch.
Some supporters can be seen aiming blows at the Lyon players in what the club later called "clear, violent aggression," forcing them to flee across the pitch and into the tunnel.
When order was restored, the game finally began and the sides went into half-time tied at 0-0. But it was then that the chaos reignited, with fans again attacking the Lyon players.
French football governing body the Ligue de Football Professionnel (LFP) ultimately took the decision to call the match off and later released a statement condemning the incidents.
"After the very serious incidents during the warm-up, the Departmental Director of Public Security (DDSP) took the decision to play the match but to stop it if any further incidents occurred," the LFP said in a statement.
Read more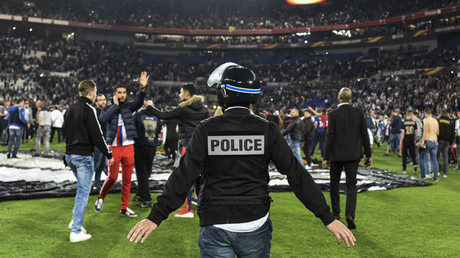 "After the insupportable behavior of a section of the supporters at the Stade Armand-Césari, the LFP demands of SC Bastia that they take all necessary measures in order to proceed with stadium bans for the individuals responsible, and more generally that they take all measures necessary to guarantee the security of matches that take place in their stadium."
Following the game's postponement, Lyon released a statement on their official website condemning the violence as "terrible mistreatment" of their players.
"Lyon players were the targets of eruptions of violence both before the match and at the end of the first half. During the warm-up, [the Lyon players] were the subjects of clear, violent aggression from the Bastia supporters, who had invaded the pitch to make trouble," the statement read.
"Calm seemed to have returned during that first period of play… but as the teams took to the dressing rooms, brawling erupted once again with some fans and even some of the stewards getting stuck into the Lyon players," the statement added.
It is the second time in a week that crowd trouble has affected a game involving Lyon. On Thursday, the kick-off time for their Europa League quarter-final match against Turkish team Besiktas was delayed due to crowd trouble.
Fan violence in the stands of the Parc Olympique Lyonnais forced supporters to flood the pitch during the warm-up before the game, delaying the kick-off by one hour.