'No Excuses': Sergey Kovalev v Andre Ward rematch confirmed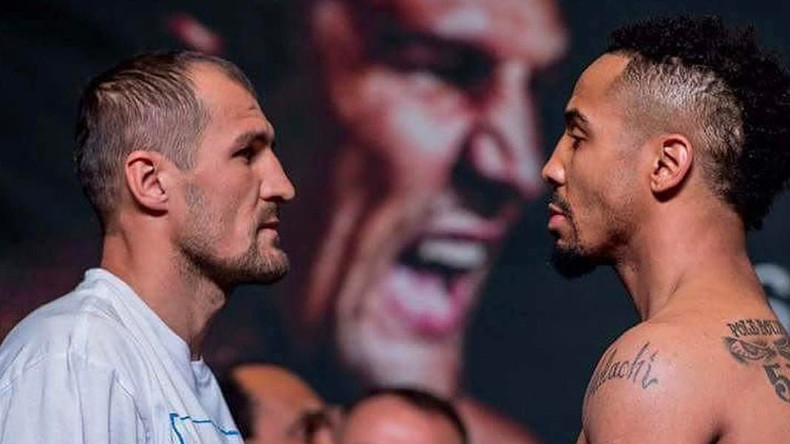 The highly-anticipated rematch between Russian boxer Sergey 'Krusher' Kovalev and American Andre 'Son of God' Ward has been confirmed for June 17.
'Ward vs. Kovalev II – No Excuses' will at the Mandalay Bay Resort & Casino, Las Vegas, for the WBA, IBF and WBO light heavyweight titles.
READ MORE: Ward edges 'Krusher' Kovalev in close fight to take titles & top P4P spot
In November, Ward overcame a second-round knockdown to prise the belts from defending champion Kovalev by way of unanimous decision at the T-Mobile Arena, also in Las Vegas.
However, the result came by the thinnest of margins, with the three judges opting for identical scores of 114-113. The verdict surprised many observers, and apparently came as a shock to Ward himself.
After that fight, Kovalev said he was "disappointed" with the decision and that he was hungry for a rematch, hinting that home advantage played a part in the decision going Ward's way.
READ MORE: 'It's sport, not politics': Kovalev wants rematch after controversial defeat
"I'm the guest here in the USA. He's a local and all the judges were from the USA. I agree they support a boxer. But be honest, this is a sport — don't make it politics. I won this fight," he said in his post-fight interview.
Kovalev, 34, is one of the most feared boxers in the world due to the fact he has amassed 26 knockouts from his 30 wins as a professional, against his only loss to Ward and one draw.
Ward, 33, is considered one of the best boxers of his generation and will also be defending his Ring magazine number one pound for pound ranking from number two ranked Kovalev, meaning the winner will be considered the boxer on the planet.
Both fighters expressed their keenness to put any doubts to rest the second time around.
"I'm glad to know that rematch will happen. I really hope that Andre Ward will get into the ring for this rematch. Fans of boxing will see the real Krusher - the one they have missed for couple of my last fights,"said Kovalev.
"For me this rematch is very important as no other bout in my entire boxing career. Thanks a lot to all of boxing fans," he added.
Kovalev also chose to send a rather forthright message to Ward over Twitter, posting a picture of the two together at a press conference for the last fight, with the words: "#WardKovalev2 Be ready motherf****r! I'll finish your boxing career."
"I'm going to keep it short and sweet. You got what you asked for – now you have to see me on June 17. This time... leave the excuses at home," Ward said.
The rematch, broadcast live by HBO, will be co-promoted by Roc Nation Sports, which handles Andre Ward, Ward's own eponymously named 'Andre Ward' promotions, Main Events, and Kovalev's Krusher Promotions.The excitement from both fighters has been echoed by their promoters.
"After the last fight, we are preparing for another unbelievable experience. Can't wait for the bell to ring! This is sure to be another nail-biting roller coaster ride," said Kathy Duva, Main Events CEO and Kovalev's promoter, in the press release.
READ MORE: 'We just robbed Russia': Internet reacts to controversial #KovalevWard boxing decision
"This is the only fight that Sergey wants right now and he refused to settle for anything less than the chance to get his belts back. I'm told that Roc Nation and Andre Ward have lots of great ideas for the promotion and we can't wait to see them in action!" she added.
"Last November, Andre showed the world he was boxing's best. No doubt he will build upon his legacy come June 17 in another historic night. There's no excuses, the rematch is on," said Michael Yormark, Roc Nation president.
"After a razor-thin decision last November in their first meeting, the boxing community has been eagerly waiting for a Ward-Kovalev rematch," said Tony Walker, vice president at HBO Pay-Per-View.
"These are two world class prizefighters who embrace being on the sport's biggest stage. Like Andre and Sergey, we can't wait for June 17 at the Mandalay Bay Events Center in Las Vegas."
In the lead up to the fight, Team Ward and Team Kovalev will partake in a three-city press tour the week of April 10 to officially announce the fight, including New York City, the Bay Area and Los Angeles.
Fighting on the same Mandalay Bay bill on June 17 is Cuban maestro Guillermo Rigondeaux, who defends his WBA world bantamweight title against IBO belt holder Moises Flores of Mexico.