'It's sport, not politics': Kovalev wants rematch after controversial defeat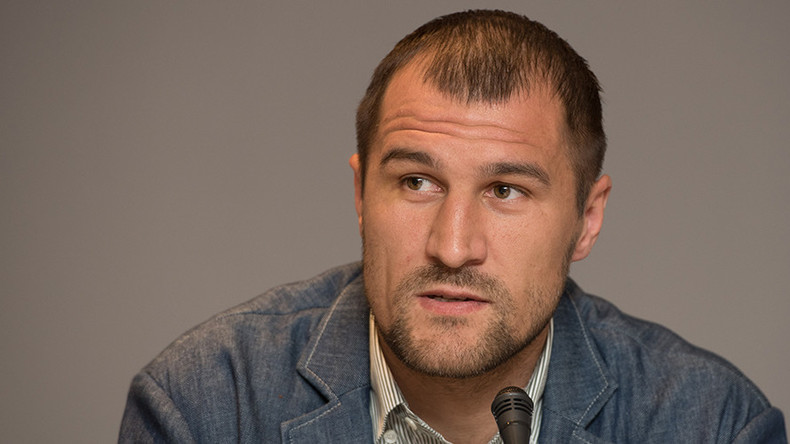 Russian former boxing champion Sergey Kovalev has demanded a rematch with Andre Ward after losing his world light-heavyweight titles in a close and disputed unanimous decision to the American fighter.
READ MORE: Ward edges 'Krusher' Kovalev in close fight to take titles & top P4P spot
Kovalev dropped Ward in the second round of their fight at the T-Mobile Arena in Las Vegas, Nevada, on Saturday night, but was ultimately on the wrong end of the verdict, with Ward winning by just one point on all three judges' scorecards.
"It's the wrong decision – the people are the witnesses and everybody saw what happened," said Kovalev, who now has a record of 30 wins and one defeat, with 26 knockouts.
Boxing world Lang time ago wanted to see my lose and he made it! But! I'll back for sure and will get mine back! Thank to everyone for suprt pic.twitter.com/k9tzZSPGEw

— Sergey Kovalev (@KrusherKovalev) November 20, 2016
"It was the biggest fight of my life and I'm disappointed with the judges' decision. I lost maybe three rounds in all the fight. Of course I want a rematch.
"I'm the guest here in the USA. He's a local and all the judges were from the USA. I agree they support a boxer. But be honest, this is a sport — don't make it politics. I won this fight."
However, the former super-middleweight champ and now pound-for-pound number one fighter in the world, Ward, disputed Kovalev's claims, insisting the judges had been right to award him the victory.
"I knew it was going to be a tough fight. You never anticipate getting dropped, but I was pleased with the way I responded," said the fighter who identifies as 'Son of God'.
"He did everything I expected, including fade a little bit. He never quit, but he started to slow.
"Sometimes you are going to win close fights and that's the way it is. At the end of the day I am a two-division world champion.
"I will leave it for the people, the pundits and critics to say. I'm just happy we got this decision."
Ward's view of the fight was widely disputed at ringside, with the Los Angeles Times, ESPN.com, the Associated Press, Fox Sports, Ring magazine and HBO's Harold Lederman all deeming Kovalev the clear winner.
I'm sorry. Love Ward as a fighter and person. Glad he won.....but he did not deserve this. Fair-is-Fair. Kovalev got robbed!#BadDecision.

— Stephen A Smith (@stephenasmith) November 20, 2016
Kovalev's promoter, Kathy Duva, was adamant that her charge had been robbed and likened it to other famous boxing 'robberies' she had been involved in.
Rewatched #KovalevWard. Kovalev definitely deserved it. Stand by my 115-112 score & could see 116-111. Ward wins if it's a wrestling match.

— Dan Rafael (@danrafaelespn) November 21, 2016
"I'm p***** off like I was the night that [Pernell] Whitaker fought [Julio Cesar] Chavez, and the night Rocky Lockridge fought Wilfredo Gomez, and the night that [Evander] Holyfield fought [Lennox] Lewis," said Duva.
"It's a shame. Two guys fought their hearts out and I feel Sergey was the better man."
READ MORE: 'We just robbed Russia': Internet reacts to controversial #KovalevWard boxing decision

Shortly after the fight, Duva said that Kovalev would be exercising a clause in his contract that allows for an immediate rematch unless both boxers agree to relinquish their right.
Ward earned $5 million from the fight and Kovalev $2 million, but the American doesn't believe a second fight would bring a different result.
"I've never ducked and dodged anybody," Ward said during the post-fight press conference.
"I think the second fight would be a lot worse because I've been in there with him and I know what he has.
"This is no disrespect to him – I don't know how many adjustments he can make. His style is kind of set.
"But we're gonna entertain all offers and we'll see what the best decision to make is."