'Call me junior' – Omar Nurmagomedov on comparisons with cousin Khabib (RT Sport exclusive)
Published time: 4 Apr, 2017 14:30
Edited time: 11 May, 2017 12:39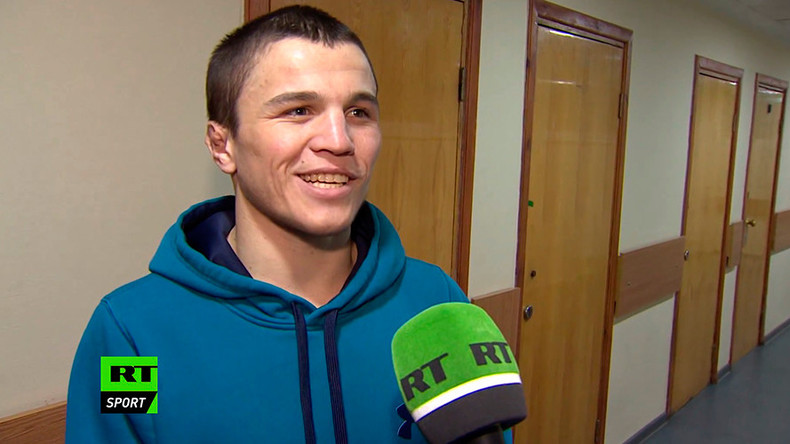 As 21-year-old Omar Nurmagomedov begins his professional mixed martial arts career, it is inevitable comparisons will be made between him and his famous cousin – UFC star Khabib Nurmagomedov.
Russian Muay Thai champion Omar was successful against the two-time Jiu-Jitsu world champion from Kyrgyzstan, Alym Isabaev, beating him with a TKO in the second round of their bout at the Fight Nights Global 62 event in Moscow last Friday.
Omar did face one dangerous situation during the fight, when Isabaev caught him with an armbar in the first round, although the Russian quickly managed to get away from it.
His older cousin Khabib, who was cageside at the tournament, stepped up to his corner after the first round to make some corrections in Omar's fight plan.
Talking exclusively to RT Sport after the fight, the young Dagestani admitted that Khabib had given him advice, although he said he preferred not to disclose what exactly had been said.
RT: How would you rate your opponent and what got you the win tonight?
Omar Nurmagomedov: He was a serious opponent and I took him seriously. But I guess I beat him due to my class advantage. Every fighter has his strong side and every fighter uses it to get the victory.
RT: Khabib was cageside during your fight. What advice did he give you?
ON: Yes, he did give me some advice. I'm not going to tell you what exactly it was; I will keep it for my future fights. But of course, I was following his advice and fighting accordingly.
RT: How did your training camp go for that fight?
ON: The first part was in the States, at the AKA (American Kickboxing Academy). I spent two months there. Then 10 days in Russia under Abdulmanap Nurmagomedov. Then I had the weight cut.
RT: How did it feel to train at AKA?
ON: How do I break it down? When you are there you want to train and work hard. There is an unbelievable team spirit in there. You see these outstanding fighters and that makes you want to get to their level. That's why you grind.
RT: They say Khabib took his first steps on the wrestling mat. Was it the same for you?
ON: It was. In Dagestan almost everyone takes their first steps on the wrestling mat. Then I started training in Muay Thai and Combat Sambo and eventually MMA.
RT: Does it bother you that people always compare you with Khabib?
ON: To be honest, that doesn't bother me at all. It's the opposite – I am happy to have such a great cousin. But I will never even attempt to compare myself to him. He is the great fighter."
RT: Khabib walks out to the cage in his famous Papakha headgear. Will we ever see you doing that?
ON: I will wear Papakha only in one instance: if Khabib gives his Papakha to me. That is his trademark and I wouldn't ever copy him."
RT: Khabib is nicknamed "The Eagle." Do you have a fight name?
ON: I don't have any. All I've earned so far is the nickname 'Junior' – Nurmagomedov Junior. I don't wish for anything else. I will be more than happy with that."
His star cousin Khabib thinks Omar has a big future, but that he has to work a lot to be successful.
"I think he has a big future, because I've known him all his life," Khabib said at the opening of the Eagles MMA gym in Moscow on Saturday.
READ MORE: 'This is 100% my fault' – Nurmagomedov's first interview since UFC 209 cancelation
"He works so hard. I take him with me when (I'm) going to the US and when I train in Russia. He has big experience - only 21 years (old) and he has big experience. He needs still to work. We have to work with him on his ground game, on his top control. His striking is very good, you know, because he is a Russian Muay Thai champion. We need work, we need a lot of work. Yesterday he did a perfect job against a very tough opponent, too, you know, a very dangerous opponent, a two-time world champion in grappling. But he won, I am very happy about this. I think he has a very big future."