'This is 100% my fault' – Nurmagomedov's first interview since UFC 209 cancelation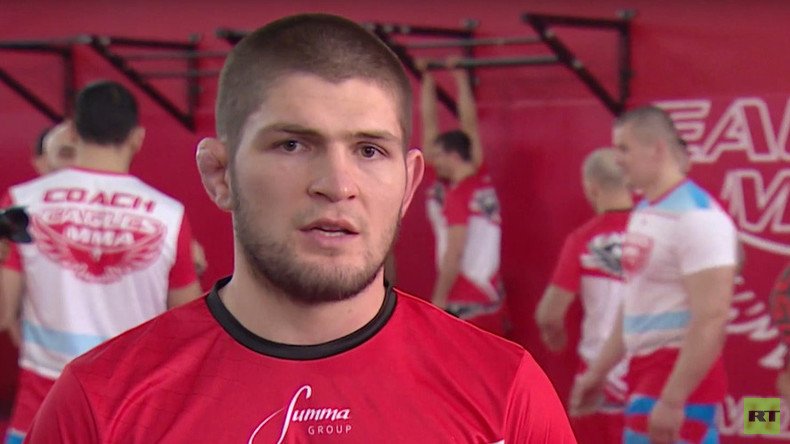 Less than a month after his UFC title fight with Tony Ferguson was canceled, Khabib Nurmagomedov opened up to the media at the new Eagles MMA gym in Moscow, where he spoke exclusively to RT Sport.
On Saturday, at the opening of the latest gym bearing the Eagles MMA name in Moscow's Fili-Davydkovo district, the question of whether Khabib – who is president of Eagles MMA – would attend was still uncertain.
Ever since his proposed fight with Ferguson was canceled – when just hours before the official weigh-in he was rushed to hospital suffering acute liver pain brought on by enforced dehydration during the weight cut – Khabib had remained closed to the media.
READ MORE: Khabib hospitalized due to dehydration; UFC 209 title fight with Ferguson off
The Dagestani fighter made a long-awaited public appearance at a media day at the brand new gym of his Eagles MMA stable of fighters, which was announced last November in Moscow.
Back then, the team announced the signings of 6 top Russian MMA fighters – Islam Makhachev, Vitaly Minakov, Ali Bagautinov, Rasul Mirzaev, Vladimir Mineev and Sergey Pavlovich.
READ MORE: 'We want to make it big': Khabib Nurmagomedov presents his new team
Since November, they have added dozens of fighters to their books, and at today's open training session, the media met with over sixty athletes at the spacious state of the art gym, decorated in its signature red.
Khabib was accompanied by his father and coach Abdulmanap.
The official part of the engagement begun when Ziyavudin Magomedov, the main sponsor of Eagles MMA main sponsor and head of the private investment company Summa Group, entered the gym's workout area to shake the hand of every team member.
Magomedov himself took part in the training, which was led by Abdulmanap, sparring with Khabib in both wrestling and boxing.
After the impressive training of 60-plus fighters was over, Khabib took time to speak exclusively to RT Sport about the new gym, the team's plans for the future, as well as giving his side of the story about the aborted UFC 209 bout.
RT: Khabib, congratulations on opening this great gym, tell us a little bit more about your team, there's a lot of fighters here.
Khabib Nurmagomedov: We have Eagles MMA team and Eagles MMA gym. We have Eagles MMA gym in Dagestan, Rostov, Bryansk, Moscow and Vladivostok and we have the biggest team in Russia, and one of the biggest MMA teams in the world – Eagles MMA team. Today we come here to make a very good relationship together, make team spirit, you know – that's why we make this. [The] owner of this gym and team Ziyavudin Gadzhievich (Magomedov) came, training with us. My father. Today is a very big day for us.
RT: You train at some of the best gyms in the US – such as AKA gym. How do you rate this gym in comparison to American gyms?
KN: I think everything is the same, you know. Most important thing in MMA is you have to work with the best sparring partners – this is most important. If you have very good sparring partners like wrestling, grappling, striking game – you know, the gym is not everything. You have to have discipline, sparring partners, coaches, everything. Now, in Eagles MMA team we have very good fighters. We can work with each other and push each other. We have very good coaches, we have a very good gym. We have everything to push ourselves to a different level.
RT: Right now a lot of Russian fighters go to the States to train. Do you think you can change this trend? Maybe fighters will come from the States to train in Russia?
KN: This is possible, but we have to know something. Like if you fight in the US you have to go one month before (the) fight for acclimatization and (to) make (the) weight. One month – this is very important. But before one month you can stay here and train here with best sparring partners – it's no problem.
RT: In terms of masterclasses, do you intend to bring someone here from the States?
KN: After D.C. (Daniel Cormier) fights, Javier Mendez is gonna come here. We already talked with him. We're gonna make this. Coaches like Javier Mendez, some fighters are gonna come like D.C., Cain (Velasquez). Not only AKA guys (American Kickboxing Academy – California-based martial arts gym where Khabib trains when in the US – Ed.), other fighters gonna come too. We gonna make it. We have a plan about it. Eagles MMA team is only three month (old), and we do a very big job, and now this is one of the biggest teams in the world.
RT: This is your first interview in English since what happened in a lead up to UFC 209. Can you give us a little bit more information on what happened on the night of March 2nd?
KN: You know I don't remember a lot of things, to be honest. Last night (before weigh in) and I know – I am going to a hospital, I feel bad. I know that a lot of fans are upset with me about this and I agree with this guys. Because this is one of the biggest fights in Russian MMA. for me, I can make history but I am going to the hospital you know. But sometimes this happens, sometimes you can die, you know. Everybody can die, everybody can (get) sick. Now I need a couple of months. Like two or three months. After three months I come for hard training and I want to fight in September.
RT: There are talks that UFC might give Tony Ferguson a fight in September.
KN: To be honest, I don't think about this. First of all, I have to stay healthy. This is most important. I don't think about who fights who.
RT: What do you see as the main reason for what happened? A problem with your diet, your body?
KN: I think this is my fault, this is my fault. I know that (my) body don't listen to me and I think, I know, this is my fault. How can I say that this is the coach's fault or the diet guy's fault? This is 100% my fault.
RT: Before your scheduled fight, there was some tension between you and Ferguson, but when he heard about you being hospitalized, he said he was 'praying for you'. How do feel towards him now?
KN: I feel a little bit better (towards him). But to be honest, you know when you want to smash somebody so badly, how do you feel about this guy? This is my dream fight – a fight with Tony Ferguson. I know I pulled out, but he pulled out one time, too. But nobody talked when he pulled out. When I pull out – everybody talks about this. But it's ok. Inshallah (God willing) I will come back and we'll see what happens.
You can share this story on social media: