'We're looking to sue Daily Mirror' – Russian pancake festival fight organizers on hooligan claims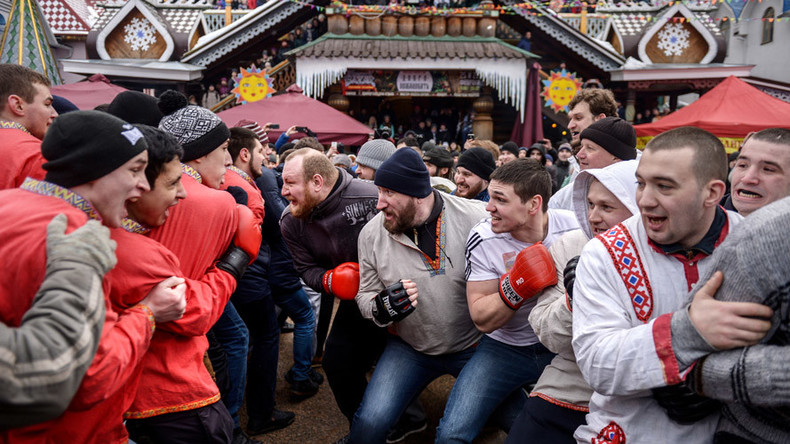 The organizers of a traditional Russian folk festival event are looking to sue UK tabloid the Daily Mirror, after it featured a video of men participating in staged fights at the event as part of an investigation into Russian football hooligans.
The Mirror article titled "Russia's Ultra yobs infiltrated amid warnings England fans could be KILLED at World Cup", which used footage of the traditional Russian festival of 'Maslenitsa' as part of a "shock investigation" into Russian football hooliganism, has been met with shock by the men featuring in the video, who say they have no connection with the football 'Ultras' subculture.
"I was very surprised, because it's a pure falsification," one of the organizers of the event, Yuri Sidorov told RT.
"The (Mirror) story is in no way connected to the actual event. We've been holding traditional games on Maslenitsa for five years there (in Izmaylovo park). With the support of the Ethnosport Federation.
"The traditional program of Maslenitsa festival includes different competitions in music, dancing and physical activities. For example, tug of war, traditional wrestling and wall-to-wall fist fighting, which has been featured in the video.
"It happens quite often, the display of Russian traditions it taken in the wrong way by people who have no interest in learning more about it. They add their own thoughts to taint it, which was the case here. (Ultra) fans have nothing to do with it. If you watch videos of fans fights and our wall-to-wall fight, you will see how different they are.
"The head of the Ethnosport Federation, Alexey Kylasov, who has read the article, says he will look to sue that outlet, since it is a falsification. What was their goal, I can't really tell."
The article itself refers to the clashes between English and Russian fans that took place around the Euro 2016 match in Marseille, France, last summer, and include interviews with two alleged Russian hooligans.
One of which, Alexey Mavryn is quoted as saying: "The Marseille trip was the pinnacle of my career so far as a hooligan. We were very powerful against the English and won the battle. The most sensible thing the English did was run."
Mavryn later told RT that his word have been taken out of context.
"They did translate it correctly, but obviously, some of my phrases have been taken out of context and presented in a more gloomy way. In reality I said that I witnessed some clashes in Marseille. We talked about it. They apparently cut some of the phrases and used them in the article. I don't know why they are fueling the situation."