Russian Olympic boxer Aloyan to make pro debut on April 22
Published time: 20 Mar, 2017 14:34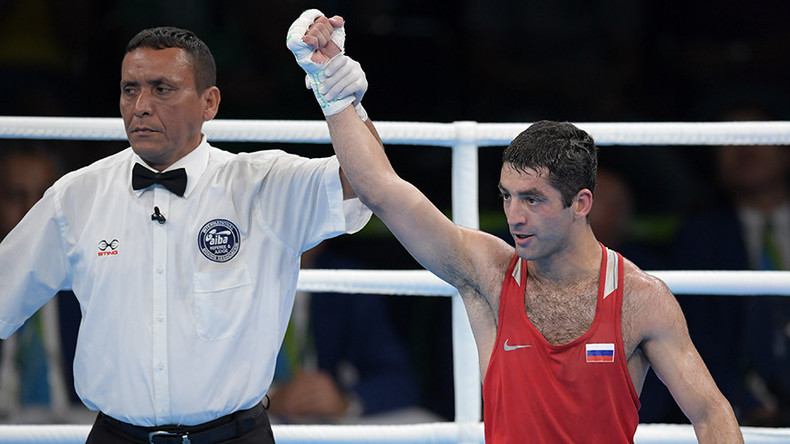 Russian boxer and Olympic medalist Misha Aloyan will make his professional debut on April 22 in the city of Yaroslavl.
Russian Boxing Federation general secretary Umar Kremlev confirmed to TASS on Monday that Aloyan's opponent on the night will be Norberto Jimenez of the Dominican Republic.
Aloyan, 28, was an amateur boxing standout for the Russian national team, winning back to back World Amateur Championship titles in 2011 and 2013 as well as the 2010 European Amateur Championship, held in Moscow.
Armenian-born Aloyan also won a bronze medal at the 2012 London Olympic Games and then went one better by winning silver at the 2016 Games in Rio de Janeiro .
READ MORE: Wrestling and boxing bring Russia 2 last medals at Rio Olympics
The boxer was later stripped of the silver medal after in-competition doping control showed use of prohibited substance Tuaminoheptane, a nasal decongestant drug present in anti-flu nasal sprays. Aloyan had been under obligation to notify WADA in any instance he used such treatment.
Following a ruling by the Court of Arbitration for Sport (CAS) to strip Aloyan of the medal, the boxer denied any wrongdoing and filed an appeal, with a decision due on May 9.
"It doesn't make sense to do this. I have never taken any banned substances – this a life principle of mine, this is impossible when being under such close observation," Aloyan said in December.
Aloyan's opponent on April 22 will be Norberto Jimenez, a 26-year-old who has compiled a professional record of 26 wins including 14 by way of knockout, eight losses and four draws. All of his fights, excluding one in Japan in 2014, have taken place in his homeland of the Dominican Republic.
It was also reported on Monday that Aloyan will look to fight for the WBA title if he wins his first two planned professional fights.
"In his second fight he will fight for the WBA International title," Kremlev said. "And in the third one, if he is victorious, he will be able to fight for the full championship belt."
Despite making the move to professional boxing, Aloyan will still look to compete at the upcoming 2020 Tokyo Olympic Games, according to his trainer Eduard Kravtsov, TASS reported.