Olympic boxer Misha Aloyan stripped of silver medal after CAS ruling
Published time: 9 Dec, 2016 16:12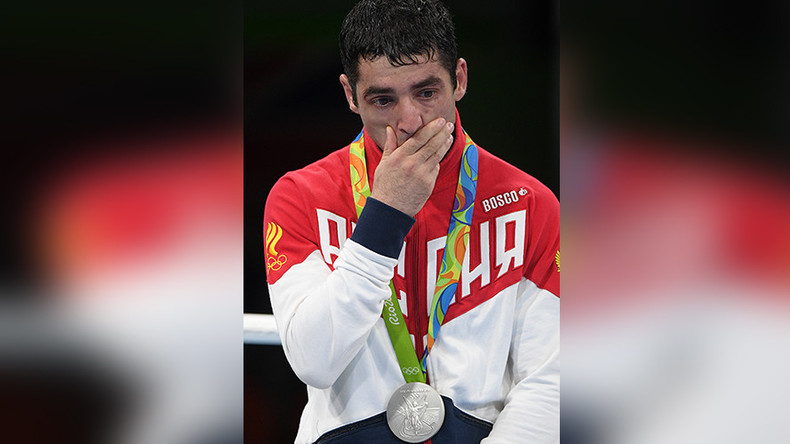 Flyweight boxer Misha Aloyan has been stripped of his Rio 2016 Olympic Games silver medal following a ruling by the Court of Arbitration for Sport (CAS) on Friday.
A CAS statement read: "Russian boxer Misha Aloian is found to have committed an anti-doping rule violation after testing positive for Tuaminoheptane, a specified stimulant, prohibited in-competition under S6 on the WADA [World Anti-Doping- Agency] Prohibited List, during an in-competition doping control on 21 August 2016.
"The results obtained by the athlete in the Rio 2016 Olympic Games, including the silver medal obtained in the Men's -52kg boxing event on 21 August 2016, are disqualified."
Tuaminoheptane is a nasal decongestant drug present in anti-flu nasal sprays, which Aloyan was under obligation to notify WADA of in the instance he used such a treatment.
On September 15, hacktivist group 'Fancy bears' published a batch of documents on 25 athletes from the United States, Germany, Britain, the Czech Republic, Denmark, Poland, Romania and Russia.
Aloyan was the only Russian athlete named on that list. According to the information published, Armenian-born Aloyan tested positive for tuaminoheptane on August 21, but the boxer vehemently denied the allegations.
"How is it possible to dope while being under rigorous surveillance every day? It doesn't make sense to do this. I have never taken any banned substances - this a life principle of mine, this is impossible when being under such close observation," Aloyan said, TASS reported.
Aloyan won the bronze medal at the London 2012 Olympics, before going one better four years later in Rio. He is also the 2010 European champion and won gold in the AIBA World Amateur Championships in 2011 and again in 2013.