Drastic weight cut & stardom pressure: What we know about Khabib's cancelled fight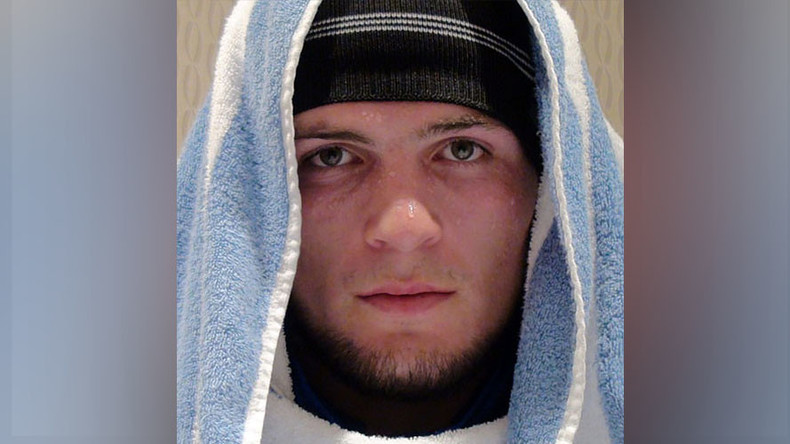 The cancellation of the UFC 209 co-main event bout between Russian Khabib Nurmagomedov and American Tony Ferguson has had a lasting effect since it was announced on Friday. A day after the unfortunate news, RT Sport offers a summary of the events that led up to it.
YEAR 2016 - THE YEAR OF THE EAGLE
The year 2016 was the year for the fighter from Southern Russian republic of Dagestan. After two years out through injury, the fighter nicknamed "The Eagle" marked his return to the UFC octagon with a spectacular victory over Darrell Horcher in April.
Later the same month, Nurmagomedov told RT Sport he was eyeing a shot at the lightweight title, although subsequent events left Nurmagomedov frustrated as the year drew to a close.
The Russian's name popped up again during the summer, with rumors emerging that he was in the running to fight in the main event of the historic UFC 205 in New York City.
But Nurmagomedov was left frustrated as the Irishman McGregor was catapulted into an ultimately successful lightweight title shot against Eddie Alvarez. Khabib was eventually signed to fight at UFC 205 and produced a dominating performance to destroy the highly ranked Michael Johnson.
READ MORE: Nurmagomedov destroys Johnson at UFC 205, demands fight with 'chicken' McGregor
The victory took Khabib's perfect pro MMA record to 24-0, but what he said after the fight had an even bigger impact on his career. His emotional post-fight interview, where he labeled McGregor the "chicken that tapped," quickly gained over 1 million views on YouTube, and announced his star status in the MMA world.
SUDDEN STARDOM
Returning to Russia after his victory, the fighter who had been a long time hero in his native Dagestan, suddenly found himself the unexpected idol of MMA fans all over the country, who now pursue him at each of his public appearances along with the media.
"Now (fans follow me) everywhere. Before only Dagestan, but now – Moscow, St. Petersburg, Dagestan, everywhere," Nurmagomedov told RT Sport before providing a master class for local fans and MMA enthusiasts at St.Petersburg's martial arts gym 'Fight Fabrika'.
"That's why I have to stay careful a little bit [with] what I say, because a lot of people follow me, a lot of people listen to me. And this is a little bit hard situation for me."
After touring several Russian cities, Khabib also visited the former USSR territory of Kazakhstan - where he was also greeted by a large fan base and an eager media presence.
THE HARDEST THING IS THE WEIGHT CUT
Speaking to RT Sport in November, when, amongs other things, the idea of a possible move to the next weight class was been brought up, Khabib admitted it was possible.
"Take lightweight title, then fight for the welterweight title. I like this idea. So maybe."
After the interview, he was asked, which he considered more of a challenge: an octagon fight or the huge fan and media attention, Khabib picked neither one.
"Cutting the weight," he said.
When the UFC announced at the beginning of January, that Nurmagomedov will fight Ferguson for the interim lightweight championship belt, Khabib left Russia for a training camp in California, to focus solely on training, and having less fans and media press.
POPULARITY OUTSIDE OF RUSSIA
The fact that Khabib is a practicing Muslim, and can become not only the first Russian UFC champion but also the first Muslim UFC champion, has already spread his popularity well outside Russia.
The UFC, which Khabib has criticised before for its unwillingness to promote him as a fighter, has also changed its attitude toward the fighter.
They organized a Q&A session with Nurmagomedov in Brighton Beach, Brooklyn, New York - famously dubbed as a hotbed of immigration from Russia and other former Soviet countries.
A series of meet and greet engagements were aslo arranged as a build up to the fight, which was billed as the primary support act to the UFC 209 main event bout between champion Tyron Woodley and Stephen Thompson.
But clearly, Khabib versus Ferguson has attracted more attention from fans and media.
ABDULMANAP NURMAGOMEDOV
For most Russians, having a visa granted to the US does not come easily, as is the case with Khabib's father and coach, Abdulmanap Nurmagomedov, who hasn't been to any of his son's fights in the States. This time was not an exception. "I am not surprised," Abdulmanap told RT Sport after his latest application for a US visa had been declined.
"Over the last year, I have been to England, to Netherlands, to Germany. But they don't allow me to go to the States for some reason… I don't think that after they declined it five times, they will give it to my on the sixth time."
Despite Abdulmanap never being allowed to enter the United States, his latest visa rejection has gained traction in US media in the wake of President Donald Trump's new travel and visa policy which seeks to ban US entry for citizens from seven predominantly Muslim countries for 90 days.
"Do you feel uncomfortable being a Muslim in United States right now?" Ariel Helwani asked Khabib during the MMA Hour live show.
"Ariel, I am a professional athlete. I am not (a) politician. I don't want to talk about this," replied the Dagestani.
Just two days before the weigh in, Khabib met with another Muslim athlete, boxing legend Mike Tyson.
READ MORE: Mike Tyson dons Dagestani 'Papakha' headwear for meet with UFC contender Khabib
"Today one of my dreams come true, to meet Mike Tyson he invited me to his home. Thank you for the motivation Tyson," the fighter posted on his Instagram account.
RETIRING IN 2018
His father meanwhile, has also made headlines in Russian and US media twice during the last week before the fight, making rather surprising statements.

"Khabib will retire in 2018," Abdulmanap said to life.ru
"I don't want to disappoint fans, but everyone has his resource, and its not unlimited."
When talking to RT Sport few days after the announcement, he elaborated further.
"Some may fight up to 40, that's individual. But Khabib lives MMA for 15 years already. It's incredibly hard. He works extremely hard, does what he's told, but he is tired already. He spends half of the year away from his faimly in USA, where he trains three times a day! That is hard, believe me."
Although, Khabib's out of competition weight is estimated to be around 190 pounds (86 kilograms), meaning he has to cut around 35 pounds (16 kilograms) to qualify for the lightweight category, Abdulmanap denied any problems with the weight cut at the moment.
"Everything goes according to the plan. He is cutting the last kilos," he said.
Just on the eve of the accident in Nevada, Russian outlet lenta.ru published another interview with Khabib's father, headlined "Khabib might change the weight category, if Conor fight don't materialize."
Abdulmanap was obviously aware of the issues with son's weight cut. When news about son's hospitalization broke out, he released a voice message, saying: "Let's wait. He has been hospitalized. Three hours before the weigh in, he had to cut 2.8 kilograms."
FIGHT IS OFFICIALLY OFF
Hours later, UFC released an official statement regarding the highly anticipated clash.
"The scheduled interim lightweight championship bout between Nurmagomedov and Tony Ferguson at UFC 209 has been cancelled on the doctor's recommendation."
Khabib's Russian manager, Rizvan Magomedov, later told TASS, the athlete had suffered acute liver pain on the night before the weigh in, which occurred as a result of severe dehydration during efforts to cut back on his weight.
"He has been taken to the hospital, where doctors ruled, that he cannot participate in the fight due to his health conditions. But now he is safe and resting."
UFC head, Dana White later put the blame on Khabib's management, for making a wrong, last minute decision.
"His team had decided to take him to just some random hospital here in Las Vegas instead of picking up the phone and calling our doctor and calling Brianna [Mattison], who runs all the medicals," White told mmafighting.com.
"They went rogue and went out and did their own thing. Had they done this thing the right way, the fight probably could have been saved."
Nevertheless, the fight which both Nurmagomedov and Ferguson described as the biggest fight of their careers had been called off.
Despite the long and lingering tensions between the two, just after the news broke, Ferguson expressed his support to Nurmagomedov, tweeting: "I Hope U Feel Better Khabib, I Pray For Your Recovery, I Mean It, Get Better [sic]."
Khabib's American manager, Ali Abdel-Aziz later apologized to Ferguson via the media.
"I feel bad for Tony and his camp, I really do. I want to sincerely apologize to Tony, his team, the UFC and the fans. We were all looking forward to this fight very much," he said to mmafighting.com