Khabib is back! Nurmagomedov marks his UFC return beating Darrell Horcher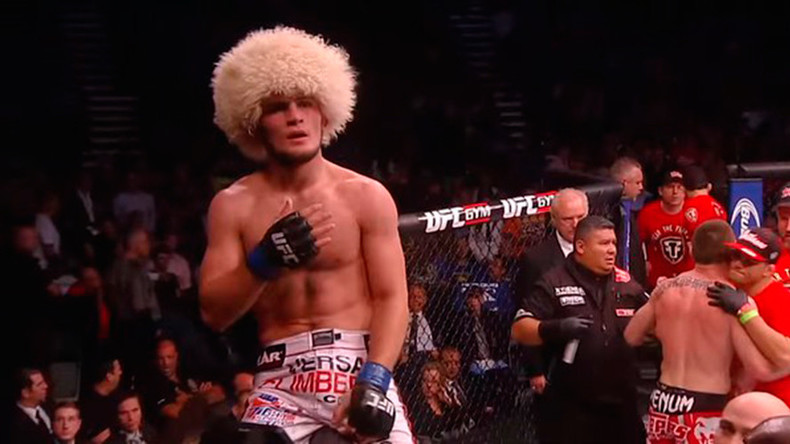 After almost two years away from competition, unbeaten Russian UFC fighter Khabib Nurmagomedov marked his comeback to the octagon with an impressive victory over a short-notice replacement opponent, Darrell Horcher.
The referee stopped the fight at the 3:38 mark of the second round after Nurmagomedov landed a series of ground strikes from the back mount over his opponent.
"I feel very happy," Nurmagomedov said. "Thank you to my team for their support. I have a lot of respect for Darrell, especially after accepting this fight with such short notice.
"I am undefeated and it feels great to be back. I feel free. I want to fight for the title next."
Nurmagomedov was originally scheduled to fight Tony Ferguson, but his opponent had to pull out of the fight due to fitness issues.
READ MORE: Nurmagomedov blasts Ferguson, calls Diaz & McGregor 'bums'
The undefeated Russian improved his record to 23-0 and it shouldn't take long for him to get a title fight from UFC, although Ferguson wasn't impressed with his performance.
He called Nurmagomedov out on Twitter saying the pair had 'unfinished business'.
However, the Russian's sights appear set on Rafael dos Anjos, with the current lightweight champion's comments on Twitter earlier this month clearly still niggling him.
Speaking after the victory over Horcher he said:
"I saw Rafael dos Anjos call me out. I finish my business. You talk about let's finish this business.
"Two years ago in Florida, I finish this business. I beat you, like, unanimous decision.
"Let's go finish this business. I see you in September, October, or maybe November in New York. I am ready for anyone."
A July meeting between the pair seems unlikely as Nurmagomedov is a practicing Muslim and Ramadan would interfere with his preparations.
A November match-up on a blockbuster UFC 205 card in New York is a possibility, with the event set to feature some of the promotion's biggest names, including Conor McGregor, Jon Jones and Ronda Rousey.