German football club apologizes for fan banner 'mocking' Dresden bombing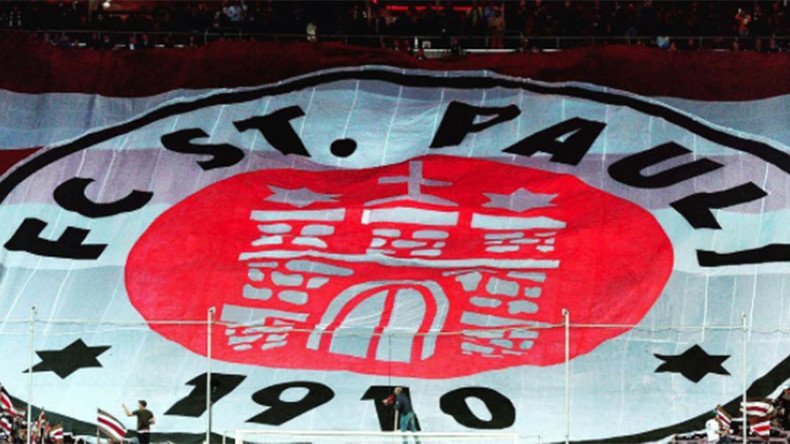 FC St. Pauli has issued an official apology after their fans unfurled a banner mocking the wartime bombing of Dresden, Germany during a match against Dynamo Dresden on Sunday.
At half-time in their home match against Dresden in the 2. Bundesliga – the German second division – a group of St. Pauli fans unfurled a banner that read "Your grandparents already burned for Dresden – against the myth of German victimhood" in the south corner of their Millerntor-Stadion.
The message – a reference to the 1945 Bombing of Dresden during World War II – was apparently a dig at what some St. Pauli fans regard as German 'victimization' in relation to the bombing by some Dresden supporters.
"The myth of Germany being 'victims' in World War Two, due to the bombing of Dresden is common in right-wing circles, to which, in the eyes of left-wing St. Pauli fans, Dynamo Dresden belong," German-based journalist Matt Ford told RT Sport.
"Dynamo, as with many East German teams, do have a problem with a right-wing minority. Hence, directing it at them. But I've not come across anything that Dynamo have done recently to provoke that. Indeed, they're on the up, pushing for promotion and gaining plaudits for their huge away followings.
"Obviously, the bombing of Dresden is remembered and mourned, but very few equate that with portraying Germany as some sort of victim. So yes, the 'victim myth' is a big deal, but there was absolutely no need for St. Pauli to bring it up here."
Hamburg-based St. Pauli have garnered a cult following worldwide for their stance against racism, sexism, homophobia, and fascism, becoming popular among fans for admonishing right-wing views.
After the fixture, however, which relegation-threatened St. Pauli won 2-0, the club issued a statement in which it condemned the banner and its message.
"Even if… FC St. Pauli is clearly distant from the thesis of the sacrificial myth, which was propagated in the past especially by nationalists and right-wing populists, and expressly welcomes and challenges a critical treatment of German history, there is a limit in the words on the banner," the statement read.
"The dead of the air raids on Dresden are mocked there. For the behavior of [its] supporters… FC St. Pauli would like to apologize to Dynamo Dresden, its fans and all members of the victims of the attacks 72 years ago.
"In consultation with the fan club council of the official fan clubs of FC St. Pauli (FCSR), the latter… officially [apologizes]. The [tone] of the first part of the banner can also not stand as a statement for the FCSR in content and word selection."
On Wednesday, Bayern Munich fans displayed their solidarity with Rayo Vallecano supporters of Spain, whose protest against the loan of Ukrainian player Roman Zozulya – whom they deemed to hold right-wing views – from Real Betis led to the canceling of the transfer.
READ MORE: Spanish team refuse Ukrainian footballer loan after fans protest 'neo-Nazi links'
According to Ukrainian sports website sport.ua, fans of the Munich team raised two banners during the match against Wolfsburg, with the message: "Throw Nazis out of football," while a second in Spanish read: "Zozulya vete ya!" (Zozulya go away!)
Rayo fans had originally protested against the transfer and confronted Zozulya during his first appearance in a team training session with a banner reading: "Vallekas is not the place for Nazis" in Spanish.
Vallekas is the commune in Madrid from which Rayo hail.
Zozulya, however, stated that he is "not linked to or a supporter of any paramilitary or neo-Nazi groups," but said that he supports the Ukrainian Army, which "protects his country and his people."
You can share this story on social media: