'Throw Nazis out of football': Bayern Munich FC fans protest Ukrainian international Zozulya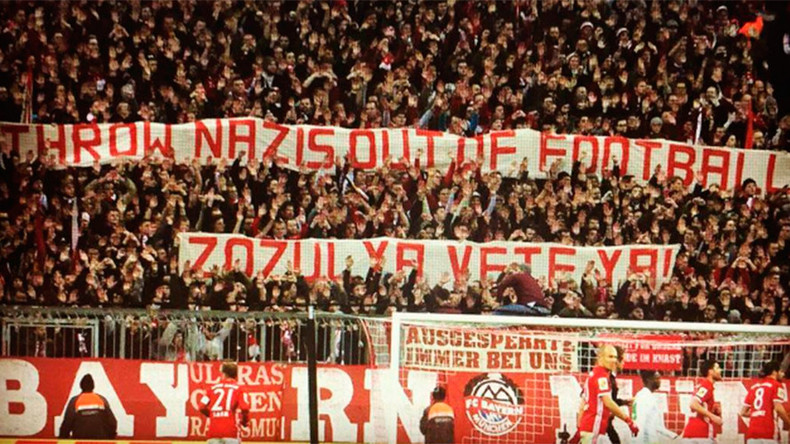 Fans of German football club Bayern Munich displayed their solidarity with supporters of Spanish team Rayo Vallecano, whose protest against the signing of Ukrainian player Roman Zozulya led to the canceling of the transfer to the team.
According to Ukrainian sports website sport.ua, fans of the Munich team raised two banners during the match against Wolfsburg, with the message regarding the situation with Zozulya's transfer between the Spanish teams Real Betis and Rayo Vallecano. One sign, written in English, said: "Throw Nazis out of football," while a second in Spanish, said: "Zozulya vete ya!" (Zozulya go away!)
It was reported that fans held the banners for no longer than a minute and then took them down.
Earlier, officials of the Spanish second-tier team Rayo Vallecano were forced to send Ukrainian international Zozulya back to Real Betis of La Liga, after fans protested over the player's alleged far-right links.
Right after the transfer to the team, Rayo supporters took issue with player's alleged link to neo-Nazi groups in Ukraine, pointing to the number of provocative posts on the player's Twitter account which they say are "incompatible with the team's spirit."
His tweets, for example, include photographs with the image of Stepan Bandera, the leader of Ukrainian nationalist groups that collaborated with Nazi Germany during World War II.
Other posts feature pictures taken with armed men and various kinds of armor.
Zozulya, however, stated that he is "not linked to or a supporter of any paramilitary or neo-Nazi groups," but said that he supports the Ukrainian army that "protects his country and his people."
It was reported yesterday that his agent has sent a request to FIFA asking for permission to have a transfer to a team from the championship where transfers are still allowed.
"If the answer will be positive, we might have options starting from Ukraine and Norway all the way to China and South America", players agent Vladimir Kuzmenko told Ukrainian outlet segodnya.ua.
You can share this story on social media: