'Get up and keep going:' RT interviews European figure skating champ Evgenia Medvedeva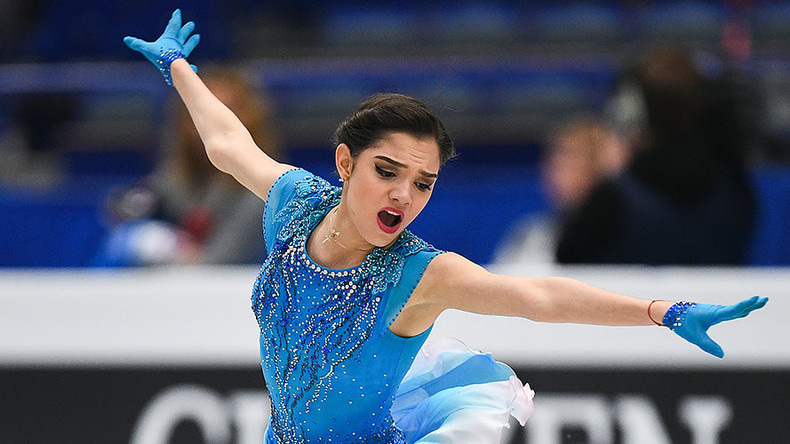 Seventeen-year-old Evgenia Medvedeva, who won gold with a record-setting free skate at the European Figure Skating Championships last month, is an irresistible magnet to her many fans worldwide. There's always room for a little more, the star told RT.
Medvedeva, a Moscow native, oozes movie-star charisma and megawatt star power.
Her free program at the European Figure Skating Championships in Ostrava, Czech Republic proved to be unbeatable. Medvedeva earned 150.79 points, surpassing the mark she set last year, and a total of 229.71, beating the record of South Korea's Yuna Kim.
Skating to the soundtrack from "Extremely Loud and Incredibly Close" by Alexandre Desplat, Medvedeva preformed an impeccable triple Lutz, followed by a triple loop and triple flip.
The 2016 World champion, and two-time European champion, says in sports, you often have to overcome challenges and your own weaknesses.
"I failed my first combination during the morning training, falling on the second jump. It had never happened to me before. At first I laughed, but then I got very angry and did a combination of four jumps."
Commenting on the extra elements she added during the performance, Medvedeva said that many thought it was just a stunt.
"Judging by the audiences' reaction, people really thought it was something strange. For some reason, they thought it was a stunt, but I disagree. It was very serious. If I didn't feel I could do it and the current score had not allowed it, I wouldn't have done it."
"There's still potential. I can't tell you the exact score I'm capable of getting, but I can do better with some elements. I can make my program even more challenging," she added.
Medvedeva says a skater's main strength is the ability to work hard in any situation.
"No matter if you're happy or sad, feel well or not so great, you have to show the best you've got. Nobody cares about your feelings. It's your job. I like to draw attention and enjoy being watched. I feel incredible when I skate and people can't take their eyes off me during the whole program."
After her performances, the teen often feels empty inside.
"It is not sadness or joy, I'm just empty. Free of any emotion."
Medevedeva is a multitasker. Doing well in sports and school is a challenge.
"I usually do homework during breaks between practices and on my day off – I only get one a week. I go to school at weekends. I have individual sessions, and it helps. It is difficult to study and have a sports career, but it is important. Sometimes I'm so tired after practice that I have no energy for homework but the teachers still ask me to have things done. They don't yell at me but could make me feel embarrassed."
Her coach, Eteri Tutberidze, whose former student Yulia Lipnitskaya won an Olympic gold in Sochi in 2014, is a role model for Evgenia.
"My coach basically raised me. We spent a lot of time together. She always taught me something new. I even talk like her a little bit, copy some of her mannerisms and the way I behave and move. She is strict but creates a very positive atmosphere. We go out on the ice knowing that we need to work because it is our profession, but practices just fly by because there's no unnecessary tension."
Medvedeva says not a day goes by without her remembering Tutberidze's advice – if things are difficult, you need to work even harder: "Get up and keep going."
You can share this story on social media: